Bop Shop: Songs From Lil Nas X, Kehlani, Parquet Courts, And More
A Peaches cover, a Steve-O shout-out, and so much more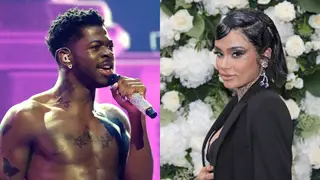 The search for the ever-elusive "bop" is difficult. Playlists and streaming-service recommendations can only do so much. They often leave a lingering question: Are these songs really good, or are they just new?
Enter Bop Shop, a hand-picked selection of songs from the MTV News team. This weekly collection doesn't discriminate by genre and can include anything — it's a snapshot of what's on our minds and what sounds good. We'll keep it fresh with the latest music, but expect a few oldies (but goodies) every once in a while, too. Get ready: The Bop Shop is now open for business.
Lil Nas X: "Lost in the Citadel"
This lovelorn cut off Montero, Lil Nas X's newly birthed debut album, stands out from the rest of the tracklist, and for good reason. The 22-year-old rapper leans into the angsty, guitar-driven sound that dominated pop-rock while he was growing up, fashioning a nostalgic backdrop for his most dazzlingly poetic lyrics to date. "My god, you're an angel," he realizes. "I only see you in your halo." —Sam Manzella
Sex Education Cast: "Fuck the Pain Away"
Sex Education Season 3 has finally arrived on Netflix, upping the ante with more raucous teenage sex scenes, a field trip to Paris, and the introduction of Jemima Kirke's character, who's a complete 180 from Jessa on Girls. The show's soundtrack, which primarily features tracks by Ezra Furman, has always been second to none, however it's the show's glee club-style take on Peaches's "Fuck the Pain Away" that I haven't been able to get out of my head. There's something so absurdly hilarious about hearing a teenage a cappella group croon, "Sucking on my titties like you wanted me / Callin' me all the time like Blondie," but when they turn its raunchy chorus into a Queen-esque anthemic roar, you can't help but dance along. —Carson Mlnarik
There's such beauty in the way "Altar," the lithe new single from Kehlani, sounds on a purely sonic level, thanks in part to expertly gentle production touches from Pop Wansel. As the R&B singer mentioned on social media with the song's release, that beauty goes much, much deeper. "Understanding grief and death has been a journey," Kehlani wrote. "The last year has showed me that even after people have passed on, if I choose to, I can have an even closer relationship. ... this is my offering." —Patrick Hosken
Iann Dior ft. Lil Uzi Vert: "V12"
In the 14 months since "Mood" dropped, Iann Dior has collaborated with an increasingly diverse roster of artists: Jxdn, Mike Shinoda, LilHuddy and Tyson Ritter (!), and now, Lil Uzi Vert. Impressively, he's sounded at home with all of them. On "V12," he takes center stage with a golden hook and so much charisma that it feels effortless. Uzi, as ever, is Uzi, and together, they make quite a potent pair. Who's next? —Patrick Hosken
Alaska Thunderfuck: "Red"
Oops, she did it again! Legendary RuPaul's Drag Race winner Alaska Thunderfuck is no stranger to serving bops. From "This is My Hair" to "Come to Brazil," she finds her way on many a playlist. Her latest, "Red," is no exception. Inspired by her Season 6 video, "Red" finds Alaska channeling pure '90s and 2000s bubblegum pop with visual references to Shania Twain's "Man! I Feel Like a Woman!" and more. Both the song and video are perfect for a boost of serotonin after a long week and to kick off the weekend. What can I say? I'm seeing "Red." —Zach O'Connor
Afgan & Robin Thicke: "Touch Me (Remix)"
Those precious summer nights don't technically have to be over just yet. Add "Touch Me" by Jakarta-based rising star Afgan and Robin Thicke and heat up any evening in just three minutes. With undercurrents of house and R&B, Afgan's sweet vocals seek to explain just how that first, second, and third touch electrifies them: "You can't deny what is true / Every time you touch me / I go ooh, ahh, too high." So lose your cool just a little bit and hit repeat on this dark and sexy bop. —Daniel Head
I'll always champion live drums on pop and R&B songs, so obviously I ride for musician and model Yumi Nu's "Bouquets," a tender song of self that radiates pure nocturnal energy. "In the process of falling in love with someone, I fell in love with new parts of myself," she says in a statement. "This song was written in the re-emergence of my own confidence." —Patrick Hosken
Fall is here, and Wrabel got the memo. This poignant, atmospheric cut off These Words Are All For You, the veteran singer-songwriter's long-awaited debut album, transports listeners across the pond to the site of an ill-fated romance. Time has passed, but Wrabel's feelings still linger, brought to the surface every time the mercury drops in L.A. "Sometimes I miss London," he croons over the gentle strums of his guitar. "Sometimes I miss you." —Sam Manzella
Chaz Cardigan: "We Look So Good"
It's hard to place L.A.-based singer, songwriter, and multi-instrumentalist Chaz Cardigan into any one box, and that's almost certainly the way he prefers it. On the surface, his latest single "We Look So Good" is a banging alt-pop earworm about a rocky relationship that's too good to let go of. But as he writes on Instagram — and showcases in his tongue-in-cheek visual — it's his way of writing a toxic break-up anthem with a struggling America. "If it looks so good on paper / I'm gonna stay until it feels right," he sings, before interrupting the beat to say, "The War on Drugs was a tactic to fill up private prisons." This is a bop with layers! —Carson Mlnarik
Parquet Courts: "Black Widow Spider"
For Parquet Courts's latest album, Sympathy for Life, the long-running Brooklyn art-rock band worked with Scottish producer Rodaidh McDonald to hone a particular feel through improvisational sessions and lots of jamming. The end result, as heard on "Black Widow Spider," is far removed from that looseness, instead opting for a tight, metallic crunch and a sing-songy melody from Andrew Savage. To complement, check the accompanying claymation music video and get lost in the noise. —Patrick Hosken
Let's stay in the Brooklyn guitar scene for a minute to praise Ovlov and how much the quartet does with a great melody on "Land of Steve-O." I always love songs whose verses feel like mini-choruses, though I think the real star here is the wall of squelching distortion that overtakes things right before the band bows out at just under three minutes. It's not about Steve-O from Jackass as far as I can tell, but in my headcanon, it's a wonderful celebration of him. Either way, sounds great. Can I get a "yeah, dude!"? —Patrick Hosken