Relive The 2003 Golden Globe Looks Of Beyoncé, Jennifer Aniston, And More
The red carpet was dominated by princess, ballerina, and surprising punk looks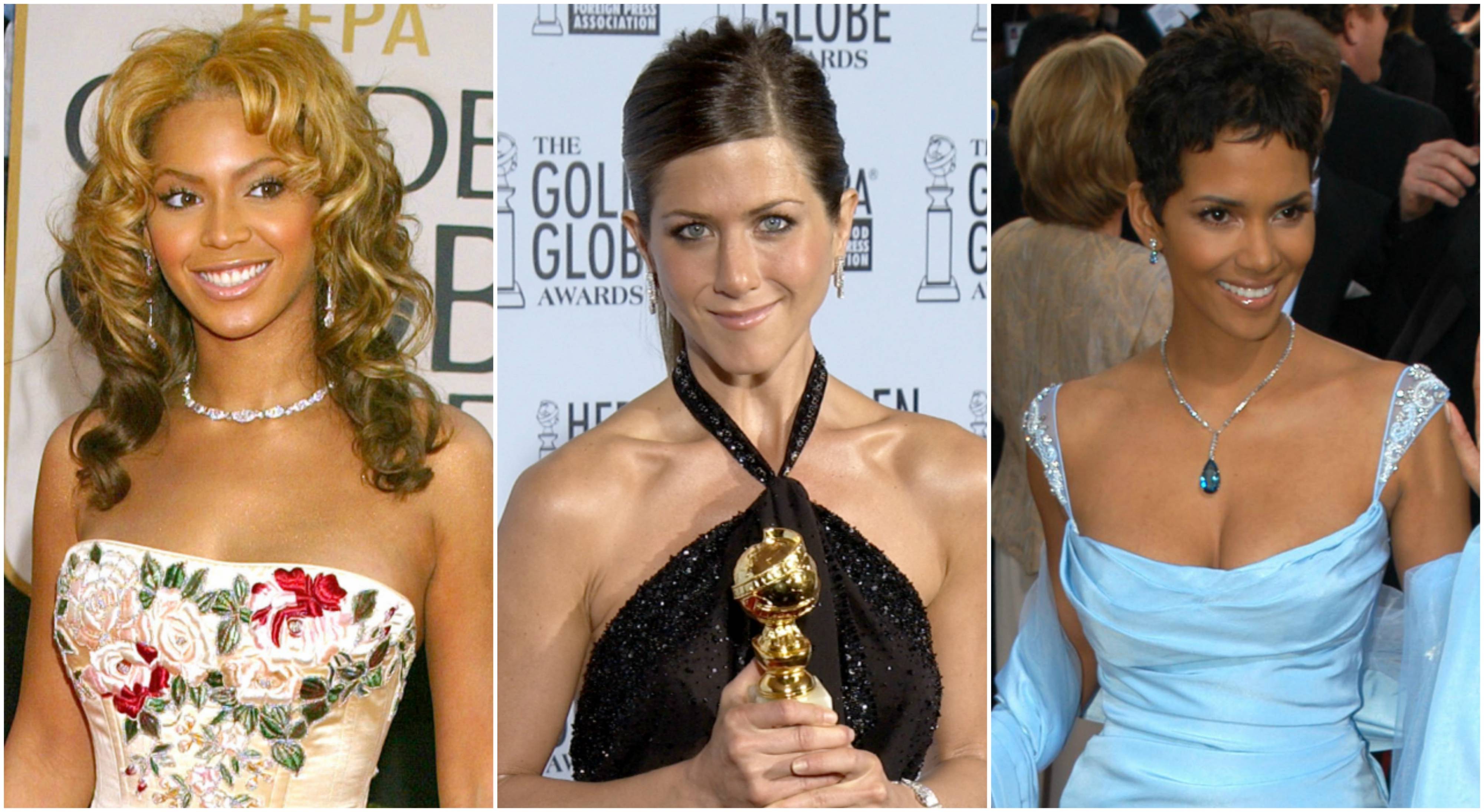 This year's Golden Globes red carpet is going to feature black gowns, black dresses, black jumpsuits, black tuxedos, and black everything else. While that may sound a little drab, it's actually quite powerful.
Women attending the ceremony decided to all wear black in solidarity with the women speaking out against sexual harassment and inequality in Hollywood. Men later confirmed that they, too, will be layering on their finest black attire for the awards season opener. It's very likely going to be the most compelling red carpet in the Golden Globes' 75-year history.
As we prepare for the blackout, let's see how far we've come and take a look back at a time 15 years ago when colorful eyeshadow and mild punk influences popped up alongside tutus and updos. Here's your Golden Globes red carpet rewind to 2003:
In a move that few can pull off on an award show red carpet, Cameron Diaz rocked a short party dress. She kept her neckline modest by completely covering her bust with a lace turtleneck, and her hair casually tucked behind her ear. Don't forget to peep that studded cuff on her wrist for added edge.
Matthew McConaughey and Kate Hudson
No, you didn't forget about that time Matthew McConaughey and Kate Hudson dated — they just walked the carpet together to promote their then-upcoming movie How to Lose a Guy in 10 Days. Anyway, Hudson served her boho best and McConaughey let his beachy waves flow freely. What a time!
Jennifer Aniston tied her signature "Rachel" hair into a ponytail to better show off her beaded halter look. Her long, lace-waisted skirt covers her broken toe, but she did walk the carpet with a cane before trading in the accessory for her shiny Golden Globe.
Queen Bey tapped into her royal standing with this white princess ball gown with large embroidered flowers on the bodice. To complete the look, she covered her wrists, ears, and neck in diamonds. She's only missing a tiara.
Sarah Jessica Parker wore a corset and pleather pants one of the seven years she was nominated for Best Actress in a Musical or Comedy TV Series for her role as Carrie Bradshaw in Sex and the City.
While we're down this path, here's Sharon Stone's punk/goth look, featuring a stripped skirt, furry straps, laced boots, an icy choker, and dramatic makeup.
Nicole Kidman paired her strapless lavender mullet dress with strappy heels years before mullet dresses dominated the red carpet. This year, Kidman is a nominee in the Best Actress in a Mini-Series or TV Movie category for her role in Big Little Lies.
Debra Messing attended the 2003 ceremony for Will & Grace, and she'll be attending the 2018 ceremony for the same show! She probably won't re-wear this frilly chiffon number, though, if only because it's not the right color.
On the night of her first Golden Globe win for her role in Chicago, Renée Zellweger fulfilled every girl's dream by wearing a flattering dress with pockets on the red carpet.
Here's Queen Latifah, looking exactly the same as she does today, only here she wore a blue pastel pantsuit with floral detailing on the legs with a matching platform sandal.
Anne Hathaway came to party! Six years before her first Golden Globe nomination, Hathaway attended the event in this bright pink, beaded, square neckline, high slit number.
I'm going to go ahead and consider Jennifer Garner's look everything you could want in 2018: black and goes well with a choker.
Halle Berry's mermaid dress is the color of Queen Latifah's pantsuit and the neckline of Anne Hathaway's gown, with the evening shawl to rival Jennifer Garner's. Honestly, if this look doesn't say 2003, I give up.
Nope, I take that back. Lara Flynn Boyle dressed as a ballerina is so 2003 that it couldn't possibly happen ever again.