Remember Taylor Swift's First Golden Globes Red Carpet? Let's Rewind To 2013
Five years ago, Swift made her Golden Globes debut, Jennifer Lawrence wowed in red, and more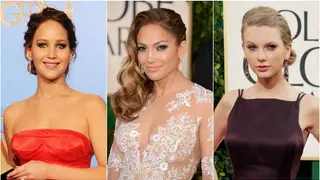 This year, Golden Globe nominees and presenters will stand in solidarity with sexual misconduct victims on the red carpet by wearing all black. It's a powerful move, one that aims to bring awareness to the larger systemic issue of workplace sexual harassment.
It will undoubtedly be a poignant moment of sisterhood on the red carpet, a place that's historically been reserved for glitzy pomp and circumstance.
Of course that's not to say we can't look back fondly on the red carpets of yesteryear. In fact, as we head into the 2018 Golden Globes on Sunday, January 7, we'd like to rewind to 2013 — a time when Jennifer Lawrence wowed in red, this year's nominee Jessica Chastain went full ice queen, and singing superstar Taylor Swift made her Golden Globes debut. A lot can change in five years. Take a look:
Thanks to Jennifer Lawrence, I know how to spot a Dior dress when I see one. Here, the Silver Linings Playbook star looked like a real winner in a waist-cinching red gown imbued with haute Hollywood glamour. Red is certainly J-Law's color.
In 2013, Taylor Swift was nominated for a Golden Globe for her Hunger Games song "Safe & Sound." She may have lost to Adele (and found herself at the receiving end of one of hosts Tina Fey and Amy Poehler's sharp-tongued jokes), but at least she stunned on the red carpet in a dramatic eggplant-colored mermaid dress. It was demure and business-like in the font, but when she turned around, the singer brought the wow factor with a plunging open back.
2013 was the Year of Hathaway. The Les Misérables star was the Best Supporting Actress frontrunner from the jump, so her total domination throughout awards season was hardly surprising. And it gave her plenty of opportunities to show off her glamour chops on the red carpet. Hathaway kept things simple and sophisticated with this strapless white beaded column gown at the Globes.
Apparently, strapless gowns were all the rage in 2013. Adams was nominated for Best Supporting Actress for her role in The Master, and she celebrated with this blush trumpet Marchesa dress. (I can say with certainty that no one will be wearing Marchesa this awards season.)
Lucy Liu took a bit of risk with this fun, floral ball gown, but it definitely paid off. Not only did Liu bring a much-needed pop of color (and print!) to the subdued carpet, but she also had a dress with pockets. TBH, she won the night.
For three glorious years, Tina Fey and her BFF Amy Poehler were the hostesses with the mostesses at the Golden Globes. In 2013, Fey kept florals on trend with a lacy, black and white tea-length dress. It's perfect for hosting, and you could pair it with a blazer for afternoon tea!
Fey's co-host Poehler opted for a sexy and sophisticated plunging black suit. She accessorized with strappy black heels and a stunning diamond necklace that screamed "BOSS BITCH."
In a dress that would be perfect for this year's carpet, Nicole Kidman took our breath away in this sultry, see-through gown in 2013. Kidman likes to have fun with fashion, and an unexpected number is always appreciated on a red carpet. She's nominated again this year for her transcendent performance in HBO's Big Little Lies.
Before she was Ryan Murphy's go-to scream queen, Sarah Paulson went for gothic glamour on the red carpet in 2013 in this sparkly, textured black dress with a plunging neckline. But it's the ice on her wrist that I can't stop staring at.
Who doesn't love a good peek-a-boo dress? Wiig's black, cutout dress could easily work on this year's all-black carpet. It's simple and chic. She completed the look with gold accessories and loose waves. Honestly, Wiig looked comfortable AF. We should all be so lucky.
Kate Hudson always makes an impression on the red carpet, and this vampy, long-sleeved gown certainly made its mark. Between the gold-leaf embellishment at the the waist and the dramatic, gold-beaded neckline, Hudson looked like Hollywood royalty. And the keyhole cutout? It left me for dead.
The Les Misérables starlet seemed to be evoking the spirit of her character Cosette with this lacy white gown. Her long, blond waves only added to its mystique.
Leave it to J.Lo to wear a sexy, sheer gown to the Golden Globes. The long-sleeved, embroidered lace dress showed off all of Lopez's legendary curves. No, seriously. All of them! It was very, very nude.
Lea Michele was a true golden girl on the Golden Globes red carpet five years ago. The Glee star opted for a glittering halterneck dress embellished with lots o' tiny jewels. Between the golden tan, the sparkly dress, and the va-va-voom high slit, Michele came dressed to impress.
Ice, ice baby! The Zero Dark Thirty star and Golden Globe winner truly stunned on the red carpet in this drapey, icy blue silk dress with a plunging neckline. It complimented her red, Veronica Lake-inspired curls perfectly.
Rosario Dawson picked up on Chastain's icy vibe in a powder blue dress with a ruffled peplum waist. Has anyone ever looked happier to be on a red carpet? I think not.
Daniel Day-Lewis is one of our greatest living actors, and this year could be his last Golden Globes red carpet. The three-time Oscar winner has announced his decision to retire from acting following his work in Phantom Thread (of which he's nominated for Best Actor at the this year's Globes). Because of my love for DDL, I'd be remiss not to include him on this list. And in 2013, he and his wife Rebecca Miller looked like a picture-perfect couple.