Did The 'Final Reckoning' Winner Make The Right Choice?
Two players were named champs, but only one got the choice of whether to split the grand prize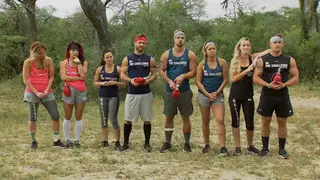 Move aside, Johnny Bananas — there's a brand new Challenge top prize winner. But is the ultimate Final Reckoning winner just getting a bad rap?
On tonight's Season 32 finale, the final four teams competed in a two-day marathon that included lengthy runs, descents into spooky caves and more puking than you'd find at any ipecac-gargling contest. And, to make matters more intense, TJ informed the group that while there would, indeed, be two winners, the individual victor who finished the game more quickly than his or her partner would have the choice to either split the million-dollar prize, or keep it all for himself or herself.
It was only the second time in franchise history that an ultimate winner got such a choice, and more than two years after Johnny Bananas swiped Sarah's share of the Rivals III check, the Final Reckoning finale proved to be a nail-biter straight out of the gate.
After climbing down ladders suspended from a stationary helicopter, teams tore off onto the barren South African race track. TJ informed each team that they'd have one Vendettas-inspired grenade to use to handicap any other team, but at the get-go, each went unused.
Sadly, Natalie didn't even need a grenade to find herself at an immediate deficit. While she and Paulie started way out ahead of the pack on the 4K run, Natalie accidentally took a wrong turn, and by the time she found her way back to the correct route, each other team had completed the run.
"I'm so in the zone that I don't even realize Paulie isn't in front of me anymore," Natalie said before breaking down in tears.
Still, Natalie and Paulie made a quick turnaround, and in a subsequent challenge that tasked players with balancing atop a series of raised structures (with very little wiggle room), Natalie and Paulie managed to outlast the pack.
Considering the group's previous performances on the run, though, Ashley was sure that first place was still essentially a battle between her team and Joss and Sylvia's.
After spending most of the night in back-breaking pain, the group met TJ at a breakfast buffet from hell that included cow snouts, chicken heads and sheep face. Each team had to eat as many of the 32 entrees as they could, and the first team put down all the grub successfully would stop the clock and avoid a penalty.
No surprise: the consummate vacuum cleaner Hunter helped his team to immediate victory, while Cara Maria and Marie continued to struggle, earning yet another last-place finish.
And even though Ashley had thrown a grenade at Sylvia and Joss before the picnic, burdening them with an additional entrée each, the Brit-American team remained hot on their heels, and finished second.
In the game's final leg, each duo was directed to sprint three kilometers to a cave (Ashley and Hunter started ten minutes later than the rest, thanks to a rebutting grenade-toss from Joss and Sylvia), descend into a darkened pit and walk across fire. Once everyone had arrived at the hot coals, TJ gave eligible teams one last chance to use a grenade, and though Paulie and Natalie swore they wouldn't (Paulie even swore on his family's life), they hit Joss and Sylvia with yet another handicap. So while three out of four teams needed only to perform the walk to complete the final mission, Joss and Sylvia first had to unlock a pair of shackles, the correct keys for which were mixed in with dozens of fakes.
And the move basically proved to be the game's deciding factor. Cara and Marie's fourth-place finish didn't come as much of a surprise, and because of Natalie's running blunder, she and Paulie took third place. TJ announced that the winning team had claimed victory by less than two minutes, though, and when all was said and done, it was Hunter and Ashley who'd claimed the top prize. Further, TJ revealed that Ashley had earned the best time overall, leaving her with the big decision: keep the million-dollar prize to herself, or split it with Hunter.
We'd be lying if we said Ashley needed a bit of time to mull it over. Almost immediately, and with decisive dismissal, she said this:
"TJ all those things you said about all those other partners is true," Ashley said, referring to TJ's insistence that each player had made it to the final because of tandem efforts. "But this guy's belittled me, put me down, and also slut-shamed me and threatened my life and my family's life — I'm keeping the money. I would say I feel bad but I don't, because this is nothing compared to what I went through all season."
"Your self-worth is something you can't get back," Ashley continued. "And when someone belittles you so much, I decided there's no way he deserves this."
And in a flash, Hunter, whose face had previously been painted with a giddy smile, was reduced to emotional rubble.
"You will burn in hell for this," he spat at Ashley through tears.
Some players saw Ashley's choice as conniving, and a betrayal of the spirit of the game.
"Ashley doesn't even take a goddamn second-and-a-half," Cara said. "She had this sh*t planned from the moment she stepped foot in the final. Ashley has now taken one-million dollars, but also the title of biggest asshole in Challenge history."
Others, though, saw Ashley's moved as warranted considering Hunter's treatment of her and, more, simply an observance of the rules of the game.
"I thought I was a savage, but Ashley, you, sweetheart are the queen of savagery," Paulie said. "I gotta tip my hat to her because she did it. And a lot of people might not agree with that, but I'm not one of those people."
So, what do you think — did Ashley make the right choice by keeping the million-dollar prize, and did she deserve it all? Did her arguments against splitting the check with Hunter convince you? Or, did Hunter earn his cut, and was Ashley's move too punitive? Share your thoughts, and be sure to hang tight for the two-part Final Reckoning finale on Tuesday at 9/8c.