Wednesday's Twangy Shoegaze Is Full Of Surprises
With 'Rat Saw God,' the buzzy Asheville indie rockers are slated for their biggest year yet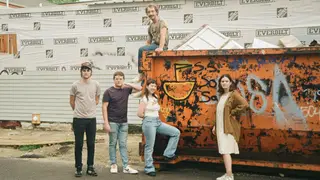 Karly Hartzman doesn't believe the hype. As the frontwoman for Asheville indie rock band Wednesday, she knows how the group's characteristic blend of face-melting shoegaze and twangy country has garnered more and more attention with each record since their 2018 debut. The quartet has kept up a steady output, releasing a new album every year since their endearingly lo-fi sophomore effort, I Was Trying to Describe You to Someone, in 2020. Especially after their breakthrough Twin Plagues, and its low-key but charming follow-up 2022 covers album, Wednesday have more eyes (and ears) on them than ever before.
All this new attention, though, doesn't make a difference to Hartzman. "I don't internalize [it]," she explains from her North Carolina house's porch via Zoom. "For some reason, I feel the same as before we were signed [with revered indie label Dead Oceans], at least when it comes to the music and the writing. I'm not thinking about anyone other than the band. If everyone hated this album, then I would still be really proud of it, and I would continue making whatever was next. I don't think I would change course if people were like, 'This sucks.' So I'm glad people like it, but I would have made it the same way even if the public opinion was different."
Despite the band's viral Twitter thread regarding their paltry SXSW pay and exorbitant touring expenses — and the subsequent discourse about being a musician in today's economy — the public's opinion of them has been largely positive. Even outside Wednesday's direct catalog, guitarist Jake Lenderman released a critically acclaimed solo album, Boat Songs, last year under his alias, MJ Lenderman. He embarked on tour alongside his Wednesday bandmate, lap steelist Xandy Chelmis, playing solo dates and opening for the folk-country super-duo Plains.
Aside from Hartzman's personal feelings, it sure sounds like Wednesday is embracing the ardor surrounding them. Rat Saw God, their latest endeavor, is their most substantial "level up" yet, as drummer Alan Miller puts it. Before the album's announcement, they dropped the sprawling, eight-and-a-half-minute opus "Bull Believer," a track that transcends conventional song formats and showcases Wednesday's multidimensional approach to music. There are atonal Sonic Youth guitar squeals, noise-rock breakdowns, and tuneful indie-folk, shifting seamlessly from one mode to the next with complete poise. And it's only the second track on Rat Saw God.
Throughout the record's tight 37 minutes, the band makes a case for their rising popularity. The production is far more polished and punchy than it was on previous records. It's also their most dynamic work. On the blazing opener, "Hot Rotten Grass Smell," they stretch out the tried-and-true, quiet-loud Pixies formula and inject it with steroids. It should come with a headphone warning.
"We've played soft songs before, but the range from 'Hot Rotten Grass Smell' to something like 'What's So Funny' to 'Formula One' to the more country-leaning songs, there's just a bit of a wider spread on this album," Lenderman explains.
"Also, there's a sort of purpose, or intention, within the songs," Chelmis adds. "The parts are incredibly structured. And when we're not playing this music, we're playing music that tends to be a lot less structured, or jammy, which is also really fun. But with this, you're sort of working within a rigid framework, and expanding within that is actually super fun for me."
There's also the fact that everyone in the band is getting better at their instruments. Although Lenderman and Chelmis were always "legends, through and through," Miller says, "when we started, we were really pretty green. I was really new to drums." He likens it to a growing vocabulary, a wider vehicle for conveying their ideas. Fortunately, the members of Wednesday abound with ideas. This band may fall under the broad indie-rock umbrella, but their enthralling blueprint of My Bloody Valentine-meets-Lucinda Williams is distinct. Their appeal is easy to understand.
The fandom overlap between Wednesday and, say, longtime shoegaze icons Slowdive, doesn't feel that far-fetched. But Hartzman is hopeful that, through her group's music, she's also introducing country to the uninitiated. "I feel like a lot of our audience appreciates country music but doesn't listen to it often," Hartzman speculates. "It's like we're opening that door for a lot of younger people to country music and how good it can be."
Like the best country artists, including her name-checked influences Richard Buckner, Tom T. Hall, and Loudon Wainwright III, Hartzman is a preternaturally gifted storyteller. Her lyrics are an integral part of Wednesday's magnetism. Most of them are autobiographical, complete with arresting, scene-setting details. Twin Plagues included everything from a burned-down Dairy Queen to the ghost of a dog who got run over. Somehow, Rat Saw God feels even more personal and diaristic, capturing the malaise and drug-induced hedonism of her bygone partying years as a teenager. Whenever a song about her messy upbringing is about to drop, she gives her parents a courteous heads up, letting them learn the details before a bunch of strangers do.
In particular, she was nervous about one prurient line from the jangly alt-country banger "Chosen to Deserve." "If you're lookin' for me, I'm in the back of an SUV / Doin' it in some cul-de-sac underneath a dogwood tree," she sings in her shaky alto. But this transparency has, ultimately, improved her familial relationships. She discusses the pain and sadness she's experienced before, but she's emerged from these hardships, adapting them to her songs. "As parents, they might feel guilty about not being aware or not having known what to do at the time," Hartzman says. "But also, it's all good because I'm OK. Y'all don't have to worry about me describing this really intense emotion because it's cool now. I made it through."
Relationships are at the heart of Wednesday, especially the one between the band members themselves. The group speaks to MTV News in pairs: Hartzman and Miller on their front porch, and their neighbors, Lenderman and Chelmis, on their front porch, the sunset's glow casting all their faces in soft pink. During the conversation with the latter duo, Hartman and Miller pop into the frame to wave at the camera. Their sense of community is palpable, and that intrapersonal trust rings through their music, too. On album closer "TV in the Gas Pump," Hartzman documents tidbits of the group's life on the road: "a dresser on the side of the road," "a swing set in a big fuckin' field," "people standin' with their arms crossed in the line at the Panera Bread at a rest stop." It's Chelmis's favorite song on the album because "it's about all of us. I like the feeling of that."
Is that why they decided to end Rat Saw God with it? "It's probably more of a tonal feeling," Lenderman says, referring to the way the song's final notes ring out. Apparently, if you play that song into the beginning of Twin Plagues, it blends together perfectly. "But that would mean the record is a prequel." It's a funny concept, winking at the past when Wednesday are looking toward the future. Yet it fits. Might as well let Rat Saw God expand on the Wednesday lore. It's not too late to dig in.