The 22 Best K-Pop B-Sides Of 2022
These gems from Hyo, Aespa, and more are not to be missed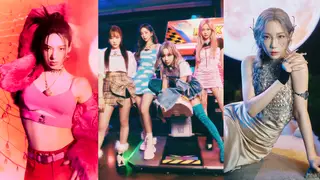 This year, the K-pop scales tipped toward a girl-group resurgence. After what felt like years of dominance by the boys, a handful of girl-powered acts made their marks: IVE dropped hit after hit, the fresh sound of NewJeans turned them into superstars practically overnight, and Billlie carved out a following with their kooky singles. The debuts of Kep1er, Le Sserafim, and N.MIXX injected new life into the musical landscape.
And it wasn't just new groups that had all the fun; established acts had their day in the sun, too. Blackpink returned with their sophomore LP Born Pink, Girls' Generation released their first album since 2017, and CL turned her performance at Coachella into a 2NE1 reunion when she brought her band members out to perform their 2011 hit "I Am the Best."
Speaking of Coachella, this year saw K-pop staking an even larger claim in the festival scene. Blackpink's 2019 Coachella set broke the seal for Korean pop acts, and this year's event also featured girl group Aespa, as well as soloists Bibi and Jackson Wang. But the biggest of the bunch was J-Hope's headlining set at Lollapalooza, where labelmates Tomorrow X Together also performed.
It was a great year for live music in general, with fans turning out in droves as artists returned to regular touring. Groups like Blackpink, Ateez, and Enhypen sold out 16,000-capacity venues across the United States, and saw similar success abroad.
Throughout all this change, K-pop's release cycles remained as relentless as ever. And because B-side gems are often buried under flashier title tracks, we put together our annual selection of the industry's best B-sides to give them room to shine. Here are the 22 best K-pop B-sides of 2022.
22. Bvndit: "Don't Mess With Me"
After only three years together, girl group Bvndit disbanded in November. As the closing track on their final EP, "Don't Mess With Me" is a mic drop. Its bold finish features multiple tempo switches and an enduring message: "Being myself in my own way, I make the choices as I want. Don't mess with me." Disbandment is common in K-pop, which sees dozens of new groups debut in a crowded industry every year. Many of them bow out quietly but, with this B-side, Bvndit signed off with a bang.
21. Taeyeon: "Siren"
This divine dispatch from Taeyeon is inspired by two types of sirens: the signal and the seductress. "I can hear the siren, can you also hear me?" Taeyeon asks, lifting her voice to mimic a wail. One of K-pop's leading vocalists, Taeyeon is as bewitching as the mythical mermaids who dragged unwitting sailors down to their deaths. You can almost hear her pouting at the pitiful mortal under her spell as she sings, "I feel bad for you… The thirst for me continues."
20. CIX: "Bend the Rules"
Sultry, intense, and seductive, "Bend the Rules" falls comfortably within the bounds of CIX's expansive musical wheelhouse. Lilting vocals rise like steam against resonant drums and rapper BX's battering bass. The lyrics regret "a sin that can't be washed away" and describe a hellish purgatory where they're tortured by endless thirst. It's unclear which rules CIX bent to find themselves in such a predicament, but there is one thing they're certain about: It wasn't worth it.
19. P1Harmony: "Different Song for Me"
Led by the magnetic "Gen Z king" Keeho, P1Harmony boasts some of the most distinctive vocalists (and personalities) in the industry. In this pop ballad, Keeho, Theo, and Jiung flex their prowess, delivering Backstreet Boy-level crooning with support from Intak, Jongseob, and Soul. The lyrics encourage the listener to follow the beat of their own drum or, in this case, the tune of their own song. "The atmosphere and me are like water and oil," Jongseob says, with Keeho assuring, "I'll find myself even if they fight it."
18. Onewe: "Montage"
"Montage" is a winning row on a "best of Onewe" bingo card. Power vocals, rock riffs for days, and lyrics exploring the mysticism and ephemerality of love? All accounted for. In fact, "Montage's" lyrics, both hopeful and devastating, may be some of Onewe's best: "May you flow through my light sleep. Even in my dreams, I missed you… On a lost night, you held both of my hands, before all of you vanished." This summer, vocalist Yonghoon and guitarist Kanghyun, who fires off searing riffs, enlisted in mandatory military service. The band's sound will likely change significantly in their absence over the next year or so, opening up new opportunities for musical growth (and bingo card combos).
17. DPR Ian: "1 Shot"
Under his stage name DPR Ian, Christian Yu spins musical gold from the euphoric highs and crippling lows of his bipolar I disorder. His work weaves a rich tapestry of conflict between his states of mind, pitting them against each other as characters he introduces as "Mito" and "Mr. Insanity." On "1 Shot" you can hear them in warped conversation while Mito expresses weakness, crying, "I'm lost in the sea of lust, it took me one shot just to make it nonstop." But things go deeper than just carnal attraction. In a single line, he confesses that he's willing to share both halves of his fractured reality, saying, "I got two worlds, baby, they're falling into your arms."
16. Twice: "Queen of Hearts"
This English-language release from Twice is the kind of girl-power pop-rock confection sung by a triumphant heroine as the credits roll on an early aughts Disney Channel Original Movie. Chock full of power belts from members Jihyo and Nayeon and sweet asides from Dahyun and Chaeyoung, "Queen of Hearts" is a hype song that knows no one makes it alone. "Surrounded by all my girls… thank you for the memories, you're all the ones who made me," the nine members sing, before bringing it home with a triumphant chorus: "I was born to rule, I'm the queen!" Twice aren't into cliquish gatekeeping. Chaeyoung assures that "all my friends know how to do it and you can do it, too — just follow!"
15. Dreamcatcher: "Locked Inside a Door"
On "Locked Inside a Door," Dreamcatcher are cramped, frustrated, and gasping for fresh air as a lover holds them captive. But they're not damsels in distress; they're damsels at the end of their damn rope. The song is a dynamic mix of jazz and rock influences and, like most of Dreamcatcher's music, was concocted in part by dynamic producing duo Leez and Ollounder, who have also contributed to much of Ateez's discography. Those interested in another Dreamcatcher classic from this year should check out the gorgeous, glistening "Starlight."
14. Treasure: "Darari"
Treasure released several stellar tracks this year, among them title track "JIKJIN" and explosive B-side "VolKno," but none of them put them on the map like "Darari." The tune became a TikTok hit, used in more than 3.7 million videos for everything from dance challenges to cooking tutorials.
Its lyrics describe a shy young love, the kind that induces trembling knees and sweaty palms. Treasure sing to a girl who is like a melody that goes "da-ra-ra-ra-ra-ra-ri," confessing that she inspires them to "pour out ideas" like "rain in a drought." But then their nerves get the best of them. Yoshi says, "I'm not good at expressing myself," and blurts the sweet but awkward, "I feel the warmth next to you, a warm love like steamed buns." They recover with a charming chant: "Sol-la-mi-fa-sol, Oh, fall in love with me."
13. (G)I-DLE: "My Bag"
On its face, "My Bag" is a blustery hip-hop bop. But in the song's lyrics and delivery, (G)I-DLE's leader and composer Soyeon captures the essence of her four bandmates, each of whom she boasts is as precious to her as a red diamond in her purse. Each verse is crafted to highlight a member's best features: Minnie's hypnotic timbre, Yuqi's deep alto, Miyeon's rose-like femininity, or "boss baby" Shuhua's flawless skin. "My Bag," it turns out, is a loving tribute to sisterhood. And try not to let this choke you up: It's likely that Soyeon originally intended for the fifth diamond to represent Soojin, the sixth member of (G)I-DLE, who left the group this year.
12. N.MIXX: "Tank"
On "Tank," N.MIXX say they're "the charging type" that will "split the endless wilderness like a tank." The lyrics proved to be a bit of a self-fulfilling prophecy, since the group's experimental debut single "O.O." and this striking B-side have listeners divided. Love it or hate it, "Tank's" sibilant chorus of "freshy, freshy, I'm so freaky" is guaranteed to make you feel some type of way. From there, the track plows forward with the driving force of an armored vehicle, accented by airy, ethereal ad-libs from Lily. "Tank" may not be to your taste, but you'll never forget it.
11. Lee Chanhyuk: "Time! Stop!"
Wonderfully weird and unpredictable, Lee Chanhyuk delivers a 42-minute rumination on death with his debut album Error. It opens on the 26-year-old lying in the street after being hit by a car, and on "Time! Stop!," we are privy to his internal monologue as he listens to "the fading sound of [his] heart." He asks to live one more day and wonders if prayer will change the outcome, accentuating each thought with breathy punctuation.
Known as half of the brother-sister duo AKMU, Lee's bizarre brilliance has earned him widespread notoriety in South Korea. And though Lee indulged his odd image while promoting Error — he once performed its lead single "Panorama" while getting his head shaved live onstage — the content of the album proves that he's no joke.
10. Kep1er: "Le Voya9e"
Formed on reality competition show Girls Planet 999, Kep1er is unfortunately around for a good time, not a long time. Contractual obligations stipulate that the nine members must go their separate ways in 2024, but until then, the group is delivering some of the slickest pop songs around. "Lion Tamer," "The Girls," and "Dreams'' are all must-listens, but none are as sweet as "Le Voya9e." This dreamy meditation on the "perfect voyage" of a summer love is a soothing sonic salve. Soft and sweet, it calls to a lover, "You are my wishing boat, you are my tidal wave," and mimics the sound of the sea as they row, splash, and watch the waves come in.
9. Stray Kids: "Charmer"
Stray Kids always walk a fine line, exuding confidence without falling into arrogance. On "Charmer" they employ the motif of a snake charmer to communicate their irresistible charisma, promising detractors that "even when you struggle, you'll dance to my spell." The instrumentals mimic the sound of a pungi, the entrancing reed instrument traditionally used by street performers. As always, members Bangchan, Han, and Changbin throw down some of K-pop's deftest and most incisive wordplay, with lines like "I hang up the imitators on the laundry rack" and "even pigeons on the street coo like they are following me."
8. Woodz: "Better and Better"
If I were to bet on any artist, I'd put my money on Woodz. This year's release, Colorful Trauma, is his fourth peerless EP in three years. It's stacked with excellent cuts, like the wild "Hijack" and rocking "Dirt on My Leather." But given Woodz's penchant for the moody and introspective, the radiant, optimistic "Better and Better" is a standout. It celebrates a simple sentiment: that a partner adds to your life, multiplying your happiness. "Your love is the sun, it wakes me up," Woodz sings, "My cold heart is colored by you… You make me better and better and better."
7. Hyo: "Stupid"
Hyo, better known as Hyoyeon of legendary girl group Girls' Generation, has spent the last few years building a solo repertoire alongside a budding DJ career. Her first mini album, Deep, is the culmination, a no-skips selection of singles, collaborations, and this cheeky B-side. Helmed by ZSunder, who became known for producing unofficial remixes and reimaginations of K-pop songs before graduating to the real thing, "Stupid" sits in Hyo's sweet spot, somewhere between playful obstinance and empowerment. Hyo responds to critiques that she's stupid with simple retort: Yep, I'm stupid. "Stupid cute!"
6. Ateez: "Cyberpunk"
"Cyberpunk" feels like the soundtrack to a dark Tron fantasy lit by neon and the sharp glint of metal. It's an exciting update to Ateez's sound, which shifted this year to incorporate influences like metal and screamo. The lyrics mourn a deep loss, with Seonghwa feeling "crushed" by "the silence of the lost souls that were taken away. I can't feel anything in this place, full of lies," he cries. Yet on tour, Ateez performed this song with sexy chair choreography, decked out in leather harnesses. The juxtaposition was delightful and ridiculous, with one Reddit user summing it up: "Congrats to Ateez for turning 'Cyberpunk' into the most 'I'm so sad' *hip thrust* 'I'm so alone' *body roll* song yet."
5. Aespa: "Illusion"
In folklore, a flickering will-o'-the-wisp appears at night to mislead travelers and lure them deeper into darkness. On "Illusion," Aespa take on the impish qualities of that elusive apparition to ensnare a romantic interest. Tongue-slurping sounds peppered throughout the song are satisfyingly silly and, for a moment, it seems they may be more interested in "feeding on attention" than finding love. Their seduction turns villainous in the final stanza, where they reveal, "While you're off-guard, swallow... Innocent prey, delicious."
4. Seventeen: "Shadow"
"Shadow" is cut off of Seventeen's excellent EP Face the Sun, which also boasts "Don Quixote" and the blistering "Ash" as stellar B-sides. The group shines brightest when reflecting on and relishing love, and it brings immense warmth to this song about self-discovery and acceptance. Co-penned by members Woozi and Dino, "Shadow" manages to show off the vocal chops of all 13 members while incorporating a raspy pre-chorus delivery that sounds like it's sung straight from the heart. The lyrics express the urge to run away from darker elements of yourself. "My shadow, I don't want others to see you," they say. "I hated you and hurt you." In the end, they accept the darkness as not just part of them, but a guiding light, admitting, "Even my darkness will shinе brightly. Baby, I'm a shadow of you."
3. STAYC: "Young Luv"
The voices of the six members of fourth-generation phenom STAYC always always seem to meld together a tad more sweetly than their counterparts, as tender as the pain they express in this bitter B-side. "Young Luv" is sung from the perspective of a confused, conflicted young girl, unsure which emotions are guiding her at any moment. "I'm sorry for my young love," she says while defending their "complex attitude" and telling her partner that, though "you act likе you'll give me evеrything with just words, I'm not swayed by it. I'm strong." But even that's not true. Like the best of us, she can't help but "secretly cry" when she's on her own.
2. Tomorrow X Together: "Thursday's Child Has Far To Go"
Though TXT can pull off the deliciously dark with aplomb (see this year's "Opening Sequence" and "Good Boy Gone Bad"), the joyful catharsis of "Thursday's Child Has Far to Go" is almost unmatched in its perfection. The song takes inspiration from the 1838 nursery rhyme "Monday's Child," which predicts the future of a kid based on the day they were born. Modern interpretations of the poem's prophecy vary, with some believing "Thursday's child" has a full life ahead and others concluding they will struggle to reach their full potential. TXT chooses the former, spinning the phrase into an optimistic post-break-up statement of self. While performing the song on their U.S. tour this summer, they stormed the audience, singing to their fans, "The destiny of being a Thursday's child makes me walk again, feeling so good. A smile blooms from my tears… I'm looking forward to the wonderful days."
1. Enhypen: "Shout Out"
"Shout Out" bursts at the seams. An ode to unfettered affection, this rock anthem throws its arms wide open to express a love so loud that "the world shakes." As a group, Enhypen harbor a wide range of promising musical sensibilities and, though their title tracks this year leaned heavily on hip-hop, "Shout Out" and Japanese pop release "I Need the Light" were the most exciting indications of where the group's sound could go.
Member Jake is credited as the lead writer on the song, and his lyrics are exceptionally affirming: "Each other's listeners, I believe you… The world is beautiful when we're together." Enhypen chose "Shout Out" to close out their world tour setlist, and I'll never forget standing in Radio City Music Hall and listening to the sound of 6,000 people cheering as the group sang, "Shout out loud 'til the end of time the story of you and I... Shout out my heart for you."