Run The Jewels's Evergreen Protest, Janelle Monáe's Defining Anthems, And More Songs We Love
YG's 'FTP,' Sylvester's historically relevant disco, and a Kanye classic are just the beginning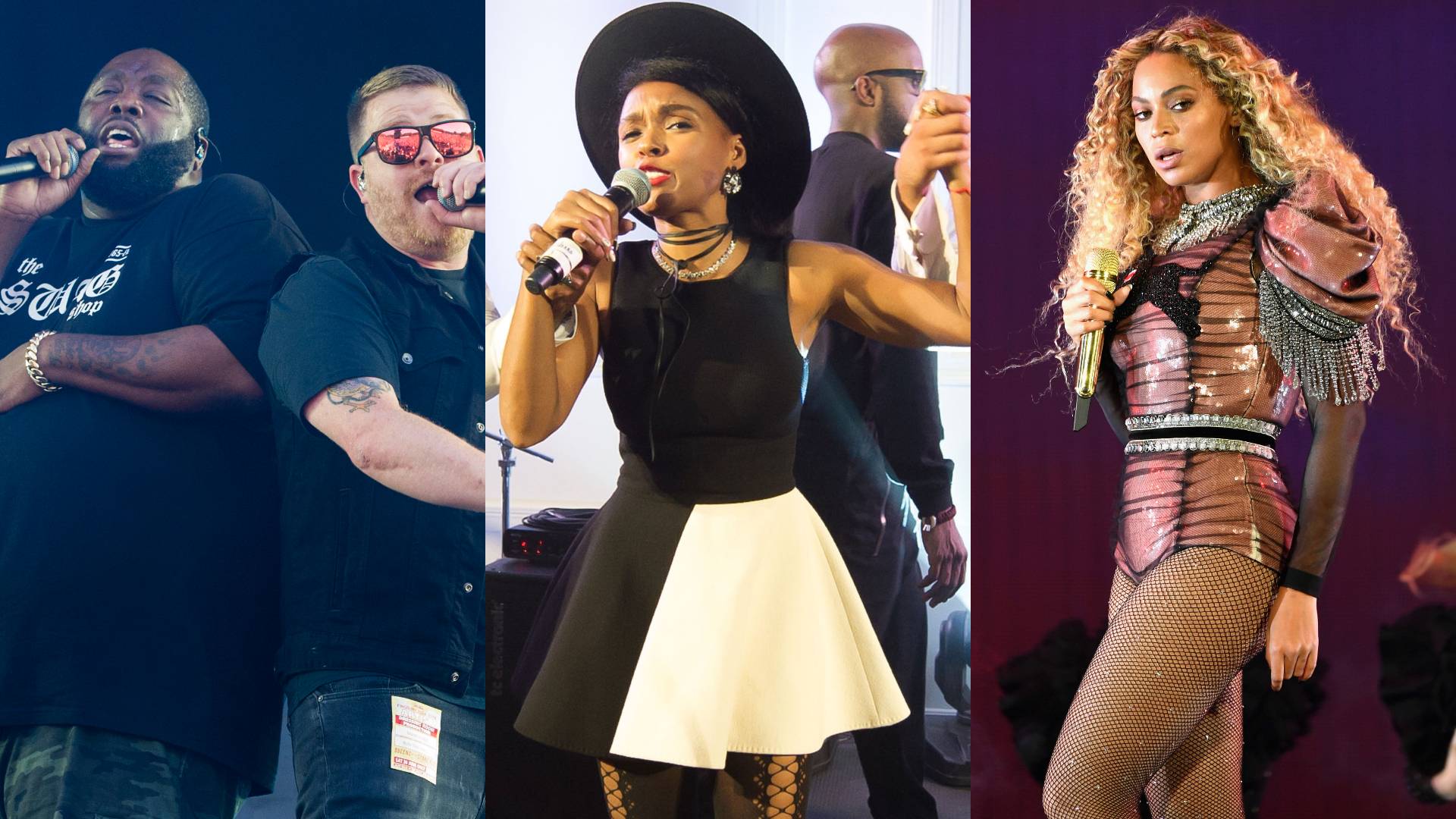 The search for the ever-elusive "bop" is difficult. Playlists and streaming-service recommendations can only do so much. They often leave a lingering question: Are these songs really good, or are they just new?
Enter Bop Shop, a hand-picked selection of songs from the MTV News team. This weekly collection doesn't discriminate by genre and can include anything — it's a snapshot of what's on our minds and what sounds good. We'll keep it fresh with the latest music, but expect a few oldies (but goodies) every once in a while, too. And this week, in honor of June being Black Music Month, we're shining the spotlight on Black musicians making art that feels vital to this moment. Some is contemporary; some is over a quarter-century old. But all of it matters.
Get ready: The Bop Shop is now open for business.
YG: "FTP (Fuck the Police)"
In 2016, YG and Nipsey Hussle dropped the ultimate anthem of the times in "FDT (Fuck Donald Trump)." Its message — clear and simple as it was four years ago — has since been magnified, and YG dropped the song's spiritual sequel, "FTP (Fuck the Police)" this week to support the wave of global anti-police violence protests kicked off by the killing of George Floyd. "Fuck you and your slave shit," he raps over a bassy beat courtesy of Larry June and DJ Swish. "We supposed to be free like the Masons." —Patrick Hosken
Run the Jewels ft. Gangsta Boo: "Walking in the Snow"
"And you so numb you watch the cops choke out a man like me / And 'til my voice goes from a shriek to whisper, 'I can't breathe.'" Killer Mike recorded those words in fall 2019; they went wide this week with Run the Jewels's surprise drop of RTJ4, "something raw to listen to while you deal with" the current state of the world (as the group wrote in a statement). Since their first album in 2013, Mike and El-P's music has always captured the fury and discontent of now. This time, though, a song like "Walking in the Snow" — just one of 11 here that do the job — is impossible to hear without getting your boots ready. "Truly the travesty," Mike raps, "[is] you've been robbed of your empathy." RTJ4 can help you find it again. —Patrick Hosken
Janelle Monáe and Wondaland Records: "Hell You Talmbout"
Seven years after its original release, "Hell You Talmbout" by Janelle Monáe's Wondaland Records collective is still as relevant and visceral as ever. A bombastic bass and biting snare set the tone for an anthem that captures the sense of angst and anguish experienced by those who protest in the name of justice for Black lives and respect of Black bodies. Forgoing a traditional song formula (including lyrics), Monáe and her crew repeat the names of Black Americans who have been killed by police or rogue neighborhood watchmen. It's important to note that since its release, more names have been made eligible to be beckoned in the song's call to action: to say his/her name. More chant than song, it calls the listener to answer the question America seems to ask the Black community repeatedly regarding matters of racialized violence and injustice: "[What the] hell you talmbout?" Black life. Human rights. Black lives — that's what the hell we're talmbout. —Virginia Lowman
Sylvester: "You Make Me Feel (Mighty Real)"
Look — it's Pride Month, and if this iconic gay national anthem doesn't put some PrEP in your step, I don't know what will. Debuting in 1978, "You Make Me Feel (Mighty Real)" remains a timeless classic by a legendary artist who defied gender and sexual norms. Don't want to take my word for it? Then listen to the Library of Congress, which added the disco hit to the National Recording Registry among other songs that are deemed "culturally, historically, or aesthetically significant." According to the Library of Congress, Sylvester's disco hit "reflected his childhood background in both African-American gospel music and his work as a drag performer in San Francisco, and has become an enduring LGBTQ anthem." Once quarantine is over, I'll see you on the dance floor! —Zach O'Connor
The deeply personal impact of this song can't be understated: I still remember the visceral feeling of the first time I saw Beyoncé drown a police car in the dank waters of Hurricane Katrina, watched a young dancing Black boy command the attention of a cop line raising their hands to him, as the camera pans over the phrase "Stop Shooting Us." That visibility — feeling seen and heard from the very core of your being to your "negro nose with Jackson 5 nostrils" — having one of the biggest stars in the world recognize your glory, your strife, your black magnificence, all dripped in gothic fashion and Southern drawl. I still get chills. —Terron Moore
BeBe Zahara Benet: "Body on Me"
BeBe Zahara Benet, the winner of RuPaul's Drag Race Season 1, made us roar with her ferocious 2018 track, "Jungle Kitty." But now the Cameroon queen has released Broken English, a five-song EP full of bouncy bops like "Banjo" and her newest single, "Body on Me." BeBe says Broken English "really reflects a fusion of my two homes: West Africa, my birthplace, and the U.S., my chosen home." The Caribbean melodies and Afrobeat rhythms will have you dreaming of Mai Tais on the beach as you self-isolate in your bedroom. Feel your summer fantasy and put "Body on Me" on repeat. —Chris Rudolph
Janelle Monáe: "Django Jane"
Janelle Monáe is a Black queer woman, and this is her palace. "Django Jane," and Dirty Computer, the epic, unapologetically feminist "emotion picture" from which it hails, came out in 2018, but it just as well could have dropped this week. Monáe's outrage — at the entertainment industry making racist evaluations of her worth, at Black femmes being silenced and denied platforms — seeps into every syllable. "Runnin' outta space in my damn bandwagon / Remember when they used to say I look too mannish?" she raps. "Black girl magic, y'all can't stand it." If the Black woman is "the most unprotected person in America," then Monáe is steadying her shield. —Sam Manzella
Terrace Martin ft. Denzel Curry, Kamasi Washington, G Perico, Daylyt: "Pig Feet"
Terrace Martin, fresh off creating a disco EP with Ric Wilson, recently assembled another all-star collaborative team for "Pig Feet," an anti-police violence anthem. On it, Kamasi Washington's full-throated saxophone soundtracks the activism from both Denzel Curry ("They want us crucified with stones and hard rocks") and Daylyt ("I'm here to remind n----s we kings"). The video ends with a long, long list of Black men and women that have been killed by police. As Martin told Complex, "The message of 'Pig Feet' that I'm trying to get across is A, awareness, B, strength, and C, fearlessness." —Patrick Hosken
Kanye West ft. Chance the Rapper, The-Dream, Kelly Price, Kirk Franklin: "Ultralight Beam"
"So why send oppression, not blessings?" Kelly Price demands of God nearly two minutes into "Ultralight Beam," a protest anthem of another kind, a sparsely produced calling for prayer in the face of the devil, a "God dream" in the midst of persecution. All five of the song's narrators wrestle with how to see the light in the darkness, its crux being Kelly's war with her faith immediately followed by Chance's furious mix of song and rap. When he chants "This is my part, nobody else speak!" to go into a rendition of "This Little Light of Mine," he absolutely out-Kanyes Kanye on a song where West doesn't even rap.—Terron Moore
Tracy Chapman: "Talkin' 'Bout a Revolution"
It makes sense that Tracy Chapman's second single­ — after her iconic debut "Fast Car" — has the word "revolution" in its title. After all, the simply stated Black songwriter was revolutionary in the late 1980s, breaking the rules of pop music with her sparse folk arrangements and honest lyrics wrought with stories. "Talkin' 'Bout a Revolution" carries the same kind of timelessness as her other hits, painting a picture of dissatisfaction and injustice in the world with a whisper of hope. It may feel quiet at first, but as people rise up and run, the stakes escalate in an anthemic chorus. Finally, the tables are starting to turn, indeed. —Carson Mlnarik