Taylor Swift's 'Evermore' Has A Song For Every Mood
Feeling vengeful? Nostalgic? At peace, finally? Tay's got you covered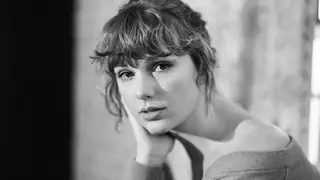 Surprise — again! After dropping her record-breaking eighth album, Folklore, on a whim back in July, Taylor Swift repeated her antics today (December 11) with the release of her Evermore. Folklore's sister record further mines Swift's whimsical storytelling perspective alongside producers Jack Antonoff and The National's Aaron Dessner, two great minds who helped hone her folksy alt-pop sound the last go-around.
Evermore is an equally experimental sequel, as the pop singer weaves scenes of heartbreak and outlaws on the run. "Champagne Problems" depicts the aftermath of turning down a proposal over sparse piano keys, while the Haim-assisted "No Body, No Crime" is a contemporary riff on a vintage murder ballad boasting plenty harmonicas. Even in her most escapist moments, Swift still finds ways to craft relatable lyrics and captivating characters, perhaps none more compelling than herself. "Gold Rush" calls back her signature color for boyfriend Joe Alwyn — also known as William Bowery, a co-writer on three of Evermore's tracks — to espouse the jealousy and insecurity that come with falling hard. And "Long Story Short" announces a place of peace after years of "petty things" and "nemeses" in the limelight.
It's clear Evermore is a continuation of the Folklore era, with the visual for "Willow" finding Swift descending into the same piano from the "Cardigan" music video. Fans will find that not only does Taylor still have a song for every mood, but by straddling the lines of fact and fiction, she's charting new emotional territory. Wondering where to start? Don't worry, we're breaking it down track-by-track.
Listen to it when you're feeling: hopelessly romantic.
Key lyric: "Life was a willow and it bent right to your wind / But I come back stronger than a '90s trend"
Spoiler alert: Taylor is a bit of a romantic. As the song's accompanying video shows, she's still a heartfelt believer in true love, and she's crafted the perfect soundtrack to underscore any slow dance, intimate car ride home, or huge reminder that you're single.
Listen to it when you're feeling: like you're just not built to be in a relationship.
Key lyric: "One for the money, two for the show / I never was ready so I let you go"
While this song, written by Swift and Bowery, tells the tale of two college sweethearts who had very different visions of where their relationship was going, it'll strike a chord with anyone who's had their heart — or their expectations — broken. You think you're in distress? Just wait until the expletive-heavy bridge when things get completely unhinged.
Listen to it when you're feeling: just a teensy bit jealous.
Key lyric: "I don't like that falling feels like flying 'til the bone crush"
Jealousy may be a green-eyed monster, but Taylor is seeing a gold rush in this upbeat daydream of a tune detailing her insecurities about having a lover whom everyone else is attracted to. Her attempts at level-headedness come with an air of desperation as she can't help but imagine "padding across your wooden floors / With my Eagles T-shirt hanging from the door." If you've got a guarded heart that's afraid to take a relationship to the next level, you'll feel this one.
Listen to it when you're feeling: like making the same old mistakes.
Key lyric: "I'm staying at my parents' house / And the road not taken looks real good now"
With a title like "'Tis the Damn Season," Taylor's not exactly setting the table for a cheery Christmas soirée. Through the story of aspiring actress Dorothea — more on her later — returning home, Swift crafts a fitting ode to indulging in a holiday fling with the one that got away. We're not advising you to send any "Are you back in town?" texts, but if you do, here's a primer.
Listen to it when you're feeling: underappreciated, especially for your table-setting skills.
Key lyric: "I know my love should be celebrated / But you tolerate it"
Every Swiftie knows that Taylor reserves track No. 5 for her most exhaustively raw and confessional moments (see "All Too Well," "My Tears Ricochet," and "The Archer") and she continues to deliver the emotional punches here, whether setting the table with "fancy shit" to "begging for footnotes" in her lover's life. When you're feeling gaslit or ignored in a relationship, this one is here with a nice warm hug and soul-crushing bridge.
"No Body, No Crime (ft. Haim)"
Listen to it when you're feeling: like taking vengeance into your own hands.
Key lyric: "She says, 'That ain't my Merlot on his mouth / That ain't my jewelry on our joint account'"
Any true-crime podcast or documentary fan is going to be all about Tay's first team-up with her friends in Haim. Este has gone missing — she didn't show up to her Tuesday night shift at Olive Garden — and her cheating husband is the prime suspect. Thankfully, Taylor knows enough about a crime scene to take justice into her own hands, à la The Chick's "Goodbye Earl." When you want a taste of revenge, give this one a spin.
Listen to it when you're feeling: wistful about what you can't change.
Key lyric: "And in the disbelief, I can't face reinvention / I haven't met the new me yet"
What, were you expecting a song called "Happiness" to be happy? Over haunting synths and delicate plucking, Swift struggles to maintain a sense of optimism navigating the complexities of a breakup, resolving that "there'll be happiness after you" even though "there was happiness because of you, too." Save this one for your rainy-day walks or late-night feels.
Listen to it when you're feeling: like the lonely city lights might not be worth it.
Key lyric: "It's never too late to come back to my side"
Move over, Betty! There's a new girl in town. According to Evermore's liner notes, Dorothea is a "girl who left her small town to chase down Hollywood dreams," and this swinging slow jam is a reminder that she's always got someone in her hometown. Here's a shiny ditty to remind you that you're never truly alone.
"Coney Island (ft. The National)"
Listen to it when you're feeling: nostalgic.
Key lyric: "The fast times, the bright lights, the merry go / Sorry for not making you my centerfold"
After working with Aaron Dessner and his brother Bryce on Folklore, Taylor takes it to the next level in her first collaboration with their band The National. This one might be called "Coney Island," but it's a cloudy day at the theme park as Swift and Matt Berninger swap verses about a bitter romance where they both made mistakes. When you're wondering what went wrong, this one will hit home.
Listen to it when you're feeling: at a crossroads.
Key lyric: "Oh, goddamn / My pain fits in the palm of your freezing hand"
Infidelity has never sounded so sweet! In this breezy charmer, Swift imagines falling in love with someone who puts "roots in [her] dreamland" even though her heart's been promised to another. When one option looks better than the other and you're stuck, perhaps this will help make up your mind.
Listen to it when you're feeling: ready for a risqué romance.
Key lyric: "We could be the way forward / And I know I'll pay for it"
It's official! Despite being the one to typically ride off into the sun, Taylor says she's met her match in this slow, country-tinged swinger about a renegade romance. Throw in some not-so-sneaky background vocals from Marcus Mumford of Mumford & Sons, and like the narrator, we're caught hook, line, and sinker.
Listen to it when you're feeling: at peace.
Key lyric: "If the shoe fits, walk in it 'til your high heels break"
Did Taylor Swift just explain 2020 in a nutshell with the lyric, "Long story short, it was a bad time?" This brisk, fast-paced tune recalls Swift's '80s-pop influences to sum up her fall from grace, resulting in public feuds, and how she's come to terms with it, thanks to love. Play this one when you're finally over the drama.
Listen to it when you're feeling: reflective.
Key lyric: "I should've asked you questions / I should've asked you how to be / Asked you to write it down for me"
After paying tribute to her grandfather on Folklore's "Epiphany," Swift dedicates this song to her late grandmother Marjorie Finlay, an opera singer who encouraged her passion for music. When you're trying to remember those you've lost, try this heavenly track — and make sure you've got Kleenex if you're watching the archival footage in its accompanying lyric video.
Listen to it when you're feeling: perfectly fine with being bitter, thank you very much.
Key lyric: "I'm fine with my spite / And my tears, and my beers and my candles"
A rogue drum machine leads this otherwise soft ballad astray as Taylor reflects on closure, which is never quite as clean as it sounds. Some ends are better left broken, especially when you're still spiteful and "staying friends would iron it out so nice." Here's your soundtrack for no longer giving someone the time of day.
"Evermore (ft. Bon Iver)"
Listen to it when you're feeling: like you need a little extra light.
Key lyric: "I rewind the tape but all it does is pause / On the very moment, all was lost"
In the album's somber yet hopeful closer, Swift, Justin Vernon, and Bowery have penned a tune that speaks to the cycles of depression and anxiety, especially as they've affected people this year. If you're looking for a breath of fresh air, let this be your reminder that "this pain wouldn't be forevermore."