Lorde Emphatically Responds To Those Jack Antonoff Dating Rumors
'For the last time...'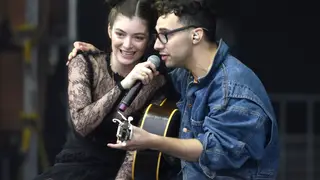 Lorde is currently on a world tour supporting her Grammy-nominated album Melodrama, but people don't seem to care much about that. Instead of focusing on her certified bops and mastery at murdering stages, fans are more zeroed in on her love life.
The singer has been spotted out and about lately with Jack Antonoff — who co-wrote and produced Melodrama — and after photos of them hugging on the streets of Auckland popped up on The Daily Mail this week, fans were convinced they were making more than music together.
Well, Jack and Ella (Jella?) shippers, Lorde has put the kibosh on any such rumors. While chatting with fans on Instagram Live on Thursday night (February 22), she responded to a fan who asked if she and Antonoff were an item.
"Guys, no!" she quickly replied. "Guys, never. No. Jack and I are not dating, for the last time. But I love him, he's awesome. But we're not dating! Please!"
It's worth pointing out that Lorde's emphatic denial comes more than a month after Antonoff basically said the same exact thing. After he and Lena Dunham split up in January, Antonoff tweeted, "Normally I would never address rumors but I resent having the most important friendships and working relationships in my life reduced to dumb hetero normative gossip. Those relationships are deeply important and sacred. With that said, I'm not seeing anyone."
So there you have it: BOTH Lorde and Antonoff have shut down those pesky rumors, so let's them leave them be and let them keep making sweet, sweet music (and nothing more) together.