Finn Wolfhard's Band Calpurnia Debut New Music At 'Inspiring' New York Show
'It's just amazing to see someone your age play,' Sierra, 15, told MTV News following their electrifying debut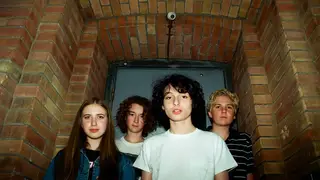 On Friday night (January 12), Calpurnia brought an army of impassioned teenage girls — and a few famous young faces — to Brooklyn for their first big gig since signing with indie label Royal Mountain Records late last year. Led by Stranger Things star Finn Wolfhard, the Vancouver foursome played an electric 40-minute set, a one-off stop featuring a handful of new originals as well as a few lively covers. But the sold-out show wasn't just a testament to Wolfhard's star power or his fans' (and their parents') commitment; it was a commanding debut. And a hell of a lot of fun, too.
Wolfhard set the tone for the night before a single note was even played. "Let's everyone take a deep breath and compose yourselves," he told the screaming crowd. "And just chill." Of course that was easier said than done. For the 15-year-old frontman, this is the new normal — the screaming, the cameras, and the constant inability for anyone caught in his orbit to maintain their chill. But where some might shrink away from all the attention, Wolfhard shines — or at least he knows how to channel it into a cool, confident stage presence.
"First of all, I want to thank the moms who brought all these girls here," he said following the band's easy-going opener, an original called "Louis" (or "Louie") that had Wolfhard shouting "I feel cold" in the chorus and bassist Jack Anderson playing the claves. With "Wasting Time," another original, Calpurnia brought their fun-loving energy to the same intimate venue that's housed some of their blissed-out indie idols, like Twin Peaks and Mac DeMarco. It also gave lead guitarist Ayla Tesler-Mabe an opportunity to shred, proving herself to be the band's secret — and most essential — weapon.
The moody "Greyhound" showcased their sharpest lyrics, as Wolfhard's voice floated through heartbreak while drummer Malcolm Craig maintained a punchy beat. Upstairs in the balcony, It's Sophia Lillis, Stranger Things' Gaten Matarazzo, and Jaden and Willow Smith bobbed their heads to the rhythm.
Meanwhile, another energetic original tune found the teenage frontman instructing the crowd to put their "phones down [and] flashes off" mid-song before the beat swiftly changed to something slower and more psychedelic. Wolfhard's repeated efforts to get the audience to chill and live in the moment were commendable, though not always successful. "I get it. I was in a TV show," he said, referring to his role as Mike Wheeler on the Netflix phenomenon. "But I'm not in a TV show now."
Calpurnia also mixed things up with a few covers: Pixies' "Where Is My Mind," Weezer's "El Scorcho" (or "El Fucking Scorcho," because sometimes even Wolfhard has no chill), Velvet Underground's "Here She Comes Now" — which Wolfhard dedicated to Lou Reed and Hulk Hogan — and Twin Peaks' "Butterfly." (Twin Peaks' own Cadien Lake James produced the band's debut EP, which is set to drop later this year.) Even some connectivity issues during "El Scorcho" couldn't kill Calpurnia's vibe — or derail Tesler-Mabe's technical prowess. Her soulful shredding was so earth-shattering during the band's encore number, an extremely upbeat and catchy original called "City Boy," that Wolfhard himself bowed down to her at the song's end.
And that artistry didn't go unnoticed by their teenage fans, many of whom filed out of the venue in a euphoric daze while their parents stood in line for merch (which included a black t-shirt with the words "Vinyl Forever" written in the now-iconic Stranger Things font across the chest). "It's just amazing to see someone your age play," Sierra, 15, told MTV News after the show. "They're really inspiring." Her friend Danielle, 16, added, "There's not many bands out there that are around my age, so it's really cool."
For New Jersey teen Kelsey, who also plays guitar, watching Tesler-Mabe on that stage was especially captivating. "It gives me a lot of hope," she said. "I was crying the whole time," her friend Natalia, 15, added. "It was so good."
Best friends Emma, 16, and Chloe, 16, drove four-and-a-half hours from Maryland to catch the show. "Ayla is super talented," Emma said. "I was watching videos on her Instagram a few months ago, and I was just blown away with how incredible she is." As for the band's onstage chemistry, Chloe said, "I felt like they were having a lot of fun. It wasn't forced or anything either."
If you're 15 and you're playing a sold-out show in Brooklyn with your best friends, and it doesn't feel exhilarating — even through the missteps — then there's something wrong. Luckily for Calpurnia and their fans, the real fun is only just beginning.