Everything We Know So Far About Harry Styles's 'Fine Line' Era
All of your burning questions, answered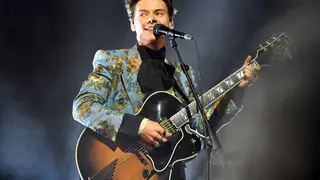 Harry Styles's Fine Line era is upon us, folks, and if you have questions about what you can expect from the singer's sophomore album, well, you're certainly not alone. Ever since Styles dropped his dreamy new single "Lights Up" back in October, the fandom has been flooding his mentions with questions about his upcoming album, the tracklist, tour dates, and how and when they can purchase tickets to see him perform live.
Fortunately, more and more details about what we can expect from Styles's next era are slowly revealing themselves. On Monday (November 4), for example, the singer took to social media to officially announce the title and release date of his upcoming LP. And, good news! Fine Line will be here before you know it.
Of course, we don't have all the answers about Styles's next release. Not yet, anyway. But we have been scanning Twitter non-stop over the past couple weeks for any possible clues about this next chapter of his career. Here are all of your burning questions about the Fine Line era, answered. You can thank us later!
When does the album come out?
ICYMI, Christmas is coming early this year. On Monday, November 4, Styles took to social media to announce the title of his upcoming album along with its release date. Lucky for us, we won't have to wait long at all. Per the official announcement, Fine Line will drop on December 13, so add it to your holiday wish lists now.
Is Fine Line available to preorder?
YES! Styles hopped on social media to confirm that Fine Line is available to preorder as of November 5. And although the window of opportunity has already closed, preordering the album when the original announcement was made fans gave fans access to a presale code for his album release show. Curious about the "one night only" experience? Keep reading.
Does he have any live shows planned?
Good news, Harries! Styles has a whole world tour planned! But before we get into that, you should know that prior to the official tour announcement, he announced one (yes, one) live show scheduled for the album's release date, and it seriously sounds like a can't-miss event. The "Lights Up" crooner took to social media in early November to announce that he'll be celebrating the release with a "One Night Only" performance at The Forum in Inglewood, California, on December 13. Plus, the tickets only cost $25!
Can't make it to his show at the forum? Worry not! Styles confirmed fan speculation that a tour is happening on social media on November 13. Dubbed Love On Tour 2020, Styles will be going pretty much everywhere his fans are. So far, he's announced the North American and European dates, and will be joined by Jenny Lewis and Koffee in the States and King Princess across the pond. So, when can you snag tickets? American Express and Verified Fan presales begin Monday, November 18, and tickets go on sale to the public beginning Friday, November 22. And if you're located elsewhere, don't fret! South America, Asia, and Australia dates are coming soon.
What will Fine Line sound like?
In his Rolling Stone cover story from September, Styles gave a one-sentence overview of what we can expect the songs to tackle: "It's all about having sex and feeling sad." And if that interview was any indication, the remainder of the album will likely be just as psychedelic. "We'd do mushrooms, lie down on the grass, and listen to Paul McCartney's Ram in the sunshine," he said of his creative process. "This is where I was standing when we were doing mushrooms and I bit off the tip of my tongue. So I was trying to sing with all this blood gushing out of my mouth. So many fond memories, this place."
Besides "Lights Up" and "Watermelon Sugar" has Harry revealed any other song titles?
On November 19, just days after his performance on Saturday Night Live, Styles unveiled the Fine Line tracklist. And just in case there was any doubt before with songs like "Kiwi" and "Watermelon Sugar," Styles really loves fruit. Also on this album is a song called "Cherry." And some others that we're excited for based on title alone are "Sunflower, Vol. 6," "Canyon Moon," and of course, "Treat People With Kindness." Can it be December 13 yet?
What is Harry's favorite song off the album?
OK, so now that we have the track list, we're dying to know which track from the upcoming album is Harry's favorite. The singer did tease that he has a favorite track on Twitter by seemingly blocking out letters with asterisks? The problem? None of the songs on the current track list seem to fit. Hmm...
Can we expect any collaborations?
Although Harry hasn't directly responded to speculation about possible collaborations, the track list doesn't appear to show any artist features. Prior to releasing the list of songs, though, fans on Twitter couldn't help but speculate. So far, they've mustered up theories involving everyone from Taylor Swift and Ariana Grande to Kacey Musgraves and Lana Del Rey. And yes, we want them all.
Since the album announcement, Twitter has been inundated with theories regarding how many tracks will be included on Styles's upcoming LP. When he tweeted "863," many fans added those three numbers together and took it to mean that the album will include 17 tracks. Alas, that theory has since been debunked. Prior to the release of the track list, which shows a total of 12 songs on Fine Line, a quick visit to Apple Music would've revealed the same. The music streaming service also showed that two songs are over six minutes long, so that's certainly something to look forward to.
When can we hear another single?
Now that Harry's performed both of his new singles — "Lights Up" and "Watermelon Sugar" — while doing double duty on SNL, it's unclear when he'll drop the next one. Hopefully we'll get another taste of his new music prior to the album's December 13 release, but really, it's way too soon to tell.