Andy Shauf, Storytelling Songwriter, At The Halloween Store
The Canadian musician's new concept album, 'Norm,' finds its unlucky characters striving for connection amid plastic costumes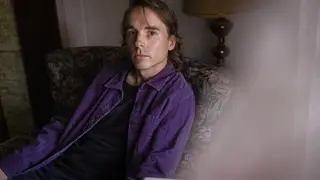 What happens when we die? Andy Shauf, like all of us, has moments of preoccupation with this thought. When lockdowns hit in 2020 and the Canadian singer-songwriter found himself reading through the first few books of the Bible, he gravitated to the omniscient perspective of God instead of the worried heads of men. "I had a lot of time on my hands," he says wryly, with a smile, to MTV News over Zoom. Shauf penned a few songs from an almighty POV, including "Wasted on You," the soft-rock sunrise that opens his literary new album, Norm. He begins the tune with nearly the same question, save for a key pronoun switch: What happens when they die?
"I was picturing God just as a comedic version of God, a bit of a caricature," Shauf says, "and he's talking to Jesus, like, 'I've got this great idea for humans.' And Jesus is skeptical, like, 'I don't think this is a great idea.'"
The great idea, of course, ends with humans murdering Christ on a cross, causing God to ponder his actions and motivations. "Was all My love wasted on you?" the Lord exhales on the chorus, setting the tone for Norm's many disappointments and failed connections. Like Shauf's previous acclaimed LPs — 2020's The Neon Skyline and 2016's The Party — Norm is a concept record, though its multiple narrators can be hard to pin down. Like any good story, Norm rewards multiple listens. Its most indelible moments are enriched with Shauf's curious details: The Price Is Right soundtracking a divinely hallucinogenic vision, a movie theater as a haven for peeping, and a climactic trip to a Halloween store.
It could be that Shauf's evangelical Saskatchewan upbringing, "in a town that essentially just existed because there was a Bible college," has skewed his perceptions of that spooky holiday. He wasn't always allowed to go trick-or-treating because of the satanic implications. Commercial outposts for all things October 31 remain a mystery to him. "Halloween stores in general will always be a bit baffling," Shauf says. Because of the overwhelming plastic smell? The fact that they vanish as soon as November hits? "There's just such a bad vibe," he offers.
Despite its creator's gentle origins and aggressively anodyne album title, Norm's easy-listening sonics seem to get complicated the longer you spend immersed in its world. The title character locks his keys in his car en route to the accursed destination on "Halloween Store." Wounded synthesizer lines bray like children dressed as demons. You'd never know it began as a disco song, which Shauf tried his hand at before settling into the fatalistic character studies that comprise Norm.
He also became heavily invested in the long reverb and pitch-shifted keyboards of Dutch vaporwave artist Cat System Corp., who helped pioneer the "mallsoft" genre tag — atmospheric compositions designed to transport you inside shopping centers as you listen. That immediate sense of place inspired Shauf, who also "got really fixated on vintage gear" and let the songs that became Norm spring to life from orchestrated, analog sounds. There's no mistaking Norm for anything but an indie-folk album, and Shauf plays every instrument here, including guitar, drums, piano, and clarinet. But its swirling, cocktail-pop moments, like the sad-sack stomp of "Daylight Dreaming" and the destabilizing cloudwork that ends "Don't Let It Get to You," reveal the successful ambitions of a songwriter reaching beyond his usual toolkit.
"I just went wild with the arranging and instrumentation," Shauf says. He's had some issues translating them back to a more basic guitar-and-vocals setup, but it's a puzzle he's welcomed having to solve, then forget, then re-solve. "There's a lot of melodies happening, so it's chording and melody playing at the same time. A lot of complex guitar playing that I'm not used to. As soon as I look at my left hand playing the guitar, I'm just like, 'I'm gone,' and I lose it."
A writer can get lost in a song, too, but if his characters know where they're going, he'll eventually catch up with them. Norm — who may have been partly inspired by Cheers's beloved George Wendt in name if not temperament — has a fateful plan that he puts in motion outside that Halloween store. And then five more songs happen, at least two of which aren't even sung by Norm at all. How does that writer even get to the end of the story using the lyrical constraints of three-minute pop songs?
"The thing that I didn't want to do, almost, was to end it," Shauf says. "I knew the sentiment that I wanted to be at the end, and I thought that if I showed what happened at the end, it would be too much." When you listen to Norm closely enough, especially keeping in mind its opening rumination from God, it's abundantly clear what happens to these people. Shauf found the confidence to stand inside that moment through the dense dream fog of David Lynch's film Mulholland Drive — specifically a scene that glitched on his laptop, creating a bizarre tech remix.
"There was a key sitting on a table, and it sort of locked in, and it looked like it was really slowly panning in. It was minutes going by, five minutes, and I'm like, 'This is insane. This must have been chaos at the theaters.' And then my browser just crashed," he says. "The movie had been frozen for 10 minutes."
Such an extended Lynchian scene would not be out of the realm of possibility — the director spends several minutes filming an atomic-bomb explosion in a 2017 Twin Peaks: The Return episode — but that lingering error helped Shauf see he could make his own story end any way he wanted, or not at all. "It was that realization that I didn't need to end it, because if I do, it's going to be too intense. I didn't write the ending. I wrote what led to the ending."
This kind of narrative experimentation called for an extra set of eyes on the story itself. Shauf enlisted his longtime Saskatchewan friend Nic Olson, a writer and poet who has also worked the merch table on Shauf's tours, as a story editor. "We were texting about hockey playoffs or something like that," Olson says, and then Shauf sent him a Google Doc. Olson saw the narrative laid out via the lyrics to each song, focusing only on the forward momentum of the Norm concept without hearing a single note of music.
"I made suggestions that were trying not to pressure him to feel like he needed to explain himself," Olson says. "Smaller edits and just basic different words that could be replaced instead of additions, knowing that the lyrics were probably already written into the length and melody of the song." Some of those tweaks involved swapping pronouns to clarify those changing narrators. Olson, who's currently a law student, loved the idea of working as an editor on an album of recorded music; he deeply understands how crucial the refining process can be. "It kind of blows my mind if it's not happening [regularly] because in my experiences of writing, if I don't have an editor, shit goes so sideways, and it's so hard to really effectively get your ideas across."
As a result of its studious creation, Norm sparkles. So much happens to these characters, but absolutely none of its so-called plot is essential to having an emotional response to the 12 songs. Like the marveling Creator who opens the album with his musings on human nature, you can hear Norm as a series of behavioral sketches. Or you can drink in the marbled-sherbet glow of its synthesizers. Or you can pore over the narrative itself, scratching your head to try to understand the motivations of the lovelorn, unlucky, and seemingly doomed.
Shauf will accept all of these. He'll also patiently explain one particularly knotty stretch in Norm's title track until all your queries are satisfied. "If you've got any more questions," he offers, "let me know if I can just totally kill this record for you." There's that wry smile again.