Bye, Angelina: Will The 'Staten Island Dump' Leave 'Family Vacation' Without Drama?
Time will tell if she's really altered more than her lips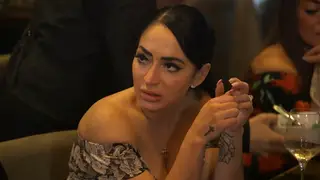 Could the third time be a charm for Angelina?
Though the boys embraced her with open arms, the girls were far more skeptical of the chick they'd once dubbed "the Staten Island dump."
Cue JWOWW: "Why the f**k are you here?" You're here because you're a f**king chew toy."
Ang, who had been invited by prank war champion Pauly D, claimed she wanted to "make amends," but Jenni called bulls**t -- literally. And Snooki? Well, let's just say she was feeling bitter over a recent interview Angelina gave to a certain tabloid regarding lip injections.
"My experience with Angelina? She's an a**hole, she's mean, she's immature," said Nicole. "When I look at her, I'm like, 'You are still a snake.'"
Fast forward to Meatball Day, when the self-proclaimed "nicer b*tch" joined Snooki, Deena and Ronnie out for a day of binge drinking. Because booze often brings folks together in happy harmony, they were all BFFs by the bender's end -- and Angelina had even apologized to Snooki.
"People in life, like, they change. I've changed for the better," said the Staten Islander.
All seemed forgiven, but that didn't mean Angelina was automatically allowed to kick it for the remainder of Family Vacation... because even third chances can wear out their welcome.
Naturally, leave it to Jenni to break the news -- over a nice sushi dinner, no less -- that it was time to pack up and take the ferry back to Staten Island.
"I was a little shocked that you were here, but I must say, in the last 48 hours, you are a good person," JWOWW stated. "I would like to get to know you more... but I don't want to get to know you more here."
Will Angelina take Jenni's adios in stride, or will she go apesh*t circa 2010? And has she really changed? Sound off with your thoughts, then tune in next Thursday at 8/7c to see if Angelina has truly turned over a new leaf -- or if she's still fake as f**k.