Did Rihanna Make Snapchat Lose $800 Million?
Navy vs. Ghost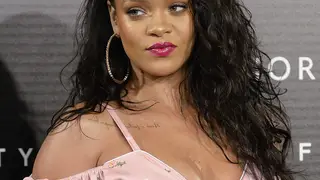 Snapchat is facing the wrath of Rihanna and her Navy, and it might have a significant impact on their bottom-line. According to CNN, Snap Inc.'s (SNAP) stock went down almost 4 percent this Friday (March 17), which is an $800 million loss from the company's market value. While the tumble might not all be Rihanna's doing, the PR nightmare does nothing to help the social-media platform.
"Now SNAPCHAT I know you already know you ain't my fav app out there," Rihanna wrote. "But I'm just trying to figure out what the point was with this mess! I'd love to call it ignorance, but I know you ain't that dumb!"
In light of the controversy, TMZ is reporting that Snap Inc. is trying to bring on a rep from the National Network to End Domestic Violence to their board. This is far from the first time a celebrity has expressed displeasure with the increasingly beleaguered platform. In February, Kylie Jenner voiced her disapproval at Snapchat's new user experience.
According to Bloomberg, Snap's shares dropped 6.1 percent after the tweet, which erased $1.3 billion in market value from the company. With Snapchat facing mounting controversy, a backlash from the recent redesign, and continued competition from Instagram it will be interesting to see how or if Snap can bounce back.