18 TV Couples That Made Us Believe In Love Again In 2018
From simmering romances to forbidden loves and unlikely courtships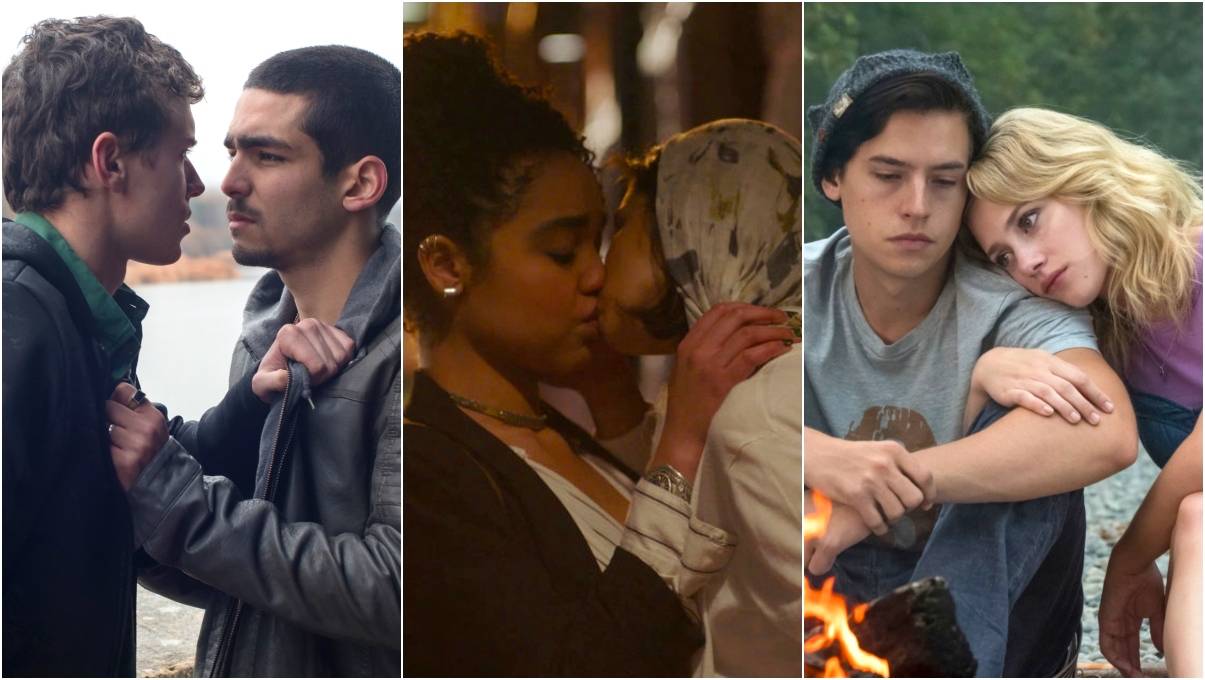 We watch television for a lot of different reasons — the drama, the romance, the twists and turns, the tweets — but in 2018 another word comes to mind: self-care. When you're only one more push alert away from a nervous breakdown, it's nice to be able to disappear into a fictional world where pretty people make out with other pretty people and deal with their own drama for a bit.
This kind of escapism isn't just entertaining — it's vital to our overall health and happiness. So of course we get a little too emotionally invested in the TV couples that bring us so much joy. As the year comes to a close, MTV News is celebrating the small-screen romances that redefined hashtag-goals and made 2018 a little more bearable.
Spoilers for many, many television shows past this point.
Gert and Chase, Marvel's Runaways
Define The Relationship: Good question.
There's hardly anything original about the popular high school jock falling for the smart, alt girl. (See: Sixteen Candles, She's All That, A Cinderella Story, and To All The Boys I've Loved Before.) And yet Marvel's Runaways put a fresh spin on a classic teen trope with Chase and Gert, a beloved Marvel Comics relationship. She likes to talk through her feelings — thanks to years of therapy and emotionally accessible parents — while he'd rather not, but they're going to need to sit down and define their relationship at some point. Because they went from "unrequited love" to "having sex at the school dance" real fast. But leave it to Gert to break through Chase's walls and discover that he's just as awkward and unsure about everything as she is.
Sabrina and Harvey, Chilling Adventures of Sabrina
DTR: It's complicated — like, "I'm a member of the occult and signed my soul away to Satan"-complicated.
Harvey Kinkle is every teenager's dream boyfriend. He isn't afraid to express his emotions, and by being open with those emotions, it makes him more aware of Sabrina's. More so, he's completely supportive of her ambitions and actually listens to her needs. No wonder Sabrina was ready to risk her entire magical destiny to spend a mortal life with Harvey. But their relationship isn't completely one-sided; Harvey's carefree nature and penchant for having a good time bring out Sabrina's spontaneous side — and she's always down to be his partner in crime. Too bad she had to break his heart for the Dark Lord. What a bummer.
Sutton and Richard, The Bold Type
DTR: Finally back on track.
The Bold Type is one of the best shows on television because it understands the everyday microaggressions women face in the workplace. When Sutton, a fashion assistant at Scarlet, made the mature decision to break things off with Richard, a board member 12 years her senior, she did it because she knew the implications their relationship would have on her reputation. But that didn't make the split any less heartbreaking, especially because that spark between them was still there. So by the time Sutton and Richard rekindled their romance in Paris, it was hardly a surprise. They're like two magnets, drawn together by their genuine human connection. Sometimes the best romances on television are the simplest.
Claire and Jamie, Outlander
DTR: Soulmates who will move through space and time to find each other again.
No other couple on television puts us through hell like Outlander's Jamie and Claire. For the past four seasons, their epic love story has literally defied time-twisting odds, spanning 20 years (and two centuries). After finally reuniting at the end of last season, Jamie and Claire are back together and making a new life for themselves in America. Domestic bliss is always short-lived for Jamie and Claire, but the emotional push and pull of their romance keeps us coming back for more — no matter how complicated that timeline gets.
Kate and Emaline, Everything Sucks!
DTR: Friends... Or maybe something more.
Sweet, innocent Kate and her unapologetic love for Tori Amos. (Same.) Netflix's sadly short-lived Everything Sucks! examined typical teenage ennui through the eyes of a group of freshman students at Boring High School in 1996. As if navigating high school wasn't complicated enough, A/V Club nerd Kate also had to come to terms with her developing feelings toward drama queen Emaline. In the series finale, their unlikely friendship blossomed into something more intimate, as they shared a sweet kiss and slow danced to Duran Duran's "Ordinary World" in the school auditorium. It's too bad we'll never know what becomes of Kate and Emaline's tryst, but at least we'll always have that perfect first kiss.
Eleanor and Chidi, The Good Place
DTR: Fated to either fall in love or ruin each other's lives. Who can really say!
Eleanor and Chidi are complete opposites — and not even in a cute, rom-com way. Their personalities are so diametrically opposed that of course some diabolical demon would throw them together in the afterlife so that they could drive each other crazy for all eternity. Except for the fact that careless Eleanor and righteous Chidi surprisingly bring out the best in each other, no matter which timeline they're in. The Good Place has already established that soulmates don't exist, but Eleanor and Chidi seemed destined to find each other anyway.
Magnus and Alec, Shadowhunters
The chemistry between Magnus Bane and Alec Lightwood has always been as subtle as a freight train. Their spark is incendiary and all-consuming. So much so that it's easy to see why Malec aren't just one of the most popular ships on Shadowhunters, but they're also one of the most talked-about romances on the internet. (Just ask Tumblr.) Magnus would do anything for Alec, even (quite literally) go to hell and back. His decision to sacrifice his powers to save Alec's best friend-slash-parabatai Jace was heartbreaking, but it proved that the bond between the centuries-old immortal warlock and the shadowhunter was truly unbreakable. And now fans can expect more mundane moments between the two lovers — like, say, a spring wedding.
Barry and Iris, The Flash
DTR: Married with an adult child from the future because LOL #TheMultiverse.
Iris West had always been Barry Allen's emotional anchor, but these days she's holding it down for all of Team Flash, which now includes her and Barry's daughter from the future, Nora. Barry may be The Fastest Man Alive, but Iris West-Allen is always there to remind him to slow down and consider the consequences of his actions. (Whether he listens is an entirely different story; Iris has the patience of a saint.) But that's what makes their union so special: A relationship is hard work, and Barry and Iris never stop working to make themselves better partners.
Eve and Villanelle, Killing Eve
DTR: The most sexually-frustrating game of cat and mouse.
There's an unsettling connection between Eve and Villanelle that's equal parts dangerous and intoxicating. The M15 security agent and unhinged contract killer spend the entire first season locked in a lethal game of cat and mouse, one never far behind the other. But as time goes on it becomes increasingly more difficult to decipher the nature of Eve's infatuation with Villanelle. Does she want to stop her, emulate her, or kiss her? The show hints at a mutual attraction (or lust) between the two women but never fully commits. Instead, the ending — thick with tension — dissolves into something painful and messy. You can read into that what you will.
Cheryl and Toni, Riverdale
DTR: Together and probably making out somewhere on the Southside right now.
It's clear to everyone watching Riverdale these days — except maybe the writers — that Cheryl Blossom and Toni Topaz deserve more screen time. The criminally-sidelined couple officially got together last season, when Toni staged a daring rescue to save Cheryl from the Sisters of Quiet Mercy and their conversion therapy program, and so far their best moments (outside of that epic first kiss) have happened offscreen. But Choni are a fierce team, and they always have each other's backs. And unlike some of the other couples in Riverdale, this fiery duo doesn't keep secrets from each other. Not to mention, they own matching custom Serpents jackets.
Karolina and Nico, Marvel's Runaways
DTR: Definitely more than friends.
Who doesn't love a quiet, simmering romance? It's no surprise that Marvel's Runaways would have some of the best teen romances on television — after all, it's from the same creative team behind The O.C. and Gossip Girl. However, Karolina and Nico's story line not only deviated from Brian K. Vaughan's beloved comics, but it also gave Marvel Television its first openly queer couple to root for. In the comics, Karolina's coming-out journey spans multiple issues, and her feelings for Nico are never reciprocated (at least not in the original run). But on the show, the blond alien's affection toward her childhood friend — a longing glance here, a lingering touch there — is requited. While Karolina and Nico still haven't defined their relationship, they seem to be comfortable making out and being low-key about it.
Monse and Cesar, On My Block
DTR: High school sweethearts.
Monse and Cesar are the block's Romeo and Juliet, except with more chemistry and less death. (Well...) Childhood friends who took their relationship to the next level the summer after middle school, Monse and Cesar hooked up on the DL but never went public with their relationship out of fear that it would break up their crew. But it was clear that they still had very real feelings for each other by the yearning looks they shared in school hallways. Monse's indecision and Cesar's affiliation with the Santos gang nearly threatened to tear them apart for good, but they rekindled their relationship with a kiss in the season finale — before all hell broke lose at Olivia's quince.
Adena and Kat, The Bold Type
DTR: Giving each other space at the moment.
They may not be the most stable 'ship, but there's no couple on TV quite like The Bold Type's Kat and Adena. The burgeoning relationship between Kat, a young professional exploring her queer identity, and Adena, a "proud Muslim lesbian" and artist, was the highlight of Season 1. And when Kadena made things official in Season 2, the sex-positive series dug into their individual quirks and insecurities, specifically Kat's fear of going down on her girlfriend. Lesbian sex has often been fetishized in film and television, but Kat and Adena's messy yet tender oral sex scene on The Bold Type depicted a normal, healthy sexual relationship between two women. Imagine that!
Randall and Beth, This Is Us
I don't care what This Is Us is trying to make me believe with its manipulative twists and turns — Randall and Beth are the glue that holds the Pearson family together. A marriage is a partnership, and Randall and Beth work so well together because they treat each other like equals. That doesn't mean they're immune from disagreements. Randall's bid for public office this season has been tough on their marriage, but it's refreshing to see a healthy, mature couple work through their problems with open and honest communication — no matter how real and ugly things get.
Frank and Amy, Black Mirror
DTR: The odds are in their favor.
The ship that inspired a thousand fanfics on my Tumblr dashboard. Though technically a 2017 couple — for two days, calm down — Frank and Amy ("Hang the DJ") deserve recognition for their efficiency. After being matched by a dating app, they used a compatibility algorithm called the System to check their long-term odds. For Frank and Amy, the odds were in their favor: a 99.8 compatibility match. For some, Frank and Amy are a cautionary tale of Millennial romance (or lack thereof), but just think of all the time and money we'd save — all of the awkward sexual encounters we'd avoid — if we knew the outcome of a relationship beforehand. Sure, we all think we'd fight the System, but the fear of incompatibility is stronger than you think.
Betty and Jughead, Riverdale
DTR: On-again, off-again. (How much time do you have?)
From the beginning, Riverdale established that there was more to Betty Cooper than mooning over Archie Andrews from her bedroom window. There was a darkness bubbling beneath her picture-perfect facade — a darkness only Southside's own Jughead Jones could relate to. Over the course of three seasons, Bughead have grown from friends to partners-in-crime-solving to lovers, and while it hasn't always been easy with Betty's affinity for keeping secrets and Jughead's knack for pushing people away, the bedrock of their romance has remained intact. Betty sees beyond Jughead's weirdo persona, and in return, Jughead sees Betty for who she really is: an outsider, just like him.
That being said, these two really need to work on their communication skills because they keep way too many secrets from each other.
DTR: "I love you. I love you, damn it!"
Netflix's sexy Spanish-language soap Élite has no shortage of hot teens doing bad, sexy things, but Omar and Ander really smolder. It's not just that their chemistry crackles off the screen — it does — and their forbidden romance is the emotional crux of the entire series — it is — but Omar and Ander are good kids (the only empathetic characters on Élite, TBH) caught in the middle of terrible circumstances. Ander is a tennis champion from an upper-middle class home; Omar sells drugs so that he can one day get far away from his Muslim father's rules. They come from opposite worlds, but they fit together perfectly. They're the kind of couple that make each other stronger individuals. Omar has more to lose by their relationship, but by the end of the season, he'd risk it all for Ander.
Tsubasa and Shion, Terrace House
Although this list is usually reserved for fictional couples, the real-life courtship between Tsubasa and Shion on Japanese reality show Terrace House: Opening New Doors was easily the best, most life-affirming story line on television this year. To put it into context, I've spent more time thinking about Tsubasa and Shion's happiness than I have my own. And their love story is truly epic. (Hollywood could never.) To recap:
Tsubasa is the captain of her local ice hockey team with dreams of one day going to the Olympics. She's sweet and kind and has never really had a boyfriend because she's kept her feelings guarded following her mother's death. Meanwhile, Shion is a tall, half-American model with a runway fashion sense who seems aloof at first but is really just awkward. Shion eventually becomes enamored with Tsubasa's talent on the ice and sunny disposition — because how can you not!!! — but he still had reservations about being in a Relationship™️ with her. That is, until she took the train to Tokyo to buy him the perfect scarf for his birthday. In that exact moment, he falls in love with her, and spends the following weeks just trying to confess his feelings. When he finally asks her to be his girlfriend, and she shyly agrees, he says, "Thank you for being my girlfriend." It's so pure.
Tsubasa and Shion's romance was unlikely at first, but that's what made it so wonderfully endearing. Who doesn't want a love like that?