Bop Shop: Songs From Denzel Curry, Cravity, JoJo, And More
Soundtracks for assuming the worst, walking home, playing the game, and more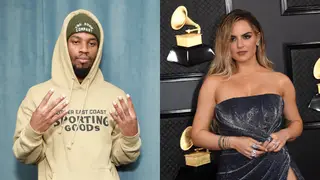 The search for the ever-elusive "bop" is difficult. Playlists and streaming-service recommendations can only do so much. They often leave a lingering question: Are these songs really good, or are they just new?
Enter Bop Shop, a hand-picked selection of songs from the MTV News team. This weekly collection doesn't discriminate by genre and can include anything — it's a snapshot of what's on our minds and what sounds good. We'll keep it fresh with the latest music, but expect a few oldies (but goodies) every once in a while, too. Get ready: The Bop Shop is now open for business.
The latest cut of ethereal and atmospheric R&B from JoJo finds her mind being her own worst enemy. "I keep assuming you're gonna do shit that might break my heart," she admits, later questioning reality or wondering if she's just "in a mood." Through all the uncertainty, the gauzy song helps paint a relatable picture. "Sometimes we feel like we're the only ones. But we NEVER are alone in our darkness," JoJo writes in an accompanying statement. Find more solace on her new project, Trying Not to Think About It, out October 1. —Patrick Hosken
As the first single off their debut full length album, The Awakening: Written in the Stars, K-pop rookies Cravity put their best foot forward with "Gas Pedal," marking the start of a fun and adventurous comeback. Accompanied by an electrifying visual in which the members explore and conquer a digital universe, "Gas Pedal" puts Cravity's creativity to the test, pushing the limits and boundaries of their previously displayed capabilities. Though the group is still up-and-coming and developing their sound, they have begun to refine their artistry and make their mark on the industry. Their work on "Gas Pedal" proves just that, and more. —Sarina Bhutani
Sunmi: "You Can't Sit With Us"
Sunmi brings retro '80s, '90s, and even early 2000s aesthetics in her latest track, starting with the title, a reference to Gretchen Wieners's iconic line from Mean Girls. The K-pop star sings about her frustrated, angry, and torn feelings to her love interest: "Hurry, it's time to call my girls / I'll get you / Where are you? On my way / I have no intention of hating you, you know / You can't sit with us, oh / I hate you / When I think of you, I'm feelin' faded." She even goes out of her usual comfort zone by rapping in the second verse: "Tell 'em you've found the only one who blеw you up, yeah / Don't call me 'honey' 'causе I ain't gonna be no sweet girl." Hate is not the opposite of love. Indifference is. —Athena Serrano
Josie Proto: "I Just Wanna Walk Home"
"I Just Wanna Walk Home" is an indie-pop song with an important message. Josie Proto's powerful social anthem articulates the daily fear women experience and the extreme measures they consider to make sure they reach their destination safely. The track's chorus exudes frustration and pleads for accountability as she asks, "You OK with where we are?" "I'm not a politician, and I don't know how to solve this," she says. "But this is what I feel and that cannot be disputed." —Farah Zermane
The Blossom: "Sports Car"
Lily Lizotte, also known as The Blossom, is poised for a big year. Not only are they set to hit the road with Remi Wolf later this fall, but they count artists like Kevin Abstract among collaborators on their most recent EP, 97 Blossom. With its soul-baring lyrics and grungy aesthetic, their new single "Sports Car" proves the hype is real. Their vulnerability is palpable from the first note, with a voice that puts you in a chokehold as Lizotte harnesses the power of 2000s pop-rock to express restlessness and loss with a visceral angst. "Rev up your sports car / Get me the hell out of here / I'm living tough on a diet of worry and fear," they screech before racing into a refrain of "I still want to delete you." Buckle up — their race has only just begun. —Carson Mlnarik
"I got love for Megan but also got love for Noname," Denzel Curry raps on his electric new single "The Game." It's a simple but effective show of support for two very different rap superstars, and it's the kind of openness he celebrates on the pulsating new track produced by Charlie Heat. As much as he's warning about the perils of fame and how quickly life can transform — "Doing all this industry shit, I start to realize / We looking up to junkies and shit, then mimic they lives" — Curry lets that passion fuel his bars. "I won't stop speaking to y'all until I change," he concludes. It's all in the game. —Patrick Hosken
Hana Vu: "Everybody's Birthday"
Here's an incantation that sounds like a party, albeit one at the end of the world. When Los Angeles artist Hana Vu sings "everyone I love is blue," it's less a gripe than a statement of pure fact. For a morbid stomp through apocalyptic realization, "Everybody's Birthday" really goes. It's the quasi-darkgaze banger we need. —Patrick Hosken