Team Roster: This Is Who's Joining Forces For 'The Challenge: Final Reckoning'
Season 32 -- and all the action -- begins July 10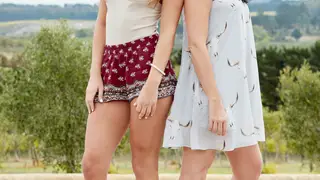 It's the final countdown reckoning -- and a cluster of Challenge competitors are ready to take the crown in this conclusion of the series trilogy.
While the first two chapters of the story -- Dirty 30 and Vendettas -- featured players competing on their own, Final Reckoning will have co-ed and single-sex pairs. From longstanding feuds (like Bananas and Devin, which began during Rivals 3) to recent ill feelings (does that Double Cross, courtesy of Jemmye, still sting Jenna?), the fiercest rivalries are going to need to join forces in order to take home the $1 million prize.
Check out the Season 32 teams below (click to reveal the photos), share who you think will claim all of the glory at the finish line and do not miss the premiere of The Challenge: Final Reckoning on Tuesday, July 10.