Can A Yeezy Dating Service Help Kanye West Fans Fall In Love?
808s & Tinder Dates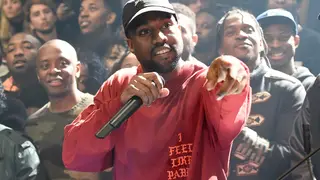 What is Yeezy Dating? Last week, the internet found a plain and stark webpage that promised "A Dating Site for fans of the genius Mr Kanye West" [sic]. Beside a stock image of a smiling young woman and the proclamation that "Taylor Swift fans are banned from this website," not much else was known about the endeavor.
Yeezy Dating as a concept seems like a Black Mirror pitch concocted by the denizens of Kanye To The. Equal parts brilliant and ludicrous, it is hard to say if one's singular love of Kanye can romantically connect people.
In 2013, West gave a legendary interview to BBC Radio 1's Zane Lowe. Between talks of Lady Gaga's camera prowess and The Truman Show, Kanye gave motivational gems like, "If you're a fan of Kanye West, you're not a fan of my music. You're a fan of yourself. I'm just the espresso."
Harry Dry is drinking the espresso. The creator of the nascent dating site has only been a Kanye fan for four years, but in conversation, it is easy to tell he's grafted onto the magnetic teachings of the church of Yeezus. Dry is a 22-year-old web developer from South London, and in an interview with MTV News, he describes the inspiration behind Yeezy Dating, how it works, and what he hopes to accomplish with the service.
MTV News: What inspired you to create the idea for Yeezy Dating?
Harry Dry: Kanye West inspired me. You know, corny answer, but I think it's about celebrating the dreamers, the people who are saying it's OK to be great, and it's about bringing those people together. I think the guy is a life inspiration.
MTV News: When did you first have the idea to make a dating service for Kanye fans?
Dry: Actually just literally a month ago. So I loved that album The Life of Pablo, and one of the last songs is called "Saint Pablo." In it, he's just kinda going off on his rap. I was listening to it, and yeah, he's just going crazy. Talking about sort of the point he's got to in his career.
At that point, like, I just started out. I'm just 22 years old. So I just thought, you know, I got to try something, and at that point, I just went, why not try to bring these fans together?
MTV News: How would the dating service work?
Dry: Good question. So basically the way it's going at the moment, I've been building it myself for about a month. Basically, you choose your favorite album and you can filter by that. So you can choose College Dropout or Late Registration or whatever and obviously also you get filtered by proximity, so where you live.
But I think the key here is that I hope and I'm not a genius. So I've got loads of email subscribers, people who sort of subscribed to the landing page and I'm emailing them all, like right now. "How do you want it to work? What's the best ideas for this? How do we shape it? How do we keep it safe, secure? Should it just be for Kanye West fans or should we bring in other musicians?" So although I've built something, I'm not sure what the people are going to want. Just making sure I'm talking to other fans so we can figure out the best way to go forward.
MTV News: Do you have a potential date where you hope to roll it out to a larger portion of people?
Dry: Yeah, absolutely. So I think right now it's 16th of March, 2018 [Ed. note: This was the date of the interview]. So by the end of March, I'm telling you, an exclusive, that we'll have something good ready to go. So that's like two weeks, maybe less.
MTV News: Have you dated a Kanye West fan?
Dry: [laughs] No I haven't, which is sort of also why I wanted to make the thing. They always say you should solve your own problems. So whenever I'm on dates, it's kind of like, you're always looking for somebody to be so ambitious or so much self-esteem or so much drive or work ethic. I think that's why I wanted to make it as well, genuinely. Because there is nothing more admirable or attractive than somebody with self-esteem.
MTV News: Personally, how would you rank Kanye's albums?
Dry: So give me a second. I just need to make sure I get this right. This is a moment I'll never have an opportunity to do again. Just gonna make sure I get them all as well. This is a good question.
Number one, The College Dropout, the first-ever album. Number two, Yeezus. Number three, The Life of Pablo. Number four, Graduation. Number five, Late Registration. Number six, My Beautiful Dark Twisted Fantasy. And then number seven, 808s and Heartbreak.
MTV News: If there is one thing you could say to Kanye, what would it be?
Dry: There is only one thing you can say to Kanye West, "Thank you."