Bop Shop: Songs From Kendrick Lamar, B.I, My Chemical Romance, And More
Featuring soul-baring deepfakes, a futuristic comeback, and the long-awaited return of a beloved fan favorite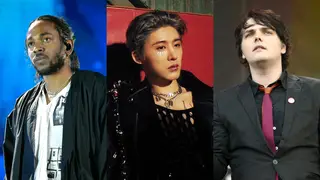 The search for the ever-elusive "bop" is difficult. Playlists and streaming-service recommendations can only do so much. They often leave a lingering question: Are these songs really good, or are they just new?
Enter Bop Shop, a hand-picked selection of songs from the MTV News team. This weekly collection doesn't discriminate by genre and can include anything — it's a snapshot of what's on our minds and what sounds good. We'll keep it fresh with the latest music, but expect a few oldies (but goodies) every once in a while, too. Get ready: The Bop Shop is now open for business.
Kendrick Lamar: "The Heart Part 5"
At the mention of vehicular escape, Kendrick Lamar's face morphs into O.J. Simpson's. When he raps, "Friends bipolar, grab you by your pockets," he becomes Kanye West. And then Jussie Smollett, Will Smith, Kobe Bryant, and finally, his departed friend Nipsey Hussle. Between these, in the show-stopping one-shot video for "The Heart Part 5," Kendrick reverts back to his original face to keep rhyming. It's a startling spectacle, and it takes repeated viewings to catch every nuance. But nothing is more potent than when he takes on Hussle's visage, then once again his own, to state plainly: "To the killer that sped up my demise, I forgive you / Just know your soul's in question." —Patrick Hosken
My Chemical Romance: "The Foundations of Decay"
Welcome back to the Black Parade. My Chemical Romance have returned with brand new music after eight years. The nearly six-minute new song "The Foundations of Decay" uses war and turmoil as allegorical reflections of many angles: their roots, their career, their influential legacy, aging, and the supposed decaying state of the world. So much has changed since their breakup in 2013, with its members pursuing different paths and achieving different accomplishments ("And so tired with age / He turns the page / Let the flesh submit itself to gravity"). Yet the passion for creating music still lingers, as shown in lead vocalist Gerard Way's expressive range and the heavy chorus: "Let our bodies lay while our hearts will stay / Let our blood invade if I die in pain / Now if your convictions were a passing phase / May your ashes feed the river in the morning rays." The band might not be able to return exactly to how things were, but they are willing to perform music to bring comfort in these strained times. —Athena Serrano
B.I & Soulja Boy ft. DeVita: "BTBT"
Coming off the heels of 2021's Cosmos, B.I makes his return to the scene with the intense and inspired "BTBT," a unique recount of an experience with love at first sight. Sonically, B.I displays a deep sense of confidence and security with this comeback, combining his distinctive raspy vocals with a layered, bass-heavy track to create a genre completely his own. With B.I leading the charge lyrically, "BTBT" also features AOMG newcomer DeVita at the melody and American rapper Soulja Boy with a solo verse to round out its composition, combing both Eastern and Western influences to create a beautifully blended track. Released alongside a futuristic visual filled with flying cars and lots of leather, "BTBT" serves as the perfect introduction to B.I's new era, leaving fans going "be tle be tle" in anticipation for what's to come next. —Sarina Bhutani
Pale Waves: "Lies"
Alt-rock outfit Pale Waves channeled timeless '90s pop on their last album Who Am I?, but they're taking an edgier turn with "Lies," the first taste of their upcoming third record Unwanted (due out August 12). With crunchy guitars and angst to spare, frontwoman Heather Baron-Gracie calls out a lying lover whose checkered past has finally caught up with them. With a throbbing bassline and headbang-worthy drums, it's clear there's no love lost here, and its throwback production will have you rock out while you watch the world burn. —Carson Mlnarik
Mxmtoon: "Victim of Nostalgia"
From quarantine meditations to recalling late night drives spent listening to Bon Iver, Mxmtoon has always had a penchant for reflection. Her chirpy new single, "Victim of Nostalgia," finds her confronting her tendency to romanticize the past and the ruse of growing up. The lyrics are diaristic and unflinchingly honest ("Will I always be the words I wrote when I was 17? / Will the world still be around when I turn 63?") as a wistful guitar riff scores what feels like the most calming quarter-life crisis. It sounds like the perfect coming-of-age film theme, though songs of soundtracks past have never cut quite so deep. —Carson Mlnarik
Spielbergs: "Brother of Mine"
Oslo power trio Spielbergs have one of my favorite band names at the moment, and their latest tune certainly helps the cause as well. "Brother of Mine" revels in high-octane blazing guitar, a rallying sense of urgency, and a familiar rush for any fan of propulsive rock music. "It has this kind of dark, sad eeriness to it that we really like," guitarist/vocalist Mads Baklien said in a statement. He's right. You might be listening to "Brother of Mine" for the first time, but it feels like you've lived with it for a while. —Patrick Hosken
JPW: "Wealth of the Canyon"
Jason P. Woodbury recently called his album Something Happening/Always Happening a collection of "meditation pop/spiritual twang." For someone who just became a father, these words felt like they vibrated at the right frequency for me. So I dug in to find that "Wealth of the Canyon," a standout track, plays like a desert broadcast from the past where remnants of space-age pop mingle with an undeniably easy (and breezy) feeling you might've found out Topanga in 1972. Its message is clear and whispers to you in the voice of everyone and no one: "Hey, everything's gonna be alright." What a relief. —Patrick Hosken
Yellowcard: "Ocean Avenue"
Feeling nostalgic lately? Yellowcard may have broken up more than five years ago, but there's always a place off "Ocean Avenue." The upbeat, catchy pop punk song brings the yearning intensity with its rapid drumming building tension in the chorus, accompanied with electric-guitar chords, violin strings, and lead vocalist Ryan Key's passionate vocals. And yes, Ocean Avenue is a real place in Florida. "It's this place where we used to hang out in Jacksonville," Key said back in 2004. "Instead of talking about a girl, it's talking about a scene and a feeling that we want to get back to: hanging out and writing, before we moved to California." Since Yellowcard's disbandment, the line "I know somewhere, somehow we'll be together" hits different. But good news: The band is expected to reunite and perform in the 2022 Riot Fest this September at Chicago. "We'll be together for one more night" on September 17. —Athena Serrano