'Young And Pregnant' Poll: Are Brianna And Robert Taking A Break -- Or Breaking Up?
On this week's episode, she sent him right back to Milwaukee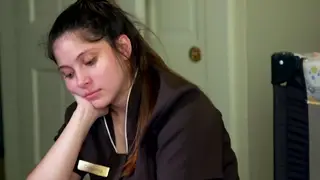 Brianna's move from Wisconsin to Oregon was already off to a rocky start and, unfortunately, it didn't help her relationship with Robert. Now, on this week's episode of Teen Mom: Young and Pregnant, Bri told her beau to go back home, as she hoped distance would help them figure out if they wanted to stay together or not.
"I think it's taking a step back, looking at the relationship and seeing if we rushed it too much or if we just need some time apart," she told Robert, who had relocated with her and her family despite the fact that the couple had only dated for a few months. "I don't see sending you home as ending the relationship. I think that being long distance will make us or break us."
And though Bri admitted that being without Robert would be hard on the family financially and in regards to babysitting (he watched Braeson two days a week), she felt like this was a move she needed to make.
"I just feel like it's more stressful to be together than it would be to be apart," she told her mother.
Brianna positioned the separation as a hiatus, but Robert feared it would be a permanent split and got emotional at the airport knowing it could have been the last time he'd see Brianna or her son.
"If this is the end, I need to know now," he told her. "I don't want a call. I don't want to lose you guys at all... I hope this isn't a goodbye."
But what do you think? Is this really just a break -- or a full-on breakup? Is Robert's premonition correct, or will distance really make their relationship stronger? Vote below, then keep tuning into Teen Mom: Young and Pregnant Mondays at 10/9c.