Bop Shop: Songs From The Weeknd, Kacey Musgraves, Beach Bunny, And More
Christmas cheer, sparkling synthpop, and so much more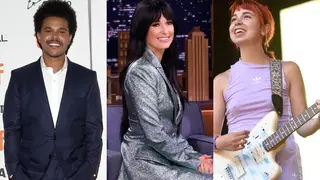 The search for the ever-elusive "bop" is difficult. Playlists and streaming-service recommendations can only do so much. They often leave a lingering question: Are these songs really good, or are they just new?
Enter Bop Shop, a hand-picked selection of songs from the MTV News team. This weekly collection doesn't discriminate by genre and can include anything — it's a snapshot of what's on our minds and what sounds good. We'll keep it fresh with the latest music, but expect a few oldies (but goodies) every once in a while, too. Get ready: The Bop Shop is now open for business.
Kevin Krauter: "Surprise"
Hoops bassist Kevin Krauter's solo project already progressed from the quiet finger-picked folk of his 2016 EP Changes to the synth-driven dream pop of last's year full-length debut, Toss Up. Krauter is already well on his way toward his next evolution with new single "Surprise," a shoegaze-y guitar-laden alt-rock anthem that touches on themes of sexuality, religion, and growing up. With a sun-soaked music video that wouldn't look out of place on The Adventures of Pete & Pete, it feels like summer in December, car crash included. Krauter's sophomore album Full Hand is out February 28. —Bob Marshall
Beach Bunny: "Ms. California"
Springy and lovely, "Ms. California" is the propulsive latest from Chicago's Beach Bunny, and a nice taste of their upcoming debut album Honeymoon. (Beach bands are back, baby!) The tune's a sunny ode to jealousy, hangin' cozy with the rest of Beach Bunny's cloudless indie-pop output. And yet last month at a show in Brooklyn, their fans created a wall of death and moshed through their feels. Life's full of surprises. Honeymoon drops on Valentine's Day. —Patrick Hosken
The year is 2006. Your perfect weekend plans don't involve TikTok, binge-watching, or online shopping — but they might involve Neopets. We're thrown straight into the thicket of suburban shopping-mall bliss in bedroom pop artist Swim Mountain's first single since 2017, "Youth." From the first strike of its mall-wave synths to its lo-fi visual, the track is a psychedelic meditation on keeping your optimism amidst the stress of life, with a steady reminder that "everything will work itself out." There's something refreshingly modern yet sneakily nostalgic as the track builds, heightening 'til Swim Mountain asserts, "I just want to live my life even if it's not quite right." —Carson Mlnarik
The Weeknd: "Blinding Lights"
With a release on Thanksgiving, a mere two days after premiering his first solo single in almost two years, "Heartless," I don't know if The Weeknd was trying to temper expectations for "Blinding Lights." But the second single off his upcoming album Chapter 6 is a delightfully unexpected marriage of R&B and '80s synthpop, coalescing in an uptempo and instantly unforgettable bop reminiscent of Twin Shadow. A fantastic new direction for The Weeknd? Here's hoping. Beware of listening to it while driving, if you don't want to get pulled over for speeding, or dancing to it a little too hard at your company holiday party, if you don't want to embarrass yourself. —Bob Marshall
Kacey Musgraves ft. Troye Sivan: "Glittery"
If you're looking to have a country Christmas this year, look no further than Kacey Musgraves's "Glittery" featuring Troye Sivan. The slow-moving, sparkly duet is chock-full of holiday imagery, from snow globes and presents to Christmas trees and snowy gray skies. But underneath the warm holiday visuals, the track is actually a sweet exchange between two people in love. And if there's one song that'll melt your heart this holiday season, it's this one.
"Outside it's coming down / But here inside it's warming up," Sivan croons on the second verse, setting the scene for a cozy night in with his lover. On the chorus, Musgraves chimes in to swoon as well. "Glittery / You light me up like starlight on a Christmas tree," she sings. "Every single kiss is like a gift to me." And although she loves to decorate for the festive holiday with twinkling lights and shimmery ornaments, there's one thing she loves more. "I love the way you decorate my heart," she sings gently. Christmas is here, and with this song, we truly feel its magic. —Jordyn Tilchen
645AR ft. Ola Runt: "Yoga"
And now my friends, I present to you the evolution of rap's baby voice! "Yoga," by Atlanta rapper 645AR and Ola Runt, sounds like your toddler cousin giving you an earful while he toys with 808s on GarageBand. It's cheek-pinching adorable and, on first glance, similar to what Playboi Carti popularized with his "Pissy Pamper" rap. But as you listen to it, and then check out more of his music on his SoundCloud, it's clear that 645AR isn't cribbing off anyone — just organically evolving a phenomenon and giving it his unique spin. You'll be hard-pressed to find something this original. —Trey Alston
If I were to sum up the theme of "Riding Solo" — the bouncy new entry from endlessly charming Madrid quartet Hinds — in a worn-out truism, I'd say something like, "Wherever you go, there you are." And you'd say, "Obviously!" So I'd say, "OK, but both the road-weary song and the gigantic, sumptuous flex of a music video (directed by Keane Pearce Shaw) are well worth your time as documents of restlessly moving toward what you know feels right, despite the grind it entails." And you'd nod — and ideally so would Ana, Carlotta, Ade, and Amber themselves. Even when they're riding solo, they've got each other. —Patrick Hosken
Mark Ronson ft. Anderson .Paak: "Then There Were Two"
I've got a new habit of immediately jumping on a Mark Ronson track as soon as I see it on the radar, and this time I saw Anderson .Paak on board, so it was an immediate listen. "Then There Were Two" gave me strong classic Outkast vibes, which was enough to garner three back-to-back listens the moment I discovered it. It's definitely on my list for one of the best movie-themed songs this year (but I haven't seen Frozen 2 yet, ha!) so I'll be keeping it on loop. Spies in Disguise may be my next theater visit after that if the soundtrack is as good as this song. —Brittany Vincent
Maggie Rogers: "Back in My Body"
Maybe it's growing up, maybe it's the increasingly overwhelming state of the world, but relying on music for escapism just isn't hitting the same. How do you dive into an artist's most vulnerable moments when you can't even swim up from your own? The answer (at least for me) is by deliberately choosing confrontation over escapism, a discovery introduced by Maggie Rogers's album closer, "Back in My Body." Maggie's homecoming begins with unguarded confessions about nearly running away from her life, building up to an earned battle cry of returned conviction. Sometimes a song can act as a mirror, reminding you of your own heartbeat, your senses, your will to fight. "Lost you in the morning, don't live anywhere / I found myself when I was going everywhere." Not only can I finally remember what touching the ground feels like again, I'm floating too. —Cheryl Krucas