Billie Eilish's 'When We All Fall Asleep': A Complete Breakdown From Finneas O'Connell
The producer and co-writer answers all our burning questions about 'The Office' samples, climate change theories, and more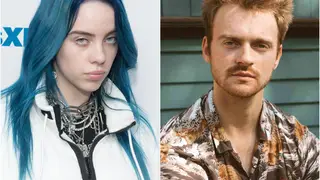 A week after the release of Billie Eilish's When We All Fall Asleep, Where Do We Go?, her brother, Finneas O'Connell, is attempting to recap what he's been up to since the album he produced and co-wrote made its way into the world and onto the top of the charts.
"It's a little overwhelming. I sort of celebrated the album coming out by doing more work," he laughed.
Last week, Finneas, 21, had studio sessions with Camila Cabello and with Father John Misty. On the afternoon of our conversation, he was headed to rehearsals for Coachella, where he'll perform with Billie for the first time before they embark on a world tour in May. He's also readying the release of a new solo single — he records his own indie-pop music as FINNEAS — for the first week of May.
And, somehow, he had time to unpack his sister's debut LP track by track, answering every burning question we had about the 14 songs that he and Billie made in the tiny bedroom studio of their parents' home in Highland Park. Settle in, get cozy, and brace yourself for an exhaustive breakdown of When We All Fall Asleep.
The quirky, 14-second intro — in which Billie sucks out her dental gear and declares "this is the album" — was born out of an off-the-cuff moment in the studio, and she and Finneas used it as a way to add lightness to an otherwise heavy album.
"That little clip of us just cracking up, it made us laugh so hard," Finneas said. "I just thought if we could start a really dark album with a moment of levity and light — not taking ourselves too seriously — it would make the rest of the album much more impactful for people."
The siblings' delirious cackle breaks straight into "bad guy," but originally, the two tracks were going to be mixed as one. "Initially, we had that Invisalign twist at the beginning of 'bad guy,'" Finneas explained. "Then we came to our senses and realized that the joke would get old pretty fast, so we cut it into two separate songs."
The thrilling, thumping banger has been a fan-favorite track ever since Asleep's release, and it also caught the early approval of one Papa O'Connell.
"My primary memory of making it was, once we had the kick drum and the bass going, our dad came in and was like, 'This is awesome!'" Finneas recalled. "I mean, if you make your 61-year-old dad dance around the room, it's quite a validation."
There's a moment after the chorus where the music cuts out and Billie unleashes a wry, assured "duh." It was simply the "perfect" addition to the song, Finneas said, and he hopes it'll become a big moment during their live performances. "We haven't ever played it live, so I don't know how the audience is gonna react, but I sure hope they all shout 'duh.' That would be great."
This fuzzy, jazzy ballad takes musical cues from Feist and Frank Sinatra, but its lyrical inspiration is all Finneas and Billie's. "Neither of us do any drugs, and growing up, we just had a lot of friends who really enjoyed being inebriated and smoking a lot," the producer explained. "We'd end up at these house parties where everyone was just smoking cigarettes. You'd sit there, and you're sober and not smoking, and it's a miserable experience."
In her recent MTV Push interview, Billie said she wanted the distorted, bone-rattling bass to make listeners "feel miserable," and Finneas achieved that by basically making the sonic equivalent of those smoky house parties.
"I wanted to use the bass to articulate the thickness of cigarette smoke," he described. "And then I got kind of obsessed with SoundCloud rap for awhile, and a lot of that is sort of purposely distorted and clipped in the audio. I wanted to achieve that sound in a really specific way, so I processed Billie's vocal through this compression sidechain off of the bass, and had the vocal get fried in the chorus."
He added, "It was actually a big point of contention between us and our label 'cause they were alarmed by it. But Billie and I both thought that the weirder the chorus could be, the better. It's kind of ironic, because her voice sounds so beautiful and the chords are really pretty. It's like when you see a model and they're wearing ugly clothing, and you're like, 'Well, OK. Nice ugly shirt, but your face is still your face.'"
"you should see me in a crown"
While Finneas declined to ID the person whose voice you hear during the instrumental break on "crown" — "It's a secret; it's completely open to interpretation," he said — he did open up about the sound effect you hear at the onset of the sneering, three-minute power trip. "That's me sharpening a knife," he spilled. "It's a song about being power hungry, and a power struggle in general. It feels very Macbeth to me. I thought the knife was kind of a Shakespearian take on what really is just her saying, 'give me control.'"
In a song congested with lyrics tailor-made for a mood board, one standout is the callback to Billie's lovestruck breakout, "ocean eyes." Keeping up with the boastful tone of "crown," though, she flips the script by taunting her admirer, "fell for these ocean eyes."
"That was one of the other things we tried to do, on an overarching level, with this album, was be really self-aware," Finneas explained. "Sometimes you listen to a really good album, but it just feels like 10 songs that someone made and then put them together. We wanted to make songs that were all servicing each other."
"all the good girls go to hell"
If you were one of the few astute fans who theorized that this jaunty, stuttering gem was a commentary on climate change, you were right!
"It totally is. It's definitely about climate change," Finneas confirmed. "We thought it would be fun to write a song from the perspective of the devil, or God, as if they were kind of shaking their head and looking down at humans fucking up Earth. Like, the pre-chorus is, 'Hills burn in California / Don't say I didn't warn ya / It's our turn to ignore ya.' Just sort of the consequences of long-standing obliviousness to your actions. ... It's sort of looking at humanity like this screw-up, being like, 'Wow, you guys really messed up the planet with this one.'"
A demo version of this tender, twisted earworm had circulated for years before Billie and Finneas gave it a proper studio version, and its final form gives it more "oomph," Finneas said. "When we thought about recording it, I really wanted it to get to this kind of bombastic, triumphant place, sonically. It was important to me that it got to an exciting climax [with] hefty beats and all these stomps and claps."
Notably, he also threw in some theatric effects, like canned studio laughter straight out of a sitcom. "I don't really have a justification for that. I just thought it would be cool," he admitted. "There's something weird about it. It's like, we watched all these kids shows growing up, like Suite Life of Zack & Cody and shit. After a couple episodes, you forget there's a laugh track, but I think it kind of keeps you company. I'd never heard it done in a song."
Finneas tweeted last year that this pensive, vulnerable ballad was "really hard" to record, and that's because "it was just delicate," he explained. "There's nothing hiding in that recording. Everything is very exposed." It took ages to record and tweak those heaps of vocal layers, and even then, nailing down the arrangement proved difficult because they'd played it live — with only a sparse piano accompanying Billie — for so long before that.
"We made the mistake of playing it live for like, a full year before it came out, which is such a terrible idea," he said. "Like, if people had heard 'bury a friend' live for a year and it sounded totally different than when we produced it — and even if they liked the production — they'd be like, 'I miss the live version.' We were like, 'Man, how do we get the magic of playing this live into a space where it's still interesting to record?' It was an interesting challenge, but I am very glad that it turned out the way it turned out."
On this ukulele-driven number, Billie toggles between her usual languid singing voice and one that's pitched up, angling for attention from an oblivious crush. It sounds like Billie is actually 8 years old, which is simultaneously jarring and enticing.
"The unique part of that song is that the reason her voice sounds like that is I just sped it up, and when you fast-forward anything, it speeds up that way, right?" Finneas dished. "And then we recorded versions the way she normally sings to sort of balance it out. I guess it was a funny experiment that happened to work."
This one's interspersed with audio from an episode of The Office, which makes it, appropriately, that much stranger and more addicting. When Billie spoke to MTV News about this standout track the night her album dropped, she explained that she and her brother ripped the audio from Netflix, never expecting that they'd actually be able to use it.
"It's kind of true," Finneas admitted. "We definitely didn't have clearance first. I think the vibe and the rhythm of it, she was like, 'This reminds me of that dance they do in The Office, the Scarn.' I was like, 'Oh my God, that's hilarious.' Once we kind of had that parameter, I was like, 'Well, let's throw the audio in,' and, of course, our team was so bummed that we'd had that idea, 'cause then they had to license it. But we were pretty firm on it."
He continued, "My comparison point — even though it's very different in its execution — is [Jay-Z and Kanye West's 'N----s In Paris'], where they sample Blades of Glory. I just remember thinking that was so iconic. I really wanted to do something in that vein. And also, authentically, Billie and I just adore The Office. It's our favorite show ever."
In an interview with the New York Times, Finneas broke down the eclectic sound samples he used in this menacing single, which included a staple gun, broken glass, and his personal favorite, a dental drill. "What a crazy, unpleasant sound to listen to," he said. "I think that was pretty exciting, just to find a place for that."
"bury a friend" became an integral part of the album, Billie recently told Zane Lowe, partly because it encompassed the themes of night terrors and sleep paralysis that she explores throughout. "Billie kind of put that label on it, and it's her label to put on it, frankly," Finneas said of his sister's interpretation of the project. "To me, ['bury a friend'] doesn't tie every song together, but it does have the title of the album in the song, and it is kind of a think piece on the direction of sleep paralysis and of nightmares. The whole album... Billie and I describe it differently. I call it a coming-of-age album, because it's about her growing up."
The thumping beat of "ilomilo" — which is named after a 2010 puzzle game where the goal is to reunite "Ilo" and "Milo" — is actually introduced during the final seconds of "bury a friend." Between that and the lyrical reference to "bury a friend" in "ilomilo" ("The friends I've had to bury / They keep me up at night"), some fans have theorized that the two songs are linked in some way, but Finneas said the connection is more about making the album sound cohesive.
"I like songs that exist with the knowledge of other songs," he explained. "They're not linked in that they need each other to exist, necessarily, but they're like two different episodes of the same TV show." He added, "Just little fun things like bleeding songs into each other, those make it feel like a full album."
The final eleven minutes of Asleep are an emotionally devastating ride, beginning with the grim, suicide-referencing ballad "listen before i go."
"That was probably the song that was the heaviest debated about whether it would go on the album, because it's so heavy and sad," Finneas said. "We wrote it three years ago, and it kind of kept writing itself. To us, it was sort of about someone doing something that they couldn't take back with an apology. It ended up being this really serious heart-wrecker."
As for those ambulance sirens that symbolize the end — of the track, and maybe of something bigger — Finneas explained, "We were just thinking of the rooftop line, and we were like, 'Can we make this song sound like we were on a rooftop the whole time?' I think soundscape, in general, has always been a really important thing to me. There's very few songs on this album that don't have some component of soundscape to them. There's sound that I recorded walking through Central Park at the end of 'i love you,' and just a lot of ambient noise throughout the record."
Those ambient noises do, in fact, pop up on the gorgeous penultimate track — you can hear the faint voice of an airline attendant and the sound of a plane taking off during the second verse, as Billie sings about being "up all night on another red-eye."
"We've traveled so much this year, and we knew exactly what being on an overnight flight is like, where you don't sleep enough, and it's so bright when you get on board, and it's late. That's my favorite part of that song," Finneas said.
He had actually revealed in a tweet that "i love you" is one of his favorite songs he's ever made with Billie, and he elaborated on that by saying, "It's very sincere, and a thing that I've been trying to write about for a long time — which is, when you fall in love with someone and it's a drag. It sucks to be in love sometimes. It sucks to feel as passionately about someone as you do. There's some lyrics in that song that are just real points of pride for me and for Billie. And then there's elements of the melody that are really beautiful. A lot of people have said that the melody reminds them of 'Hallelujah,' the Leonard Cohen song. That's one of my favorite songs ever, so anything that they have in common, I'll take."
The two-minute finale takes a piecemeal approach to the album by borrowing one line from each song that came before it. "That was Billie's idea, and I just thought it was really cool," Finneas said. "The other thing I did was I layered in, really quietly, clips of all the songs on the album and played them backwards. To us, the motif would be when you grow up listening to a tape and at the end, you reverse the tape to go back to the beginning of the song."
Billie previously told MTV News that she wanted something like "goodbye" as the conclusion because, "I don't like when a song just ends an album and then nothing feels like it's actually over. I really wanted something to feel like a finish line, to feel like a period at the end, you know?"
Not only that, but "goodbye" also helped Billie and Finneas put a tangible cap on the project, which they'd been loosely working on for almost three years. "Once we had ['goodbye'], we were like, 'Well, that's obviously the track listing, and we'd be crazy to shift that around,'" Finneas said. "Once that happened, we're like, 'OK, this is done.'"