Bop Shop: Songs From Oliver Sim, Megan Thee Stallion And Dua Lipa, And More
A trilingual bop, an electronic team-up for the ages, and more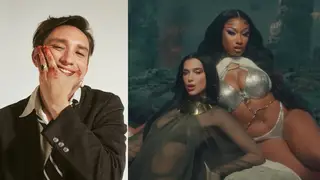 The search for the ever-elusive "bop" is difficult. Playlists and streaming-service recommendations can only do so much. They often leave a lingering question: Are these songs really good, or are they just new?
Enter Bop Shop, a hand-picked selection of songs from the MTV News team. This weekly collection doesn't discriminate by genre and can include anything — it's a snapshot of what's on our minds and what sounds good. We'll keep it fresh with the latest music, but expect a few oldies (but goodies) every once in a while, too. Get ready: The Bop Shop is now open for business.
Oliver Sim: "Romance With a Memory"
When The xx first debuted in 2009, band members Romy Madley Croft, Oliver Sim, and Jamie Smith projected an image — or perhaps a mystique — of minimalism and solemnity. That's since been willfully punctured on each subsequent xx release; Jamie's 2015 LP In Colour, on which all members appear, also still brims with effervescent vigor. It's worth keeping in mind their early gravitas, though, when experiencing the playful glee of Sim's solo debut "Romance With a Memory," which leaps around the room as soon as you push play. "The only thing I regret," he sings on the breakup track before his voice is glitched up into a digital whine, as produced by Jamie, "is my taste for disinterest." The lyric video is simply a blast, featuring incredible turns from drag performers Charity Kase, HoSo Terra Toma, and Gena Marvin. What a joy. —Patrick Hosken
James Reid, Jay B, ØZI: "Hello 2.0 (Legends Only)"
In a one-of-a-kind collaboration, Filipino-Australian artist James Reid takes us on a journey through Asia with "Hello 2.0 (Legends Only)." As the remix to his 2021 hit, simply titled "Hello," Reid joins forces with K-R&B star Jay B and L.A./Taipei hip hop artist ØZI to bring the song to new heights, both literally and figuratively. As a gesture towards global solidarity, the track oscillates between English, Mandarin, and Korean lyrics, letting each artist shine in their native languages over the same bright dance-pop melody. In a time of such pain and adversity around the world, tracks like "Hello 2.0" remind us that music is truly a universal language, a connecting force that knows no borders or boundaries. —Sarina Bhutani
Megan Thee Stallion and Dua Lipa: "Sweetest Pie"
Even in terms of major pop blockbuster team-ups, this one feels big. A video with effects that look better (and more expensive?) than Avatar. Megan Thee Stallion rapping in an interior forest of asses. Dua Lipa as a spider queen. Flowers, pie, and light switches all used as sexual props. Arachnophobes and trypophobes beware: "Sweetest Pie" is not for the faint of heart. But be fierce, and your boldness will be rewarded by one of the wildest music videos of the year so far — and an unforgettable collaboration. —Patrick Hosken
Donna Missal: "Butterfly"
There's a nostalgic quality to this track off Donna Missal's In the Mirror, In the Night EP that I can't quite pinpoint. The indie-pop singer-songwriter layers airy, ethereal vocals over an angsty guitar melody reminiscent of '90s alt-rock. "I got one and a million ways to distract myself," she insists on the refrain, but what follows belies a more complicated situation: "I want you out of my head, I want you out / Your butterfly effect is drawing me in / If I can change, maybe you can." —Sam Manzella
The mercury is rising and so are the vibes. Enter Congolese-born indie pop singer Miloe. His latest track, "Where U Are," is as apt for dancing on a rooftop in Brooklyn as it is for sailing off the coast of Djerba. A little synthpop and the pulse of a drum kicks the track into high gear, and before you know it, you're dancing and savoring the moment and being obedient to the command at the top of the song: "Move before you hesitate / Wanna groove before we separate." — Virginia Lowman
Kx5: "Escape" (ft. Hayla)
Over a decade in the making, Kaskade and Deadmau5 have officially joined in a collaborative project known as Kx5. When these dynamo forces of electronic dance music team up, it's pure magic and all vibes. "Escape" is no exception. With Hayla lending her dreamy vocals this time, the track immediately reminds me of the duo's first, legendary collab, "I Remember." The nostalgia of hearing both of their signature sounds blended together for the first time is something you can't duplicate — and "Escape" is yet another representation of these producers at their best. I can't wait to hear what comes next. —Daniel Head
Baby Tate: "Slut Him Out" (ft. Kali)
"WAP" may be the most conspicuous recent example (and a No. 1 hit, no less), but dirty sex rap has a long and storied history that goes back nearly as far as hip-hop itself. Baby Tate knows the legacy, which is why on her absolutely filthy new single with Kali, "Slut Him Out," she shouts out three prominent sex-positive female MCs who blazed trails before her: Trina, Lil' Kim, and Nicki Minaj. "I was bumping Trina when I learned how to ride," she raps, "I was scared of the dick 'til I heard Kim / And listening to Nicki taught me that that ménage ain't just for him." —Patrick Hosken
Luna Li: "What You're Thinking"
When hearing a new song for the first time, the mind wanders. When spinning a song from Toronto native Hannah Bussiere Kim, who releases lush and expansive music as Luna Li, for the first time, the mind may wander quite far. Midway through the wonderful "What You're thinking," mine found likely unrelated sonic callbacks to, of all things, a Wilco b-side where the fake strings are so thick and syrupy they might as well be cascading down a short stack. Now, Luna Li does not sound like Wilco. "What You're Thinking" is an addictive bit of R&B-indebted pop, but sonically, it's not far from indie rock. Similar string sounds and distinct song passages make it a miniature orchestral masterstroke. The mind wanders. And with Luna Li, what it finds is, in a word, drama. Delightful, verdant drama. —Patrick Hosken