A Tribute To Every Last 'Real World' Cast Member
From Season 1 to Season 32, here's everyone who 'stopped being polite'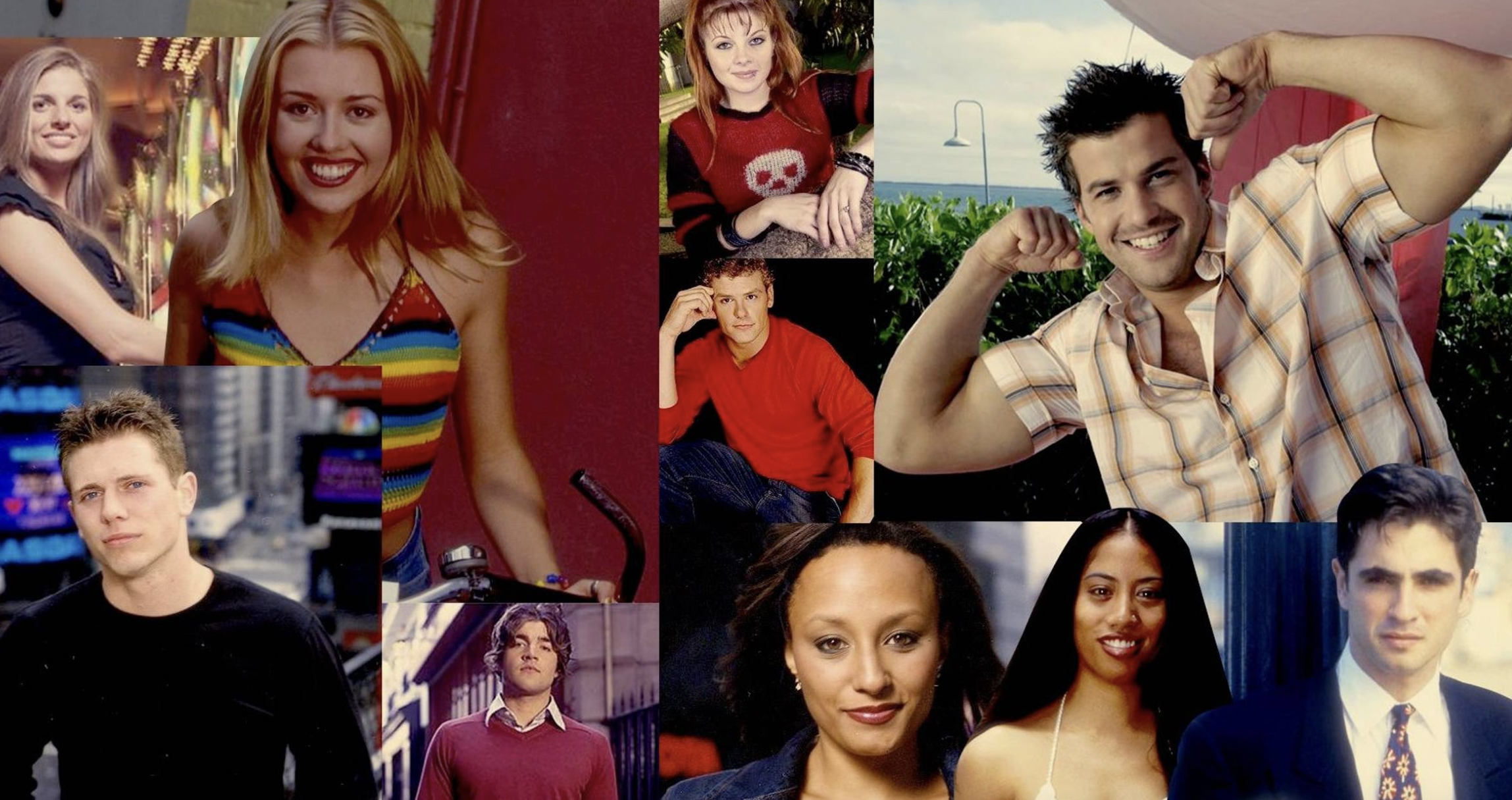 Real World is a special series -- and it earned this reputation because of its unique and honest depiction of issues that were (and are) prevalent during its respective seasons. But the show as we know it would not be the revolutionary program it is without the brave men and women who exposed their every move and emotion, all while being "real."
In honor of the 25th anniversary of Real World -- the original New York installment premiered on May 21, 1992 -- we are paying tribute to every person who "stopped being polite" in front of our very eyes.
The photographs featured below are their original cast bio photos (found deep in our special MTV archives!) and were a labor of love (for fellow RW enthusiasts like myself). Some are images from episodes (early seasons didn't have photo shoots), and the majority are professional snapshots featured in the roommates' temporary hometowns (sometimes in front of notable landmarks like Times Square, the Eiffel Tower and the Sydney Opera House or in the comfort of their swanky interim abodes). Enjoy the extensive roundup below, share your favorite former RW roomies in the comments and be sure to stay with MTV News for more coverage around this momentous small-screen milestone.
Eric from Real World: New York
Julie from Real World: New York
Heather from Real World: New York
Becky from Real World: New York
Norman from Real World: New York
Andre from Real World: New York
Kevin from Real World: New York
Tami from Real World: Los Angeles
Aaron from Real World: Los Angeles
Jon from Real World: Los Angeles
Dominick from Real World: Los Angeles
Beth S from Real World: Los Angeles
David from Real World: Los Angeles
Beth A from Real World: Los Angeles
Irene from Real World: Los Angeles
Glen from Real World: Los Angeles
Pedro from Real World: San Francisco
Rachel from Real World: San Francisco
Puck from Real World: San Francisco
Cory from Real World: San Francisco
Judd from Real World: San Francisco
Pam from Real World: San Francisco
Mohammed from Real World: San Francisco
Jo from Real World: San Francisco
Jacinda from Real World: London
Neil from Real World: London
Lars from Real World: London
Sharon from Real World: London
Jay from Real World: London
Kat from Real World: London
Mike from Real World: London
Flora from Real World: Miami
Dan from Real World: Miami
Melissa from Real World: Miami
Cynthia from Real World: Miami
Joe from Real World: Miami
Sarah from Real World: Miami
Mike from Real World: Miami
Sean from Real World: Boston
Montana from Real World: Boston
Syrus from Real World: Boston
Elka from Real World: Boston
Genesis from Real World: Boston
Kameelah from Real World: Boston
Jason from Real World: Boston
David from Real World: Seattle
Janet from Real World: Seattle
Nathan from Real World: Seattle
Irene from Real World: Seattle
Rebecca from Real World: Seattle
Stephen from Real World: Seattle
Lindsay from Real World: Seattle
Ruthie from Real World: Hawaii
Teck from Real World: Hawaii
Colin from Real World: Hawaii
Amaya from Real World: Hawaii
Matt from Real World: Hawaii
Kaia from Real World: Hawaii
Justin from Real World: Hawaii
Julie from Real World: New Orleans
Danny from Real World: New Orleans
Melissa from Real World: New Orleans
Kelley from Real World: New Orleans
David from Real World: New Orleans
Matt from Real World: New Orleans
Jamie from Real World: New Orleans
Coral from Real World: Back to New York
Mike from Real World: Back to New York
Lori from Real World: Back to New York
Rachel from Real World: Back to New York
Malik from Real World: Back to New York
Nicole from Real World: Back to New York
Kevin from Real World: Back to New York
Aneesa from Real World: Chicago
Keri from Real World: Chicago
Kyle from Real World: Chicago
Tonya from Real World: Chicago
Chris from Real World: Chicago
Cara from Real World: Chicago
Theo from Real World: Chicago
Alton from Real World: Las Vegas
Arissa from Real World: Las Vegas
Frank from Real World: Las Vegas
Irulan from Real World: Las Vegas
Brynn from Real World: Las Vegas
Steven from Real World: Las Vegas
Trishelle from Real World: Las Vegas
Ace from Real World: Paris
Mallory from Real World: Paris
Adam from Real World: Paris
Christina from Real World: Paris
CT from Real World: Paris
Leah from Real World: Paris
Simon from Real World: Paris
Frankie from Real World: San Diego
Brad from Real World: San Diego
Cameran from Real World: San Diego
Randy from Real World: San Diego
Robin from Real World: San Diego
Jacquese from Real World: San Diego
Jamie from Real World: San Diego
Charlie from Real World: San Diego
Karamo from Real World: Philadelphia
Melanie from Real World: Philadelphia
Landon from Real World: Philadelphia
Sarah from Real World: Philadelphia
MJ from Real World: Philadelphia
Shavonda from Real World: Philadelphia
Willie from Real World: Philadelphia
Danny from Real World: Austin
Melinda from Real World: Austin
Wes from Real World: Austin
Johanna from Real World: Austin
Nehemiah from Real World: Austin
Lacey from Real World: Austin
Rachel from Real World: Austin
John from Real World: Key West
Paula from Real World: Key West
Tyler from Real World: Key West
Svetlana from Real World: Key West
Zach from Real World: Key West
Janelle from Real World: Key West
Jose from Real World: Key West[image src="wp-attachment://3008106" title="_G7F9789" alt="KEY WEST, FL - NOVEMBER 29:  poses for a photo on November 30, 2005 in Key West, Florida.  (Photo by Carlo Allegri/Getty Images for MTV)"]
Alex from Real World: Denver
Colie from Real World: Denver
Tyrie from Real World: Denver
Jenn from Real World: Denver
Davis from Real World: Denver
Brooke from Real World: Denver
Stephen from Real World: Denver
KellyAnne from Real World: Sydney
Cohutta from Real World: Sydney
Parisa from Real World: Sydney
Dunbar from Real World: Sydney
Shauvon from Real World: Sydney
Isaac from Real World: Sydney
Ashli from Real World: Sydney
Trisha from Real World: Sydney
Joey from Real World: Hollywood
Sarah from Real World: Hollywood
Greg from Real World: Hollywood
Kimberly from Real World: Hollywood
David from Real World: Hollywood
Brianna from Real World: Hollywood
Will from Real World: Hollywood
Nick from Real World: Hollywood
Brittni from  Real World: Hollywood
Baya from Real World: Brooklyn
Chet from Real World: Brooklyn
Devyn from Real World: Brooklyn
JD from Real World: Brooklyn
Sarah from Real World: Brooklyn
Ryan from Real World: Brooklyn
Katelynn from Real World: Brooklyn
Scott from Real World: Brooklyn
Ayiiia from Real World: Cancun
CJ from Real World: Cancun
Derek from Real World: Cancun
Jasmine from Real World: Cancun
Bronne from Real World: Cancun
Jonna from Real World: Cancun
Joey from Real World: Cancun
Emilee from Real World: Cancun
Emily from Real World: DC
Callie from Real World: DC
Ashley from Real World: DC
Erika from Real World: DC
Andrew from Real World: DC
Knight from Real World: New Orleans
Jemmye from Real World: New Orleans
Ashlee from Real World: New Orleans
Eric from Real World: New Orleans
McKenzie from Real World: New Orleans
Ryan from Real World: New Orleans
Sahar from Real World: New Orleans
Preston from Real World: New Orleans
Nany from Real World: Las Vegas[image src="wp-attachment://3008508" title="mtv_rwlv-1473" alt="mtv_rwlv-1473"]
Adam from Real World: Las Vegas
Dustin from Real World: Las Vegas
Heather from Real World: Las Vegas
Mike from Real World: Las Vegas
Naomi from Real World: Las Vegas
Leroy from Real World: Las Vegas
Cooke from Real World: Las Vegas
Zach from Real World: San Diego
Ashley from Real World: San Diego
Frank from Real World: San Diego
Sam from Real World: San Diego
Nate from Real World: San Diego
Priscilla from Real World: San Diego
Alex from Real World: San Diego
Robb from Real World: St. Thomas
Marie from Real World: St. Thomas
Trey from Real World: St. Thomas
LaToya from Real World: St. Thomas
Swift from Real World: St. Thomas
Laura from Real World: St. Thomas
Brandon from Real World: St. Thomas
Jordan from Real World: Portland
Jessica from Real World: Portland
Averey from Real World: Portland
Johnny from Real World: Portland
Anastasia from Real World: Portland
Marlon from Real World: Portland
Joi from Real World: Portland
Nia from Real World: Portland
Jenny from Real World: Ex-Plosion
Cory from Real World: Ex-Plosion
Arielle from Real World: Ex-Plosion
Jamie from Real World: Ex-Plosion
Jay from Real World: Ex-Plosion
Thomas from Real World: Ex-Plosion
Ashley from Real World: Ex-Plosion
Hailey from Real World: Ex-Plosion
Brian from Real World: Ex-Plosion
Jenna from Real World: Ex-Plosion
Ashley from Real World: Ex-Plosion
Lauren from Real World: Ex-Plosion
Bruno from Real World: Skeletons
Sylvia from Real World: Skeletons
Madison from Real World: Skeletons
Tony from Real World: Skeletons
Violetta from Real World: Skeletons
Jason from Real World: Skeletons
Nicole from Real World: Skeletons
CeeJai' from Real World: Go Big or Go Home
Dean from Real World: Go Big or Go Home
Jenna from Real World: Go Big or Go Home
Dione from Real World: Go Big or Go Home
Sabrina from Real World: Go Big or Go Home
Dylan from Real World: Go Big or Go Home
Kailah from Real World: Go Big or Go Home
Chris from Real World: Go Big or Go Home
Anika and Will from Real World: Bad Blood
Orlana and Jordan from Real World: Bad Blood
Katrina and Anna from Real World: Bad Blood
Peter and Mike from Real World: Bad Blood
Robbie and Jennifer from Real World: Bad Blood
Theo and Kassius from Real World: Bad Blood
Kimberly and Tyara from Real World: Bad Blood