Bop Shop: Songs By Halsey, Selena Gomez, Rosalía, Chloe Lilac, And More
And our favorite track off Lady Gaga's 'Dawn of Chromatica' remix album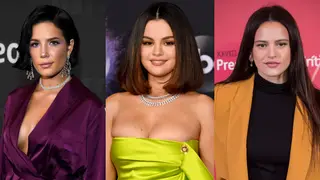 The search for the ever-elusive "bop" is difficult. Playlists and streaming-service recommendations can only do so much. They often leave a lingering question: Are these songs really good, or are they just new?
Enter Bop Shop, a hand-picked selection of songs from the MTV News team. This weekly collection doesn't discriminate by genre and can include anything — it's a snapshot of what's on our minds and what sounds good. We'll keep it fresh with the latest music, but expect a few oldies (but goodies) every once in a while, too. Get ready: The Bop Shop is now open for business.
Halsey: "You Asked for This"
We all knew a collaborative album between Halsey and masters of sonic moods Trent Reznor and Atticus Ross was going to be good; the uncertainty was in how good. While "Bells in Santa Fe" might be the strongest song on their impressive new LP If I Can't Have Love, I Want Power, the one I keep returning to is the surging "You Asked for This" for how it's seemingly designed to hit every pleasure center in my brain. Motorik rhythm? Unexpected shoegaze chorus? A cathartic release courtesy of Halsey demanding, "I want everything I asked for?" It's all here, and we didn't even have to ask. —Patrick Hosken
Tokischa, Rosalía: "Linda"
This raucous cross-continental collab between Dominican rapper Tokischa and Spanish pop star Rosalia brings together two distinct genres, with an energizing dembow rhythm and pointed flamenco claps, and two girls who just want to party. In the music video, shot with director Raymi Paulus in the Dominican Republic, a crew of femmes wearing colorful knits and short shorts grind on cop cars as the singers repeat in Spanish, "We kiss, but we're homies." Honestly, who doesn't want to make out with their hot friends at the club once in a while? —Coco Romack
"Joshua, I'm crazy crazy for you," croons Brooklyn nightlife mainstay Macy Rodman in this standout cut from her recently released third album Unbelievable Animals. But don't let the chorus fool you. Her infatuation is one-sided, adding a dizzying sense of desperation to an otherwise upbeat dance track. "I'm crazy crazy for you / I'm crazy crazy for you / I'm crazy, what can I do?" Rodman sings over spiraling synths before devolving into animalistic snarls. You get the feeling her question is only partly rhetorical. —Sam Manzella
Brooklyn-based pop singer Chloe Lilac dials up the angst on new single "10 Things," a grungy and gritty friend-breakup bop with a call out to the classic '90s film. A punk turn from her previous earworms, Lilac maintains the same level of vulnerability and brutal honesty, name dropping a dude named Nathan and "rich kids with daddy issues," as she examines a friendship where she stayed around too long. With a throbbing guitar riff and a hearty helping of pointed zingers, its three minutes end way too soon. Thankfully, the repeat button is right there. —Carson Mlnarik
Pinegrove describes the new song "Orange'' as "a waltz about the climate crisis." It's a meditation on political inaction that conveys the anger and disappointment many of us have in our elected officials when it comes to climate policy. The track was written during the 2020 Oregon fires when our social feeds were full of photos of apocalyptic orange and red skies burning from the West Coast. "Today, the sky is orange, & you & I know why" the band's frontman Evan Stephens Hall belts. One year later, the song sounds just as relevant as fire engulfs Lake Tahoe and after a summer of record-breaking catastrophic weather events. —Farah Zermane
Selena Gomez, Camilo: "999"
Have you seen Selena Gomez act opposite Steve Martin and Martin Short on Hulu's Only Murders in the Building? She's delightful and slightly withdrawn, her deadpan charm a nice counterweight to the zany eccentricities of her co-stars. None of that relates to "999," her latest Spanish-language song that finds her alongside Camilo, except in the value of the collaboration. Their voices sound excellent together, whether blended into one, as on the hook, or complementing each other on alternating verses. Selena keeps proving that she can do it all; no need to try to solve a murder this time. —Patrick Hosken
ABBA: "Don't Shut Me Down"
It's been nearly 40 years since the Swedish quartet released any new music, but that changed this week when ABBA announced that their new album, Voyage, will be available in November, along with a live concert experience starring digital ABBAtars premiering next year. To hold us over until then, the band dropped two new songs, "I Still Have Faith In You" and "Don't Shut Me Down." The first track is a lush personal piano ballad about the bandmates' enduring bond that's still strong after all these years. But it's the second song that will unleash your inner dancing queen. "Don't Shut Me Down" is classic disco ABBA that sounds like a mix of "When All Is Said and Done" and "If It Wasn't For the Nights," two of their best and most underrated songs. —Chris Rudolph
Lady Gaga: "Free Woman (Rina Sawayama & Clarence Clarity Remix)"
A friend and fellow Little Monster once described Lady Gaga's "Free Woman" as a "something out of a Kohl's commercial," a scathing critique I haven't been able to unhear until this remix. "XS" pop queen Rina Sawayama and electro-pop singer-songwriter Clarence Clarity offer an edgier, glitch pop-inspired take on the Chromatica track, infusing grit and urgency into an otherwise straightforward self-empowerment anthem. I can't speak for Mother Monster, but I'm sure she's proud. —Sam Manzella