Bop Shop: Songs From Remi Wolf, Peyton, Mila Jam, And More
Enough funk-pop, soul-pop, and inner peace-pop to keep you covered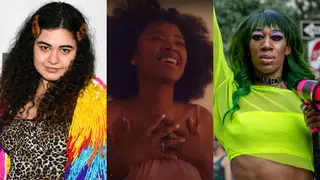 The search for the ever-elusive "bop" is difficult. Playlists and streaming-service recommendations can only do so much. They often leave a lingering question: Are these songs really good, or are they just new?
Enter Bop Shop, a hand-picked selection of songs from the MTV News team. This weekly collection doesn't discriminate by genre and can include anything — it's a snapshot of what's on our minds and what sounds good. We'll keep it fresh with the latest music, but expect a few oldies (but goodies) every once in a while, too. Get ready: The Bop Shop is now open for business.
Clairo keeps growing. "Blouse" marks a far distance from "Flaming Hot Cheetos," swapping out lo-fi digital for warm acoustic tones and strings that might as well have been laid down in a wheat field. Where debut Immunity opted for the atmospheric and occasionally leaned into R&B, "Blouse" (as the first taste of follow-up Sling, due out July 16) is folk revivalism at its finest. The only thing more intimate than Clairo singing, "Why do I tell you how I feel / When you're just looking down the blouse?" is her singing it without any overdubs or accompaniment on The Tonight Show. Both versions are essential. —Patrick Hosken
On this total earworm of a pop-funk fusion, singer-songwriter Remi Wolf tributes Liz, a "sexy little mama" who always comes through. Come for the playful blend of musical influences, and stay for Wolf's richly textured vocal riffs. Can't get enough? Play it back-to-back with the live version, a true showcase of the American Idol alum's standout voice. —Sam Manzella
Coin: "You Are the Traffic"
Coin's Rainbow Mixtape, a three-part EP series fused into one full-length effort, is in the running for the year's best indie album, a powerfully written kaleidoscope of reflections on finding your way through love, loss, and your own meaning of life. It's hard to pick the record's standout moment, but "You Are the Traffic" feels like the one song that pulls it all together, a mellow realization that two people — maybe lovers, maybe friends, likely something in between — are forever connected, whether they'd prefer to be untangled or not. "What a mistake, how there's no me without you," singer Chase Lawrence confesses. Like the song itself, the line rings with a faint sliver of hope: Even in this misfortune, maybe the two can find a way out. —Terron Moore
Galantis, David Guetta, Little Mix: "Heartbreak Anthem"
It's not every day that you hear an emotionally intelligent breakup song, but Swedish DJ Galantis, French DJ David Guetta, and British girl group Little Mix come together to create just that — an international EDM banger to cure your not-so-broken heart. The track, though titled "Heartbreak Anthem," is decidedly a song that speaks to the true power of understanding, feeling empathy towards those loved and lost, and the art of moving on. "Heartbreak Anthem" encourages listeners to find their inner peace and live in the present, releasing all that pent-up energy on the dance floor as the beat drops. Add this one to your summer playlist immediately for good mental health! —Sarina Bhutani
Peyton: "Don't U Wanna Fly"
Peyton, an emerging Houston singer-songwriter, is not fucking around. Her gossamer voice also has deep roots, and as a classical prodigy trained in both violin and opera, she has an innate understanding of how music works together. Just listen to the icy backbeat of her latest, "Don't U Wanna Fly," which sounds Patrice Rushen's "Forget Me Nots" playing in a room down the hall. Then listen again to her voice. Soon, "Don't U Wanna Fly" feels more like a command than a question. —Patrick Hosken
"Make it good, make it last so they never forget your silhouette," Kentö croons over the hypnotic synths. His smooth vocals creep in telling you to give it to them good — whether you're leaving in those quiet whispers of the morning or as the sun turns to dusk, make it so your silhouette and memory can't be forgotten. "Silhouette" is the first single from singer-songwriter and producer Kentö's forthcoming album, Strangers. And while I've just been introduced to the singer, his story and infectious talent are definitely enough to keep a close eye on. —Daniel Head
Add this to your summer playlist immediately. Mila Jam is back with her latest single "Too High," giving us a bop from 3,000 feet in the air. With a music video rocking a trans flag and Mila serving on the chorus, the sky is the limit! The artist is consistently giving us trans excellence in music while reminding us that "love is the goal." —Zach O'Connor
Gia Woods: "Enough of You"
Even if a getaway to L.A. is not in the cards for you this year, Gia Woods supplies a sip of the sunny city rush with sleek new single "Enough of You." The queer pop singer evokes an air of cynicism over dance-floor beats as she admits the heat of addiction in "a fucked-up paradise" is hard to resist. "This song may seem like it's just about being addicted to another person but it's so much more than that," she said in a statement. "It's about chasing the highs 'til you don't even feel them anymore." Bring on the hypnotic baby blues! —Carson Mlnarik
Jelani Aryeh: "Overexposed"
You think you know what kind of song "Overexposed" is going to be — airy, lithe, pensive — and then the shuffling beat hits. At once, rising alternative voice Jelani Aryeh's path becomes exciting, lit by a gently swinging melody and savvy rumination on social media. Ever felt burned the hell out from too much scrolling? Aryeh's got your anti-anthem right here. His forthcoming debut album is called I've Got Some Living to Do, yet he already sounds wise beyond his years. —Patrick Hosken
What's a dope playlist without a hip-hop legend like 2Pac? In honor of what would have been his 50th birthday this week, let's take a trip back in time by listening to a classic. The "Thug Life" rapper took a different approach with this track and offered uplifting words to women in the Black community. With such a powerful voice for the people, it's no surprise 2Pac's passion overflowed into this hit. The inspirational lyrics remind us all to keep our heads up and believe in ourselves over anything. This soft beat could bring a smile to anyone's face. —Taura J
Mint Simon: "Some of Everything"
Mint Simon, frontperson of Caveboy, embraces the spaces between synths and binaries on the theatrical new single "Some of Everything." The track and its dramatic visual – come through, candlestick! – both speak to Mint's refusal to be placed in a box when it comes to their music and identity. Its addictive chorus screams like a straightforward pop song, though a deeper listen reveals bongos and a slinky saxophone loop lurking in the production. Meanwhile, Mint takes on different personas and dance moves throughout the video, reminding us that perhaps "some of everything" is the spice of life. —Carson Mlnarik
The Go! Team: "A Bee Without Its Sting"
When's the last time you felt great? Press play on "A Bee Without Its Sting," the delightful new soul-pop single from longtime experimental British band The Go! Team, and see if your answer changes. A cool bit of trivia: Vocals on this track are handled by Jessie Miller and Rian Woods, two teenage choir members out of Detroit. They sound great, and their comparative lack of polish gives the tune an undeniable charm. Let it be your underdog anthem. —Patrick Hosken