Pedro Pascal Celebrates Young Fans In Best Hero Speech: 'You Are Real Heroes To Me'
He won for his role as Joel in the post-apocalyptic hit 'The Last of Us'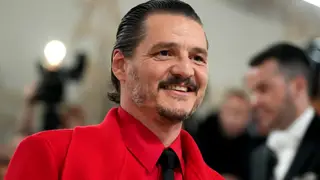 The Best Hero nominees at the 2023 MTV Movie & TV Awards were fighting villains everywhere from a galaxy far away, to Nevermore Academy, and even to the Quantum Realm.
But it was Pedro Pascal who won Best Hero at this year's ceremony for his role as Joel in the post-apocalyptic hit series, The Last of Us. Pascal beat out other nominees Diego Luna (Andor), Jenna Ortega (Wednesday), Paul Rudd (Ant-Man & The Wasp: Quantumania), and Tom Cruise (Top Gun: Maverick).
"I want to say thank you, MTV Movie & TV Awards," Pascal said while holding his Golden Popcorn in a pre-taped acceptance speech. "I am a child of MTV, I grew up on MTV. This means the absolute world to me."
"I wish we could all be together so I could look into your eyes and tell you that all the young people in the world are my heroes and I wouldn't be here if it weren't for you," The Mandalorian actor continued. "You deserve a world that serves your interests, you deserve to be healthy, you deserve to be safe, you deserve for your individual rights to be fought for and protected."
"You deserve real heroes in this world because you are real heroes to me," Pascal ended his emotional speech.
In addition to starring in two of the biggest television series right now — The Last of Us and The Mandalorian — Pascal can next be seen in Pedro Almodóvar's Western short, Strange Way of Life, premiering at the Cannes Film Festival later this month.
The 2023 MTV Movie & TV Awards are airing right now on MTV. Find all the winners here.