Billlie Span Every Dimension
The girl group's newest release, 'The Billage of Perception: Chapter Three,' joins the real world with an uncanny dreamscape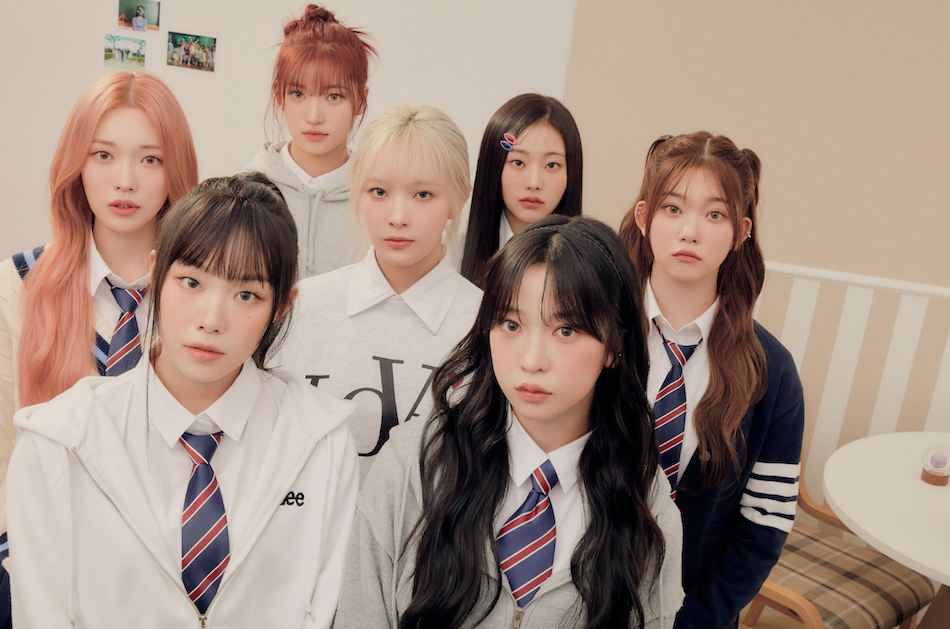 Discovering new realms, whether fictional or not, has always been at the helm of human creativity. Because of this, the K-pop landscape, with its immersive visuals, ambitious storytelling, and genre-defying music, has resonated across the globe. In the era when women rule this industry, there's the rising girl group Billlie — formed by Moon Sua, Suhyeon, Haram, Tsuki, Sheon, Siyoon, and Haruna — that has an open-ended ethos that strikes a chord in the heart. "[The name] Billlie means that we will express our inner selves and our B-sides — that anyone has and can relate to — in a beautiful and confident way," Moon Sua tells MTV News over Zoom.
Billlie's concept is hauntingly intricate, existing in two aligned dimensions: an uncanny dreamscape and the "real world." The narrative goes like this: One summer day, a dark entity arrives at the calling of a bell that rings 11 times, capturing a girl named Billlie Love. Her disappearance sparks rumors in her village, and the septet (implied to be close friends that vowed to protect her) denies any involvement in the event, later to be consumed by guilt and nostalgia. This mysterious occurrence — and Billlie's eccentric debut single "Ring x Ring" — ushers in their Billage of Perception album series.
Their latest project is chapter three (out today), a six-track offering with an unconventional sonic palette — including the hypnotic "Enchanted Night ~ 白夜," the Latin-inspired "Lionheart (The Real Me)," and the fan song "Various and Precious (Moment of Inertia)." Lead single "Eunoia" blends groovy basslines and synths to punctuate a spellbinding record. "I think this song shows another character [of Billlie's artistry]," Moon Sua says. "I also participated in the rap-making with Siyoon, and we put a huge effort into it." She contrasts it with a previous record. "'Ring Ma Bell' was a very strong track — and we really enjoyed the stages for it — but ['Eunoia'] encompasses brighter feelings." 
It's fitting, considering Greek philosopher Aristotle linked the word 'Eunoia' with affability and "beautiful thinking." "We wanted to [incorporate] the literal meaning of 'Eunoia' — which is a beautiful and precious thought — as well as the message that Billlie wants to deliver in the song," Moon Sua continues. "Billlie's 'Eunoia' has a message that we all have two sides and we need to acknowledge, love, and embrace them."
For Billlie's main vocalists, Suhyeon and Haram, some B-sides were challenging to perfect, one of them being the old-school funk track "Extra-Ordinary." "It's very different [from other songs] we did before, and it was hard to express the feeling from the original demo," Suhyeon says. "At the same time, this is my favorite song."
Haram's pick is album closer "Nevertheless." "The vocal range of this song is very wide from low to high," she explains. "The rhythm changes a lot, so that was another challenge for me, but I love this soulful, R&B style of music." Lyrically, "Nevertheless" traces vignettes of confusion and transports listeners to an inner story — a central theme in the album's vision.
While ambiguity may linger in Billlie's music, their rapid ascension as one of the most riveting K-pop acts is far from ambiguous. 2021's "Ring x Ring" garnered attention due to its experimental structure, and last year's "GingaMingaYo (The Strange World)" vaulted their popularity. The song is an unapologetic maximalist pop gem that reveals Billlie's blazing performance prowess, with an honorable mention for Tsuki, whose fan cam became a viral sensation thanks to her lively stage presence.
Instead of considering their early success daunting, the group is taking it in stride. "It's been only a year since we made our debut, but thanks to all of the love and support [from our fans], we could come up with meaningful results and get more chances," Moon Sua observes. "As artists, we always want to do better. But we're enjoying every moment and thinking of it as part of our growth journey instead of being pressured."
Since 2019, most of them have been together as a unit — formerly known as a pre-debut team called Mystic Rookies — practicing until their debut hit in November 2021. Soon after, their label Mystic Story announced that rising competition show star Sheon (real name Kim Suyeon) would join Billlie. For this reason, The Billage of Perception: Chapter Three symbolizes an intersecting phase that ties up a loose end. "In the music video of the title track of this album, I join the members as a transfer student," Sheon says. "In the new school, I look nervous and shy like I did when I joined Billlie at first. Filming the video was fun because it reminded me of the moment when I met the members for the first time."
"While making this album, I looked back on the past and contemplated where our group should be headed. Above all, I thought about our teamwork a lot," says Haram. "I'm proud that teamwork has been solidified during this process, and I'm touched by that."
"For this album as well, we discussed in depth with the company and the members from the beginning and worked so hard on every detail of vocals and choreography," Tsuki chimes in. "During the process, I think my team has got my back and I believe that we took a step forward."
Until this point in the conversation, Haruna has been serenely observing and letting her members take the lead, often smiling at their answers. She, along with Tsuki, moved from Japan to South Korea in pursuit of her dreams. "I'm very keen on Tsuki," Haruna says. "Her expressions on stage are really great — you could see that during the 'GingaMingaYo' [era]. And she also has great language skills. Tsuki can speak Korean and Japanese fluently… and her English isn't that bad."
From the start, Billlie has been recognized for their gamut of abilities. An incarnation of this is Suhyeon, whom Tsuki describes as "multi-talented." "She's our main vocalist, but she's also very good at acting," she says. (Before debuting, Suhyeon starred in a South Korean web drama called A-Teen.) "And she's even good at imitating animal sounds!" Tsuki adds. Suhyeon covers her face while laughing.
"Sheon is another all-rounder of this team," Haram muses as Sheon claps timidly next to her. "She's good at everything — vocals, rap, and dance. I think Sheon has the most beautiful dance moves. Her way of using body and hand, and her gestures are so fascinating and beautiful that I want to learn from her." In the matter of duality — a popular tenet in K-pop for artists who embody contrasting personalities — Sheon has Siyoon in mind. "Her eye expressions [are great]," she says. "Siyoon is one of the shyest members of Billlie, but she changes very dramatically on stage, and her eyes change as well."
In an industry full of stars, the members of Billlie could be likened to a supernova-in-waiting, adding their light to a K-pop constellation. In both dreams and reality, there's a common denominator that keeps their aspirations aflame. "This might be a bit cliché, but the answer is my members," Moon Sua smiles. "When we are having a great time or a sad time, our members are always present, and that's the greatest motivation."