Shawn Mendes Likes Performing On TV So Much, He's Coming Back For A Full Week
After bringing 'In My Blood' to James Corden, he's decided to stick around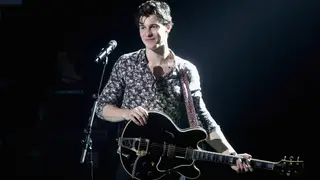 Last fall, at his MTV Unplugged show, Shawn Mendes covered Kings of Leon's "Use Somebody" in an extended intro to his own track "Treat You Better." The choice was very intentional: "It's where I want people to see me as a performer and as a singer and as an artist going," Mendes told MTV News at the time.
He made good on that bit of information, as his new single "In My Blood" proves. Wednesday night (March 29), Mendes brought that song to The Late Late Show for a live unveiling that sounds as amped up and stadium-ready as any Kings of Leon cut.
If Mendes sounds self-assured performing the song on TV for the first time, it's because he is — so self-assured, in fact, that he's due for a weeklong residency on the show beginning June 4. That week, Mendes will perform presumably a new song from his upcoming third album each night.
Harry Styles did the same thing in 2017 just after his debut self-titled LP dropped, so it's extremely possible that by the time Mendes returns to James Corden's studio in early June, fans will have his new album in their possession so they can sing along to every word.
Watch the newest "In My Blood" performance above, and revisit Mendes's 2017 Unplugged-era interview with MTV News below to see if he surreptitiously dropped any further tidbits about his upcoming new music.