10 Things To Know About Valee, The Chicago Rap Rookie Backed By Kanye And Chance
Bout to blow from the City of Wind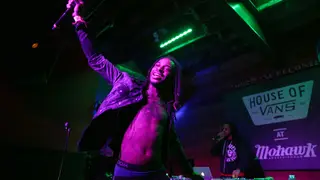 Valee is concise. In an era where a rapper's omnipresence and volume of output can obscure the line between charisma and talent, the Chicago MC has the rare ability to get in and get out in all aspects of his career. Valee's songs rarely go past three minutes. They purposefully act as eternal appetizers, forcing the listener to want more from an elusive star in the making. His social media presence is scarce and direct like his artistry.
Perhaps the best summary of Valee's skillset is on his figuratively and literally breathtaking guest verse on Z-Money's "Two 16's." Throughout the entire feature, Valee takes zero breaths. The lyrics — "Yves-Saint-Laurent-bookbag-on-my-back-don't-look-back" — read and sound like a to-do list. Symbolically, the comparison is fitting: Listening to a Valee song is the audio equivalent of the adrenaline rush that scratching off tasks from a to-do list elicits.
Over the phone, MTV News spoke with the rising Chicago rapper about his musical process, phone calls with Kanye West, and features with Chance the Rapper and Jeremih. Here's what to know.
Valee's Viral Verse (And How He Made It)
Valee: Actually, I was struggling. I was [not confident] while he [Z-Money] was doing his part. And I was struggling to think, and I'm like damn, "How am I going to come up?"
I had an idea, I had like the beginning of my verse done, like the first three or four lines. But I had no idea it was going to have no pauses. I just end up rapping it. I did a couple of takes, and that was it. You know, I jotted it down as I went along. I would just jot down the words, like I would jot a word and hit return. So it's literally a list, how I wrote it.
Everyone thinks it's a one-take. So I haven't told anyone it's like three punches. I just let everyone keep thinking it's a one-take.
Good Talks And Maybe G.O.O.D. Talks With Kanye
Valee: I did speak with Kanye West on the phone though for about 20 minutes. That was a wonderful experience. Made me want to work harder, definitely.
Yeah, very inspirational. A lot of about me and less about him. You know, it was a lot of, like, he congratulated me on my move. I had just moved into a new place that I wanted like since high school, or the type of place that it is is something I've dreamt of since high school. So he congratulated me on that. He congratulated me on a show that I had the day before our conversation. You know, just spoke on wanting to work and build and do cool stuff. So that in itself is enough to say, "All right, well, I'm gonna just continue working more."
WorldStar Inspired Him To Make Short Songs
Valee: At my old place when I was making music, I'd have company over, a couple of my friends over. We'd be watching WorldStarHipHop or the newest video — a video where somebody could've paid $5,000-$10,000 for the very top box for 24 hours. It'd be a great song, top artist, like Gucci Mane or something like that. What stuck with me one day is no matter what video we're watching, someone starts a fucking conversation about something that has nothing to do with music by the time the second verse comes around.
So what they're not knowing is, I'm sitting there working my ass off writing my second verse for a song that I'm trying to record, and it just let me know. Like, man, why the hell would I work so hard and these people are showing me that their favorite artist is Gucci Mane? They can't even keep quiet for another 33 seconds for his second verse. So you know, it just helped me cut things short and then it created, like, a thirst.
He Made It Onto Chance The Rapper and Jeremih's Christmas Album
Valee: Me and Jeremih went in there, and at the same time he's in one booth, I'm in another booth, and we freestyled the first verse [on "Are U Live"]. We didn't know when each other were going to shut up or not. You know, that's why I say I love working with J because we're recording at the same damn time. Never went over this or nothing. And we're in there just attacking the first verse.
So that song we were actually sitting on, and then I believe they had a Christmas project coming out, and they asked if they could utilize that and if Chance could get on it. I thought that was a great opportunity.
Valee And Jeremih Might Be Watching The Throne
Valee: We got a few [songs] that [sound], like, incredible actually. How do I know that? Because J would play them back or he would remind me the next time we see each other. It's just a feeling all over again. So we got some stuff. We're going to definitely put it out. Maybe I'll ask him if we can put out like a small EP or small tape or something. You never know.
His Stomachaches At The Gucci And Louis Stores Were Real
Valee: Downtown on Michigan [Avenue in Chicago], we have the Gucci store, and then directly across the street is the Louis Vuitton store. They're in front of each other. So I do believe one day I go to the Gucci store, stomach was hurting. And then I go to the Louis Vuitton store afterwards, and that's all I had for that line [on "Shell"].
Then the rest of the song, I had to use other things from memory, like "Ran out of Swishers to stuff the weed." Of course, it's not supposed to be Swishers. It's supposed to be Backwoods, but Swishers went with it. And then it's like a 1988 flow, so Swishers was big back then as well, or Zigzags. So you know, I just went with what would make the song, but the "Walked out Gucci and 'cross the street, fuck it / Upset stomach I had to eat," that's pretty much true in Chicago with the location of the stores.
Schoolboy Q And His Daughter Bump Valee's Music
Valee: When I seen him dancing to "Diamonds" and then like a couple of days later he's, I think, like, on Christmas, he's with his daughter in a Ferrari. And they're in the hills of California, and throughout his [Instagram] story, he's playing two other of my songs. He's playing "Shell." He's playing a whole 'nother song, and this man is with his daughter on Christmas. That was beautiful.
He's Influenced By Erykah Badu, Sade, And Jill Scott
Valee: My mom used to play a lot of Erykah Badu, Sade, Jill Scott, taking baths and shit. You know, and at the time I'm not liking them. "Oh, what is this?" But that shit sounds good. And as I get older, it's still ringing in my head. All these Sade hooks, and it's beautiful. I'm like, man, this stuff actually influences, has a lot to do with my music, like the subtle trap sound and the smooth rapping and stuff like that.
Pusha T Hopped On His "Miami" Remix
Valee: Yeah, I haven't met with Pusha T yet, but he did bless me and do a great job on the "Miami" record. But we're supposed to be shooting that video. We're supposed to be shooting something for it soon hopefully.
He Likes To Perform With His Dogs
Valee: I've been on a dog-buying spree. I got two Yorkies and a small teacup Chihuahua. They're all small dogs. So since then, I've had my dog Firrari. He's been on, like, 15 stages with me. You know, my Yorkie Frankie before Rari, he's been on like seven, eight stages with me.