To err is human, and on Monday night during the Emmy Awards, we all found out just how human Gwen Stefani was.
The singer, presenting the award for Outstanding Variety Series alongside Maroon 5's Adam Levine, flubbed Stephen Colbert's name about as hard as it could be flubbed when announcing his show's win.
It was no "Adele Dazeem," but it wasn't great either. "Colbore"?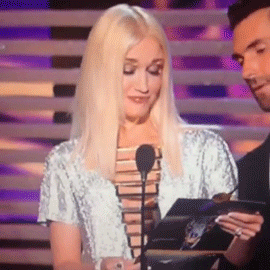 Luckily, Colbert is a "comedian" and has what is known as "a sense of humor." So, naturally, the first post-Emmys episode of "The Colbert Report" incorporated the oopsie into its opening credits.
Big ups to the New York Times' Dave Itzkoff for his sharp eye and quick screencap.