There are so many things to love -- nay, obsess over when it comes to Charli XCX, 5 Seconds Of Summer, Fifth Harmony, Sam Smith, and Schoolboy Q. I mean, sure, they're all nominated for Artist To Watch at the 2014 MTV Video Music Awards, but our love doth runneth so much deeper than that...eth.
Like, did you know that Aussie pop-punk outfit 5SOS are literally good for the American economy? True story! Their lyric in "She Looks So Perfect" about "American Apparel underwear" boosted AA's sales by about 10 percent.
Speaking of percentages, we are 100 percent not surprised that Fifth Harmony's fans made the hashtag "#WeWant5HMissMovinOn" trend on Twitter before the girl group had ever even dropped a "Miss Movin' On" teaser. Harmonizers go hard!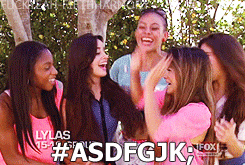 And we haven't even gotten to Charli XCX's Hilary Duff connection, Schoolboy Q's "trouble in paradise," or Sam Smith's harem of celebrity admirers who worship at the altar of his heartbreaking lyrics. Don't worry, we discuss all of those details and more in our "Reasons To Love The VMA Artist To Watch Nominees" video below.
Enjoy, and don't forget to vote for Artist To Watch!