Lizzo Isn't Sure What Video For Good Means — But She Urges Fans To Vote For Good
'About Damn Time' wins a VMA, so she says to 'vote to change some of these laws that are oppressing us'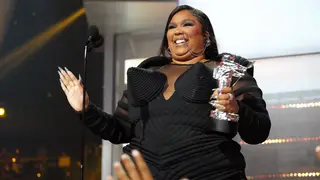 It's bad bitch o'clock at the VMAs!
She was first nominated back in 2019, and Lizzo has finally won her first Moon Person. On August 28, the Special singer performed near the top of this year's VMAs with an energetic and electric medley of her hits "About Damn Time" and "2 Be Loved (Am I Ready)." She returned to the stage later in the show when she was awarded the trophy for Video For Good for "About Damn Time."
Lizzo started off her acceptance speech by thanking Christian Breslauer, the director of the music video, but she then admitted how she still wasn't sure what Video For Good meant, but she knows how important voting is, especially when it comes to the upcoming midterm elections.
"I don't know what 'Video for Good' means, but I do know what your vote means, and that's a fucking lot," Lizzo said during her speech. "Your vote means everything to me. It means everything to making a change in this country. So remember when you're voting for your favorite artist, vote to change some of these laws that are oppressing us."
Lizzo went on to thank her fans for "supporting and loving on me" and, in a moment that recalled Nicki Minaj's iconic line from 2015, pivoted to something more confrontational: "And now to the bitches who have something to say about me in the press."
"You know what? I'm not going to say nothing," she ultimately continued. "They be like, 'Why don't you clap back?' Bitch, because I'm winning, ho!"
Lizzo received five VMA nominations this year including Video for Good, Best Pop, Song of the Year, Artist of the Year, and Song of the Summer.
The 2022 VMAs aired live on MTV from Prudential Center in Newark, New Jersey. Find the complete list of winners right here and keep up with all of the night's biggest VMA moments.