The 2022 VMAs Was A Night Of A Thousand Lizzos
It's about damn time she returned to this stage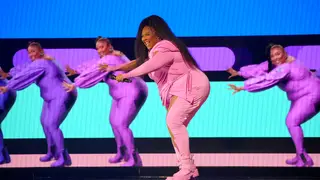 The "About Damn Time" singer took the stage at the Prudential Center to perform a medley of two hits off her latest record, Special, and it certainly lived up to the album's title. Decked in head-to-toe bubblegum pink, Lizzo commanded the stage solo, putting her powerhouse vocals (and the stunning black-and-white animation on the venue's floor-to-ceiling LED screen) on full display.
Lizzo opened with a snippet of "About Damn Time," the high-energy self-confidence anthem that scored her a total of four nominations at this year's show, including the coveted Song of the Year. She then hopped right into the introspective "2 Be Loved (Am I Ready)," hitting technicolor digital piano keys on the floor of the stage in time with the song's instrumental intro.
As the track progressed, an entire choir of digitized Lizzos joined the singer on the screen behind her, elevating her performance from "special" to "positively surreal." It culminated with a simple pink heart on the LED screen and Lizzo yelling to her adoring fans in the crowd, smiling ear-to-ear. Bad bitch o'clock, indeed!
It's shaping up to be a standout VMAs for Lizzo. The singer and shapewear entrepreneur is also in the running for Best Pop Video, Video for Good, Song of the Summer, and Artist of the Year, bringing her total number of nominations to five. She's trailing just behind Lil Nax X, Jack Harlow, and Kendrick Lamar, each of whom has six nods this year.
Lizzo made her VMAs debut in 2019 with a moving performance of her breakout hit "Good as Hell." Prior to tonight's show, she has received seven VMAs nominations over the years, including a nod for Song of the Summer in 2021 for "Rumors," her saucy collab with Cardi B. If Lizzo wins tonight, it will mark her first time taking home a Moon Person.
The 2022 VMAs aired live on MTV from Prudential Center in Newark, New Jersey. Find the complete list of winners right here and keep up with all of the night's biggest VMA moments.