Nicki Minaj's VMA Evolution, From Pink Wigs To A Literal Golden Throne
Explore the Video Vanguard recipient's journey through the years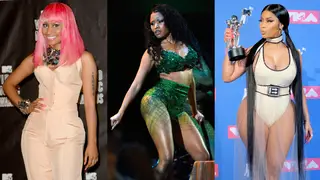 "Ever since she was little, she dreamed of dominating the world of rap," went the voiceover for a 2010 VMAs commercial centered on Nicki Minaj. That year, she debuted at the awards show for the first time ever, performing her first single, "Your Love," and her duet with Will.i.am, "Check It Out," at the pre-show. This was a milestone at the beginning of her rising career.
Over a decade later, Minaj has cemented her place as a rap queen who pushed boundaries in the visual space, as well. Those contributions will be recognized when she receives the Michael Jackson Video Vanguard Award honoring her profound impact on music and popular culture at the 2022 VMAs on August 28. She will also perform live at this year's show for the first time in four years, after she took over the Oculus in New York back in 2018. Throughout her VMA career, Minaj has been nominated for a total of 17 awards, five of which she has won, including Best Hip-Hop and Best Female Artist. This year, she is up again for Best Hip-Hop with Lil Baby on their duet hit "Do We Have a Problem?"
Below, let's take a quick walk down memory lane and explore the evolution of Nicki Minaj's appearances at the VMAs.
Minaj made her first VMA appearance during the 2010 pre-show in characteristic fashion — by sporting striking hot pink hair! She earned her first VMA nom that year in the Best New Artist category for "Massive Attack" and made sure to make the stage her own. Her pre-show performance with Will.i.am was out of this world, complete with pink smoke, the rapper's groovy sci-fi moves, and battle-ready verses.
2011: First Nicki on the Moon (Person)
Years before it became a safety necessity to do so, the rapper accessorized with a face mask when she arrived on the red carpet, and she donned a purple diamond-encrusted dress with a pink tutu and a knotted pink-yellow beehive. Although the rapper did not perform at this year's VMAs, it was still a night to remember as she walked up to the main stage to receive her first Moon Person for Best Hip-Hop Video.
"I remember when I won for 'Super Bass,'" Minaj told MTV News the following year. "It had gotten to the point where I never won anything, so I would just go to awards shows just to wear a cute outfit. So when they called my name, I was like, 'Is this a joke? What? Is this really happening?' That was like, a very, very memorable moment. That was one of the best moments in my career, to just hear my name and truly be surprised."
2012: A girl on fire
The 2012 VMAs marked Minaj's first performance on the show's main stage, surprising the audience with a duet of "Girl on Fire" with Alicia Keys. That night, the rapper took home the award for Best Female Video ("Starships"), and she appeared alongside her fellow Young Money rappers Drake and Lil Wayne onstage when the duo accepted the award for Best Hip-Hop Video ("HYFR").
2014: She came… and she gave it to you
When she returned to the VMA stage in 2014, she did so wearing a stunning snakeskin bodycon mini-dress, referencing her choreo-heavy performance of her iconic hit of the year, "Anaconda." But that wasn't all. Minaj pulled triple duty, also joining Ariana Grande and Jessie J onstage to perform their hip-pop smash "Bang Bang" (right after "Anaconda" ended, no less). She later paired up with Usher for yet another costume change and a guest verse on the funky "She Came II Give It II U."
2015: What's good?
Minaj opened the 2015 VMAs main show with a fiery performance of "Trini Dem Girls" with African-inspired visuals and a red dress. Taylor Swift then joined the rapper in a matching glittery outfit for "The Night Is Still Young," and the two also duetted on "Bad Blood."
Nicki later won Best Hip-Hop Video for "Anaconda," but she shocked the world by openly calling out Miley Cyrus, who hosted the VMAs that year, after accepting her award. "And now, back to this bitch that had a lot to say about me the other day in the press the other day," she fired, before delivering one of pop culture's iconic highlights and memes. "Miley, what's good?"
2016: Side by side with Ariana, again
Minaj arrived on the white carpet in a royal blue gown by Bao Tranchi, which she had difficulty walking in — but thanks to assistance from staff as well as her then-boyfriend, Meek Mill. The couple also posed together in an adorable embrace.
Inside Madison Square Garden, meanwhile, Nicki and Ariana Grande teamed up again at the VMAs for the first time since 2016. They wore matching pinkalicious 'fits to help bring the reggae-inspired hit "Side to Side" to life. Their star power — plus a fleet of exercise bikes, two gigantic fishnet-covered legs, and a squad of lifting beefcakes — made this particularly physical performance one for the books. Or the gyms.
2017: Swishing with Katy Perry
Minaj wore pink yet again — a matching pair of leather crop top and pants — but only on the blue carpet. During the main show,  she got her head in the game when she revolved from a giant basketball, rapping in a referee-inspired outfit in her performance with Katy Perry for "Swish Swish." Another one in the basket.
2018: A golden medley of hits
In her most recent VMAs appearance in 2018, Minaj arrived to the pink carpet wearing a sheer Virgil Abloh outfit from his streetwear brand, Off-White, and a pair of Yeezy PVC ankle strap sandals. During the big night, the Queen — who had indeed just dropped her album of the same name — took home her latest VMA win for "Chun-Li" in the Best Hip-Hop Video category. And living up to its title, she delivered a golden performance medley of her hits "Majesty," "Barbie Dreams," "Ganja Burn" (in a capella form!), and "Fefe"  at the World Trade Center's Oculus hub in New York City.  The stage design was indeed fit for a monarch, with gilded unicorns and giant wings backdropping her as she spit bars. The only question left is: What will a career-spanning Nicki Minaj VMA performance look like in 2022?