Break out the champagne and prep the celebratory toast: Nicole Polizzi and Jionni LaValle's wedding is just days away!
While the happy couple are set to tie the knot this weekend, don't expect a throwback to Seaside Heights for their nuptials. Instead, guests will find themselves transported to a 21st century version of West Egg, partying the night away in style à la Daisy Buchanan and Nick Carraway.
Related: Here's What We Think Snooki's 'Great Gatsby'-Themed Wedding Might Look Like
That's right, old sports. It's time to trade in those fist pumps for The Charleston because the Roaring Twenties are taking over Snionni's lavish affair. From the attire to the appetizers, it's all about the "The Great Gatsby."
To celebrate their special day, we couldn't help but gather our favorite "Gatsby" moments -- and imagine how they'd fit in to what's gearing up to be the wedding of the year. After all, every major event and milestone deserves a proper GIF reaction ... right?
1. Jionni seeing Nicole walk down the aisle:
2. The bridesmaids (aka Jenni Farley, Deena Cortese and Sammi Giancola) getting emotional during the vows:
3. The moment the lovebirds are officially named husband and wife:
4. The guests getting a glimpse of the breathtaking décor at the reception:
5. Shortly after rushing to the open bar, of course:
6. But not before toasting the bride and groom:
7. Seriously, every wedding needs champagne:
8. The newlyweds cheesing it up at the photo booth: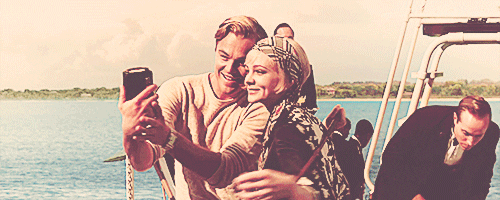 9. And running into the rest of the "Jersey Shore" crew:
10. The bridal party getting ready to catch the bouquet:
11. The newlyweds during their first dance:
12. And afterward, as they takeover the dance floor:
13. No one, and we mean no one, knows how to throw a party like Jersey's finest:
14. As the celebration comes to an end:
15. Everyone waving to the couple as they embark on their wonderful journey as Mr. and Mrs. LaValle:
Send your early congrats to Nicole and Jionni, and be sure to catch a new episode of "Snooki & JWOWW" on Wednesday at 10/9c!