"Laguna Beach" without love triangles would have been the equivalent of Thanksgiving without a turkey or Christmas without a tree -- it just wouldn't have worked. During the show's run, we watched the good-looking group of teens -- Lauren, Stephen, Kristin, Talan and Jason, to name a few -- attempt to juggle their studies along with more than a few complicated romances. In case you've forgotten, dating in high school = a not-so-easy task.
In honor of Throwback Thursday, we're looking back at all of the pairings that unfolded during those rites-of-passage years on the hit MTV series. Relive all of the magical -- and dramatic -- unions in paradise, and share your thoughts on your faves below!
LC and Stephen
There was no denying the affection between the childhood pals -- just look at that sweet kiss in Cabo! -- and they certainly grew close during their senior year. But there was a certain someone standing in their way of exiting the dreaded friend zone: K-Cav. When they graduated, they embarked on their college journey together up in Fog City, and Stephen even picked up Lauren at the airport:
And while the lovely lady, who was voted "Most Irresistible" by her peers, was hopeful that she and the brown-eyed dreamboat would be more than just buddies, the duo stayed platonic -- forever.
Michael Muller
But how precious were they?!
Kristin and Stephen
The couple's final moment together on Season 1 -- enjoying a romantic sunset before the surfer left for San Fran -- remains an indelible one in the show's history.
Michael Muller
Unfortunately, their connection fizzled not long after -- how awkward was their run-in during the holidays post-breakup? Still, their time together was certainly filled with plenty of ups (prom) and downs (um, spring break).
Jessica and Dieter
Stephen's BFF and Kristin's classmate were the quintessential high school sweethearts -- and the moment he asked his lady to the big dance was a pretty special one. However, the lovebirds -- who were a year apart in school -- didn't last after the nice guy went off to college. Enter the BMOC: Jason.
Kristin and Sam
The feisty bombshell let the tequila club get the best of her during the gang's Cabo San Lucas getaway, and she couldn't keep her paws off her crush during one fateful night out.
While Stephen ultimately forgave her for her indiscretions, we'll never forget how he reprimanded her after her bar-top dance -- and sloppy makeout sesh.
Kristin and Talan
Michael Muller
LC had the star quarterback all summed up on the very first episode: "He's a junior, and he's hooked up with most of the girls at our school...twice." The jury is still out on whether Talan had a fling with Lo -- you could feel the heat between the two, especially after that spicy conversation about threesomes while in the hot-tub with Lauren -- but during his senior year, he definitely had a relationship with the former Queen Bee. They did go to prom together, after all.
Look at those fresh-faced kids!
Jessica and Jason
Michael Muller
J & J could never see eye-to-eye: The jock's flirtatious ways and the brunette cutie's incessant jealousy led to constant bickering -- and ultimately, their demise. Enter a slew of other ladies for Jason...
Alex M. and Jason
Michael Muller
The strong-minded president of the school's drama club set her sights on the hunk -- even though he was with someone else (Jess). But Alex's scheming ways came back to bite her in the butt: While they were supposedly dating, Jason took ANOTHER girl (future LB castie Cami) to prom. Sigh, just sigh.
Lauren and Jason
There's no better way to put it: The good gal fell for the bad boy, and a lot of drama -- as well as some heartache -- ensued. Because LC stayed with Jason at the beach during that fateful summer on "The Hills," she earned this memorable, and not so pleasant, distinction from Teen Vogue editor Lisa Love: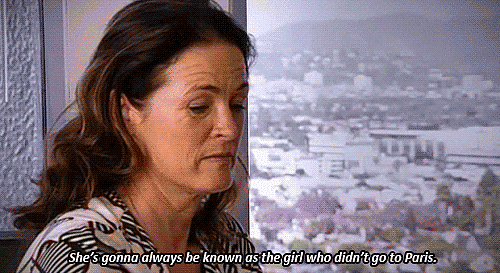 Oh, and who could forget her "purse comparison" speech, inspired by Jason? In case you don't remember: "There's the one you're comfortable with that you wear every day, and ones that are gorgeous that you want everyone to see you with."
Taylor and Talan
Michael Muller
The blond beauty had a thing for the ladies' man, but his feelings for Kristin always seemed to get in the way of their budding romance.
Tessa and Derek
Michael Muller
These two were never official, but when they were out in the same social circle, they had a tough time keeping their hands off each other. And even though Derek asked Lexie to prom, he ended up with Tessa at the end of the night. Tsk tsk!
Rocky and Alex
Michael Muller
Dude pulled out all the stops to ask his GF, and Tessa's BFF, to prom -- scavenger hunt and all. The pair even said they loved each other at one point, making them quite possibly the most stable relationship in LB history. And that's saying a lot.
Breanna and Derek
Lauren's baby sis got a little frisky in Cabo (where else?!) with the stud.
It was never clear if the handsome duo was on or off, but one thing was obvious: They couldn't hide their sexual tension. Regardless, the hockey player had a bunch of hookups, including the popular girl's enemy Tessa and "older woman" Jessica.
Kyndra and Tyler
Getting over an ex ain't easy, but add spring break into the equation and it's damned near impossible.
Jessica and Cameron
Michael Muller
She's baaaaacck! And with a younger man...