So, 5 Seconds Of Summer -- maybe you've heard of them? The Australian pop-rock foursome's self-titled, debut album went straight to #1 on the Billboard 200 the week of its release, and they've got two songs, "She Looks So Perfect" and "Amnesia," currently holding it down on the Hot 100 singles chart.
Throw in the fact that they're slated to perform at the 2014 MTV Video Music Awards on Sunday, August 24, and I think it's safe to say that yeah, you've heard of them.
But there's a whole lot more to the guys of 5SOS -- that's guitarist Michael Clifford, 18; drummer Ashton Irwin, 20; bassist Calum Hood, 18; and lead singer Luke Hemmings, 18 -- than just songs about various paramours trying on their American Apparel underwear. There's so much more you've got to know before the VMAs.
Related: Watch Videos, Live Performances, And Interviews At 5sos.mtv.com
So, here's 5 Seconds Of Summer.
Capitol Records Ltd.
You've probably heard their breakout hit, "She Looks So Perfect."
Which is funny, because they literally look so perfect.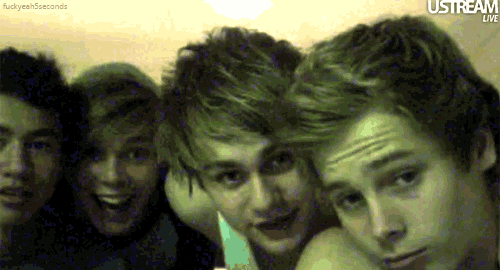 Full stop.
Anyway, just in case you have amnesia...
...5SOS got their start in the suburbs of Sydney, Australia, in 2011.
How'd they go from covering Good Charlotte and Green Day in local bars to playing for packed stadiums? For one, they started rehearsing every day.
Yep, they play their own instruments. They're not a "boy band," though they DGAF if you call 'em one.
Speaking of the "B" word, one of 5SOS' biggest breaks came courtesy of One Direction. The band supported 1D's 2013 tour in North America, the U.K., Australia, and New Zealand.
Getty Images
Many hugs were shared.
Instagram
The exposure propelled 5SOS to the level of breakout stardom they're at today. Oh hai, #1 debut album!
It also introduced them to the world of fan fiction and shipping, but we can stop that line of conversation right there.
Why? Because 5SOS' VMA performance is coming up, and that's only the only thing that matters right now.
Oh, and the fact that they're nominated for Artist To Watch.
Clearly, this is just the start of something huge for 5SOS. Are any of us even prepared for what's about to come? Doubt it.
Related: Download "Heartache On The Big Screen" Free Below, And Watch Videos, Live Performances, And Interviews At 5sos.mtv.com