The internet can be a silly place, especially when it comes to rumors about superhero movies. Offhand comments become concrete evidence in no time at all. That's what happened last night, when the internet became convinced that Benedict Cumberbatch has been cast as Doctor Strange.
It all started with a single tweet.
That's all it took to start off a firestorm of speculation and quickly drawn conclusions.
For those who aren't familiar with the work of Latino Review, they're the guys who pride themselves on releasing Marvel Studios casting and story details before anyone else, and this kind of purposely teasing tweet is a specialty of theirs. While Latino Review obviously has good sources when it comes to Marvel movies, the tweet essentially means nothing. Anyone can tweet something like that.
See? It might sounds like I have inside info, but I'm not really saying anything.
But that didn't stop other Twitter users from completely losing their minds. Immediately people, assuming El Mayimbe's tweet confirmed a definite casting choice, began connecting the dots and even making some dots up that weren't even there.
The conclusion: Benedict Cumberbatch is definitely playing Doctor Strange.
How did people get from El Mayimbe's vague hint that he knows who Marvel has picked as their Sorcerer Supreme to declaring Cumberbatch signed on? Let me demonstrate how internet fandom works.
According to an initial casting report from Deadline in June, Marvel Studios had drawn up a wish list for Stephen Strange and it supposedly included Tom Hardy and Cumberbatch. Eventually Jared Leto's name would be thrown into the mix, but as a god among the geek crowd, Cumberbatch became the ideal Strange.
Flash forward to right now, two weeks from San Diego Comic-Con, where Marvel Studios is expected to reveal more about Phase Three plans and perhaps some casting news. Cumberbatch is coming to Comic-Con for the first time, but not to promote his beloved "Sherlock." Instead, he'll be there in support of "Penguins of Madagascar." To the conspiracy theorists of the comic book movie world, this didn't add up.
Why would Cumberbatch pop his Comic-Con cherry for a kids movie like "Peguins of Madagascar." There has to be a bigger reason for him to be there, like so that he can come on stage during the Marvel Studios panel and blow everyone's mind.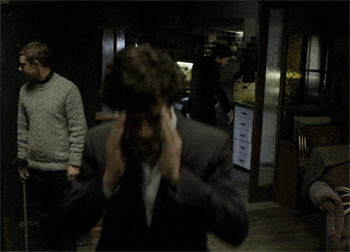 And that's certainly not out of the question. People are quick to believe the theory A) because it's conceivable and B) because they want it to happen. But it's also worth mentioning that off of the disappointing returns from "How to Train Your Dragon 2," Dreamworks animation is looking for a hit, and it makes sense for them to reach out to the geek audience with one of their heroes.
The point is that we don't know who is playing Doctor Strange. We don't even know whether anyone has been cast yet, so calm down, internet. You probably only have two weeks of waiting left.