Pharrell Williams is about to make a lot of people very "Happy." The superstar producer and hook master announced that he's releasing his second solo album, G I R L, on March 3.
According to the iTunes preview page for the album, it will feature 10 songs, including the "Despicable Me 2" soundtrack smash "Happy," which hit #1 on iTunes and could be headed to #1
 on the Billboard Digital Songs chart this week.
No other song titles are currently listed. A trailer for the album shows the producer in the studio with an orchestra clearly enjoying the creative process and, at the end, shedding a tear at the awesomeness he's created.
"When Columbia Records presented me with the opportunity to make an album, three things came to mind," Pharrell said in a statement about the album. "One was the sense of overwhelming honor that I felt when I realized that they were interested in partnering with me on the album that I had always dreamt of making. Two, it would have to feel festive and urgent. And three, I instantly knew it would be called G I R L. I hope you like it."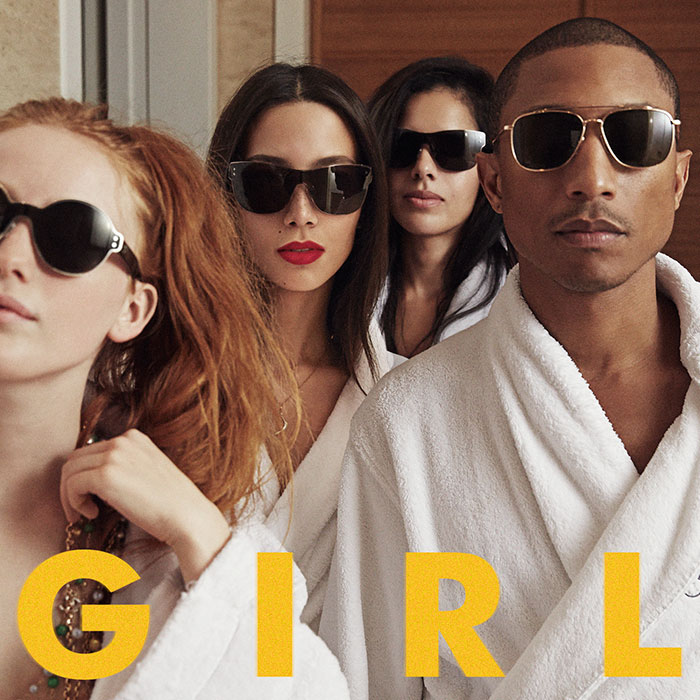 Pharrell's solo debut, In My Mind, was released in 2006 and it featured the single "Can I Have It Like That" with Gwen Stefani and "Number One" with Kanye West. Because he's Skateboard P, he, of course, also roped in a bunch of other stars to appear on that one, including Snoop Dogg and Charlie Wilson, Pusha T, Nelly and Slim Thug.
He released a Neptunes compilation in 2003, and four albums with his band, N. E. R. D., including 2010's Nothing, which featured the singles "Hot-n-Fun" and "Hypnotize U," which was produced by his Grammy-winning robot pals in Daft Punk.
Pharrell will perform "Happy" at the BRIT Awards in London on Wednesday (February 19) night and again on March 2 at the Academy Awards. He rocked the NBA All-Star game pre-show over the weekend, busting out a medley of his biggest hits with guests including Snoop Dogg, Busta Rhymes, Nelly, Diddy and Neptunes cohort Chad Hugo.
No words for how grateful I am these legends joined me 2nite #NBAAllstar @snoopdogg @iamdiddy @derrtymo @BustaRhymes pic.twitter.com/9xEffabPe4

— Pharrell Williams (@Pharrell) February 17, 2014