Kelly Clarkson "knew it" all along. The singer announced that she's having a baby girl. And, yes, with that news, she has us hoping it means that play dates are in the future for her daughter and Gwen Stefani's third son.
So, if her daughter should need any advice on how to navigate the ups and downs of playdates and life, she might want to look no further than her mom's impressive catalogue of empowering tunes. Over the course of her career, she has covered the topics of heartbreak, struggle and girl power in songs like "Stronger," "Since U Been Gone" and "Already Gone."
Don't believe there are morsels of wisdom in Clarkson's songs? Well, MTV News has rounded up some of the best advice Mama Kelly has doled out in her music over the years, in GIF form, of course.
Date The Good Guys, K?

Clarkson often calls out bad boys in her tunes. So, her daughter might want to take note: try to date the nice guys who don't just want to hook up.
The Power Of Love

But, that doesn't mean she should shy away from romance. Kelly understands that the power of love is worth taking all the risks for.
What Doesn't Kill You...

When the world knocks you down, you get back up, fiercer and feistier than ever before.
Do You

Haters gonna hate. And Clarkson often reminds us we should love ourselves for who we are anyway.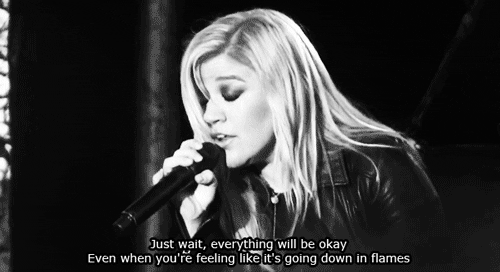 And, Just Have Fun

Also, she might to remember to just have fun, jump around, don't be afraid of a low-cut shirt and have pillow fights. Have all the pillow fights.