Step Inside VMA Video Vanguard Nicki Minaj's Barbie-Inspired Doll House
The 'Super Freaky Girl' gave Barbz exactly what they wanted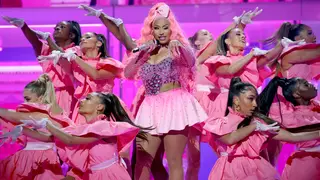 Nicki Minaj needs no introduction, but being Video Vanguard at the 2022 MTV Video Music Awards is a prestigious honor deserving of a walk — or in Nicki's case, a strut — down memory lane. Her career-spanning medley Sunday night (August 28) was her first live VMAs performance since 2018, and it was only appropriate that she kicked the party off from inside a Barbie-inspired dream house at the Prudential Center in Newark, New Jersey.
First up, she dives into "All Things Go," The Pinkprint opener, and a line fitting of a Video Vanguard: "I had to reinvent." This sets the stage for the songs that established her dominance in the industry —catch up on her full journey here — but as far as this VMA performance goes, she's just getting started. There's a fast rewind to 2010's "Roman's Revenge," off her debut LP, Pink Friday. Then just as quickly, she slips into an a cappella rendition of her iconic "Monster" verse from the same year.
Lightning strikes, and the full dream house comes into view — spot the slide! — with Nicki and her dancers sitting on gilded chairs for "Beez in the Trap." Everything is drenched in pink light, as it should be, because it wouldn't be a Nicki performance without it. The choreography picks up, and after a stunning rendition of 2018's "Chun-Li," it's time to slow things down for "Moment 4 Life" as the group takes it outside.
It's the Barbz in the crowd — Nicki's loyal fans that have been with her since day one — who make this performance even more special, because you can see that everyone, including "Have Mercy" singer Chloe Bailey, keeping up with every line. (Not an easy feat!) Even Taylor Swift, who famously duetted with Nicki at the 2015 VMAs, sings along to "Super Bass."
Speaking of past VMAs, the stage goes green for "Anaconda," which feels a bit like a reprisal of Nicki's 2014 performance at the show. No snakes make an appearance this time, but there are giant 3-D visuals of pink panthers hovering over the stage. The wildness doesn't stop there, however.
For the show-stopping finale, she performs her current No. 1 hit "Super Freaky Girl" with stripper poles, male dancers, and a healthy dose of twerking — all the makings of an unforgettable Nicki performance. It all ends with an explosion of sparks, but perhaps the most endearing moment is her mouthing "I love you so much" to her Barbz cheering her on in the pit.
Her Barbz, in fact, presented the Video Vanguard trophy to their "reigning queen of hip-hop" right after her performance. Nicki insisted this is the first time she's ever written a speech, and after getting her phone from offstage (where the speech was kept), she thanked a slew of artists and industry folks who've inspired "her flow" — including Lil Wayne, Foxy Brown, Lauryn Hill, and more —and helped her reach the heights she has. Later, upon winning Best Hip Hop, she thanks even more folks in the industry, like Taylor Swift, whom she credited for helping nudge "Super Bass" into super successful terrain. To end her Vanguard speech, she leaves off with one final bellow to her beloved Barbz.
The 2022 VMAs aired live on MTV from Prudential Center in Newark, New Jersey. Find the complete list of winners right here and keep up with all of the night's biggest VMA moments.