LL Cool J, Nicki Minaj, And Jack Harlow Are Your 2022 VMAs MCs
The trio of hip-hop heavyweights will emcee the show on August 28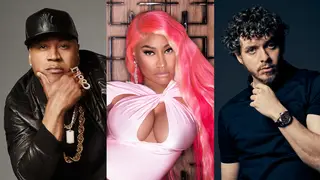 The 2022 VMAs will be a night of exciting moments and major performances — and with such a night comes a need for someone to help usher in all those big events. Luckily this year, the show boasts three such talents. LL Cool J, Nicki Minaj, and Jack Harlow will all be on hand to emcee the VMAs and announce the biggest moments of the night.
This year's ceremony will take a new and unique approach in contrast from the traditional "host" gig seen in previous years, like in 2021, which saw Doja Cat hosting and taking us to space with a sizzling live performance of "Been Like This" and "You Right" in a medley at Barclays Center in Brooklyn.
This year, the hip-hop trio on deck have plenty of history on the stage they'll be emceeing from. After his iconic duet performance of "Industry Baby" with Lil Nas X last year, Harlow is slated to debut his first solo VMA performance on the main stage this year. The rapper leads in nominations with seven nods this year (tied with LNX and Kendrick Lamar), including two of the night's most coveted awards, Video of the Year and Artist of the Year. He was first nominated at the VMAs in 2020 for PUSH New Artist and Song of the Summer, where he also performed "Whats Poppin" during the pre-show.
Minaj, meanwhile, is listed as a nominee in Best Hip Hop for her major single "Do We Have a Problem?," which also features fellow rapper Lil Baby. She will also both receive the Michael Jackson Video Vanguard Award and perform live at the 2022 show for the first time since 2018, joining Harlow and other previously announced performers Blackpink, Lizzo, Måneskin, Anitta, J Balvin, Marshmello x Khalid, Panic! at the Disco, and Kane Brown.
The Vanguard Award is presented to artists for their outstanding contributions and profound impact on music video and popular culture. Minaj's co-emcee, LL Cool J, is a previous recipient of the award, taking it home in 1997 as the first rapper to ever receive the honor. He first performed at the ceremony in 1991, then again in 1996 and appeared as a presenter in 2000.
This year's show will return to New Jersey's Prudential Center in Newark on Sunday, August 28. The ceremony previously hit the Garden State in 2019, hosted by Sebastian Maniscalco; last year's show aired from Brooklyn's Barclays Center. Find the full list of nominees right here, and find more info at vma.mtv.com.