Snoop Dogg And Eminem Delivered The Ultimate Joint Performance
At the VMAs, on the couch, and in the metaverse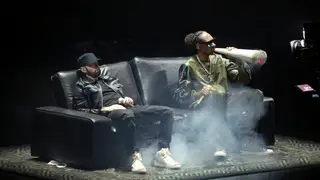 Rap legends Snoop Dogg and Eminem brought a whole new meaning to the phrase "joint performance" with their act at the 2022 Video Music Awards.
Performing before an energized crowd at the Prudential Center, the veteran rappers delivered a lit rendition of their Best Hip-Hop Video-nominated duet "From the D 2 the LBC" with a little help from Otherside's metaverse technology. The number kicked off with Snoop smoking a truly larger-than-life blunt on a black couch beside Eminem.
After a few puffs, Snoop and Eminem fell down a spiral into the metaverse. Animated versions of each rapper — some true-to-life, others anthropomorphized — spit bars against a series of trippy, technicolor backgrounds, including homages to Long Beach, California, and Detroit, Michigan, their respective cities of origin. The visuals mirrored imagery from the song's music video, which features copious amounts of brightly colored animation.
The duo's metaverse alter-egos eventually spiraled back to the Prudential Center, where the real-life rappers were joined by a six-piece band for the final moments of their performance.
Neither Snoop Dogg nor Eminem is a stranger to the VMAs, although they both haven't graced the stage in over a decade. "From the D 2 the LBC" is their first collaboration in more than 20 years.
Throughout his 30-year career, Snoop has received eight VMAs nominations and two wins, most recently for the Art Direction of his 2015 single "So Many Pros." Emimem has taken home 13 Moon People since the start of his career in the late 1990s, making him the most decorated rapper in VMAs history. He's also the first artist to win Video of the Year twice, once for "The Real Slim Shady" (2000) and again just two years later for "Without Me."
Eminem and Snoop's collab is the latest single off Curtain Call 2, Eminem's second greatest hits album. It turns out legends can recognize legends even when they're sky-high.
The 2022 VMAs aired live on MTV from Prudential Center in Newark, New Jersey. Find the complete list of winners right here and keep up with all of the night's biggest VMA moments.