Colors! Lights! Panic! At The Disco Get Cinematic At The VMAs
See the rock group perform their haunting breakup ballad 'Don't Let the Light Go Out'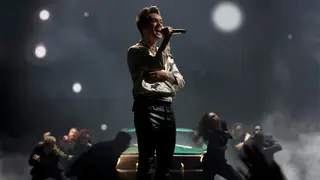 You know that movie Titane? About the French woman who becomes a car or makes love to a car or something, and it's all very queer or at least queer-coded or whatever? I have not seen it, as you could probably already surmise, but I imagine that Panic! at the Disco's performance at the 2022 VMAs was kind of like a more chaste version of that but starring a guy.
With the scene filtered black and white like an old-time movie, frontman Brendon Urie wistfully croons about a relationship that seems to have hit its breaking point. "Don't let the light go out," he pleads again and again, and then — the lights literally do go out. Leaving him in near-total darkness, his silhouette backlit by the car's headlamps blazing behind him. "Who's gonna drive me home tonight?" he sings. The scene soon explodes in full color, fireworks go off, and then back to black things go as Urie repeatedly begs the lyrical soon-to-be-ex: "Don't let the light go out, don't let the light go out." Haunting!
This evening marks the fourth time that Panic! at the Disco has performed at the ceremony. The band — formed in Las Vegas nearly 20 years ago, in case you needed a reminder to do your full skin care routine tonight — previously lit the VMA stage aflame with "I Write Sins Not Tragedies" in 2006, "Nine in the Afternoon" in 2007, and "High Hopes" in 2018.
The group was up for Best Alternative at tonight's proceedings with "Viva Las Vengeance," the title track off of the group's seventh studio album, released earlier this month, but lost the Moon Person to Måneskin's "I Wanna Be Your Slave." Panic! at the Disco has received 11 VMA nominations since 2006, winning two of them: Video of the Year in 2006 for "I Write Sins Not Tragedies" and Best Rock in 2019 for "High Hopes." Urie also won an additional statuette on his own for his featured guest spot on Taylor Swift's "Me!," which took home Best Visual Effects three years ago.
The 2022 VMAs aired live on MTV from Prudential Center in Newark, New Jersey. Find the complete list of winners right here and keep up with all of the night's biggest VMA moments.