Bad Bunny Held Up His Moon Person For All Yankee Stadium To See
The VMA Artist of the Year winner commanded the crowd as he kept the mood celebratory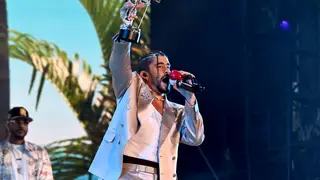 In an era where music videos have to seem more like films in order to capture the zeitgeist of being an Event, Bad Bunny's "Tití Me Preguntó" found real grace (and power) in how it captures the mundane. Not to say that roaming around New York City's bodegas, barber shops, and block parties is anything close to ordinary — but done by a superstar of Benito's caliber, even everyday gallivanting and celebrating looks cinematic.
As such, when he can translate that to an actual performance stage, as he did Sunday night at the 2022 VMAs, the result is predictably larger-than-life. Of course, Bad Bunny wasn't on the stage at the Prudential Center at all, but across the Hudson River at Yankee Stadium in The Bronx, turning the baseball field into his playground, complete with palm trees and Puerto Rican flags hanging above him. The rendition was part of his tour stop at the stadium, but it had special choreography tailored just for the VMAs. It doesn't get any bigger than that.
In a silky double-breasted suit, wearing white sunglasses and with jewels in his hair, Benito led a fleet of dancers in a joyous rendition that also went extremely hard — even as he gripped a microphone in the shape of a heart. It's like a wedding (like at the end of the music video), and he entered carrying what seems like it could be his bride. The entire thing looked completely effortless, like he's conducting a symphony of joy around him with simple movements and confidence. When he threw his sunglasses into the crowd at the end of his performance, it's an undeniably cool gesture, but it's also to see everything in front of him more clearly. It's his moment, and he wants to take it in.
Bad Bunny also accepted Artist of the Year, and was seemingly in disbelief for a moment, but the more he settled in, the more it all made sense. He held up his Moon Person for the entire stadium to see, and speaking in Spanish, shouted out his home of Puerto Rico, his language, his culture, and took in his moment.
This year, Benito was up for four VMAs in total: Artist of the Year, Best Latin (for this very song), Song of the Summer (for "Me Porto Bonito" with Chencho Corleone), and Album of the Year (for his 82-minute epic, Un Verano Sin Ti.
The 2022 VMAs aired live on MTV from the Prudential Center in Newark, New Jersey. Find the full list of winners right here and keep up with all of the night's biggest VMA moments!