Red Hot Chili Peppers Remain Addicted To The Shindig
The 2022 MTV Global Icon Award recipients rock the VMAs with two songs and a series of metaphysical speechs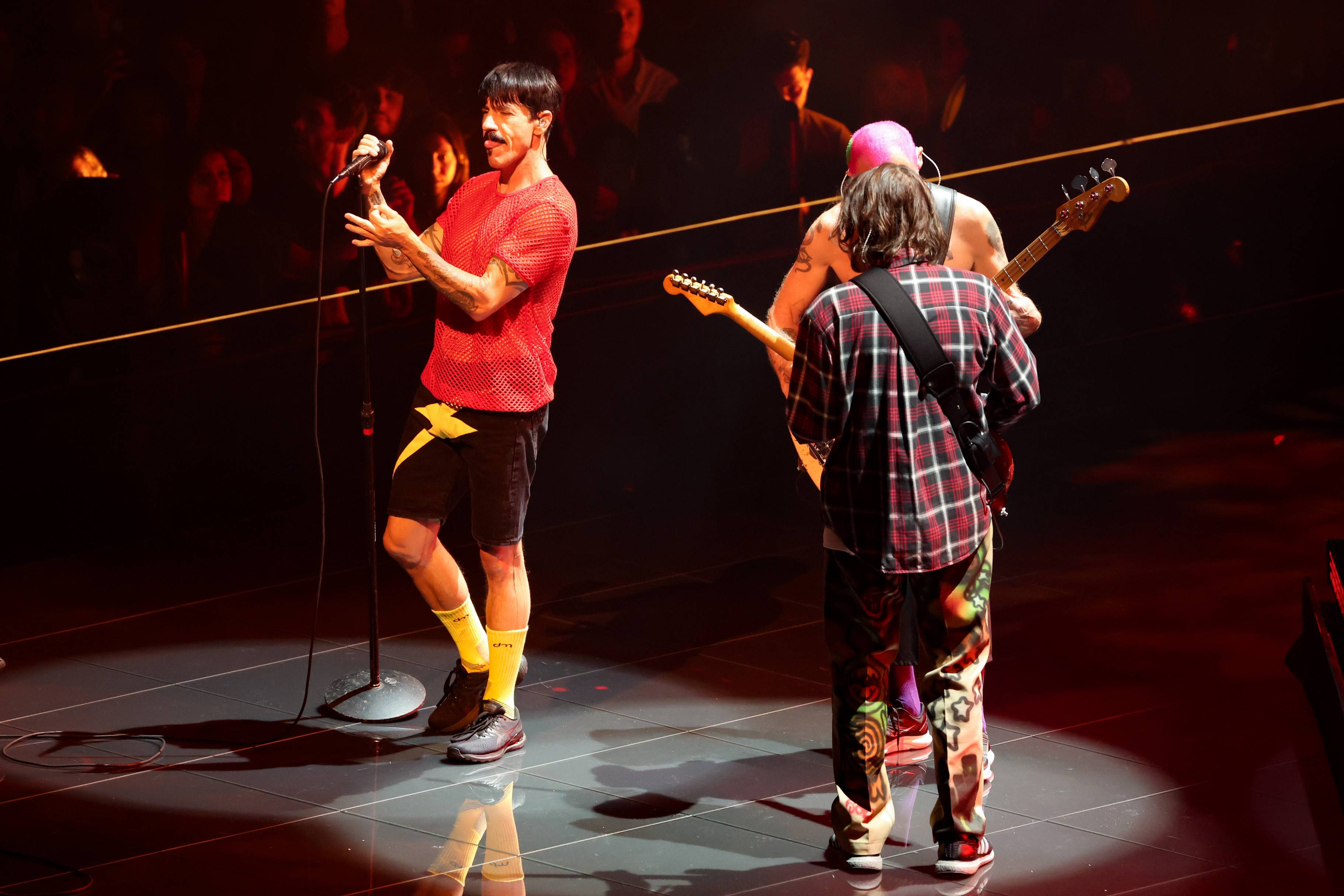 Anthony Kiedis, poet, once asserted that he couldn't stop because he was addicted to the shindig. Through the nearly 40 years Kiedis had led his band Red Hot Chili Peppers, he's proved this consistently. The man is always in motion, frequently shirtless, and rhyming "let me show you what I'm talking 'bout" with "you're trying to be a lady but you're walkin' like a sauerkraut." Whether it's rhyming about their beloved home state of California or infusing an otherwise scatterbrain song with the right vocal melody to find it snap into place, he simply can't stop. He's addicted to the shindig.
At the 2022 VMAs on Sunday night, RHCP brought that energy to the main stage in a double-hitter performance of their latest hit, "Black Summer," and the funk-pop cut from 2002 that immortalized that line, "Can't Stop." Not quite shirtless but with plenty of holes in his top, Kiedis led his dynamos — bass virtuoso Flea, guitar god John Frusciante, and power drummer Chad Smith — through the two-song set as a celebration for receiving the Global Icon Award. The same honor went to their peers Foo Fighters last year; Smith honored the late Foos drummer Taylor Hawkins, who died in March, with the name "Taylor" designed on his bass drum inside the outline of a hawk.
This year's Global Icon recipients kept the focus on the funk. One might even say they brought the funk to the shindig. But first they led off with a very tasteful and almost pensive take on "Black Summer," with the group bathed in the light from a glowing red sun behind them. All the hallmarks were there: Frusciante in flannel shredding in front of a Marshall stack, shirtless Flea with freshly pink hair, and Chad Smith sitting in front of a gigantic gong with their band logo (an asterisk) on it.
After the lyrical guitar lines that color that song's outro, the funk resumed. Namely, they ripped into the snaky and winding beginning of perennial favorite (and shindig lyric originator) "Can't Stop." Obi-Wan Kenobi star Flea twisted his hips into a little dance to pump the crowd up, then, of course, Kiedis slid right into said shindig singing. "Music, the great communicator," goes "Can't Stop," and the Prudential Center agreed.
Afterward, the quartet accepted the honor from the Prudential Center in Newark, New Jersey (site of the 2022 show) by taking turns shouting out who helped them get to this place. Kiedis began by thanking "the sassy mistress known as MTV" for the network's support over their nearly 40-year career. He thanked his bandmates "for giving me a purpose in my life" as he "would've been a free-floating disaster in space" without them and their communal musicianship.
Smith, meanwhile, made his tribute to his dear friend Hawkins more explicit by dedicating the award to him. "I love him and I miss him every day," he said. "Fly on, hawk. Fly on, brother."
Flea went a bit more spiritual with his moment at the mic, thanking his bandmates and children, then dropped some serious "everything is everything" knowledge. "I love cockroaches and dirt and trees," he said, "and deer and deer antlers and birds and sky." It was in keeping with the advice he offered to Video Vanguard winner Nicki Minaj on the black carpet ahead of the show, when he recommended meditation. "Everything that isn't love is cowardice."
Frusciante, the mysterious one, remained silent. "John says it all with his smile — and his guitar playing," Kiedis said.
The group were nominated this year in the Best Rock category for "Black Summer," marking their first nod in 16 years. Their TK performance tonight also acts as their triumphant return to the VMA stage for the first time since 2000, when they took one of their signature songs, "Californication," to the stratosphere.
They were introduced by Cheech & Chong, who celebrated their history of putting socks on their johnsons as well as their long and storied musical journey.
The 2022 VMAs aired live on MTV from the Prudential Center in Newark, New Jersey. Find the full list of winners right here and keep up with all of the night's biggest VMA moments!