Pusha T Pokes At Drake's Ghostwriting Allegations On 'Infrared'
YEEUUCCK!!!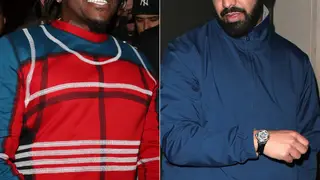 Pusha T has never seen a beef he didn't want to keep alive. On "Infrared," the closing track from Pusha's new album, DAYTONA, the Virginia rapper decided to throw more gasoline on his long-simmering tension with Drake, Lil Wayne, and Birdman.
"It was written like Nas, but it came from Quentin," Pusha T raps as he makes light of the ghostwriting allegations that have surrounded Drizzy since his beef with Meek Mill in 2015. The president of G.O.O.D. Music keeps the pen hot when he aims at Weezy and Baby's recent issues with each other.

Oh now it's okay to kill Baby
N---as looked at me crazy like I really killed a baby
Salute Ross 'cause the message was pure
He see what I see when you see Wayne on tour
Flash without the fire
Another multi-platinum rapper trapped and can't retire
N---as get exposed, I see the cracks and I'm the liar?

Pusha T's animosity toward Cash Money dates all the way back to 2006. Clipse sent subs at Wayne on "Mr. Me Too," referencing what they saw as jacking in response to a Vibe cover story that saw Wayne in similar Bape clothing. Wayne fired back during a 2006 Complex interview.
"I don't see no fuckin' Clipse," Wayne said. "Come on man. Weezy, man. They had to do a song with us to get hot, B. 'What Happened To That Boy?' C'mon B. Don't do that, dog. This is a fucking legend you're talking to right here. 14 years, B."
"I feel like the Drake thing, more recently, was about the 'Two Birds, One Stone' record. A lot of talk about the record, or whatever the case may be," Push said. "I guess, just speaking his truth, questioning my validity to the streets and so on and so forth within that verse. It's fine. That's what it was. But if we're gonna question things...it's my turn to question."
Guess we will see if Drake takes the bait on Scorpion. Listen to "Infrared" below.