Bop Shop: Songs From Nipsey Hussle, Ben Platt, Alex Lahey, And More
This week, we hit the dance floor, reflect on love, and remember a fallen rapper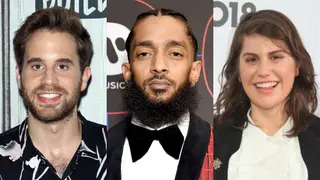 The search for the ever-elusive "bop" is difficult. Playlists and streaming-service recommendations can only do so much. They often leave a lingering question: Are these songs really good, or are they just new?
Enter Bop Shop, a hand-picked selection of songs from the MTV News team. This weekly collection doesn't discriminate by genre and can include anything — it's a snapshot of what's on our minds and what sounds good. We'll keep it fresh with the latest music, but expect a few oldies (but goodies) every once in a while, too. Get ready: The Bop Shop is now open for business.
Nipsey Hussle: "Last Time That I Checc'd"
Last year, I studied Gary Vaynerchuk and Nipsey Hussle in different ways. Both were rich. Both explained how to get there. But while I studied Gary Vee like an instructor from afar, with Nipsey, it felt like a big brother locking his arms around your neck and shoulders, schooling you on how things should be. Nipsey was like that to a lot of people. His music and actions away from the microphone portrayed a guy who wanted to share the wealth as much as he wanted to obtain it. He also kept it in the community; after years of giving out game, he earned the ability to take a step back and talk his shit. That track was 2018's "Last Time That I Checc'd" and it's impossible not to listen to it and smile. This guy knew he was good.
Nipsey wasn't one for excessive smiling. He always appeared either plain faced or disgruntled, but when he spoke, it was from a place of eloquence and tranquility instead of confusion or annoyance. "Last Time That I Checc'd" sounds like smiling all over the course of its four minutes. Nipsey's loud, and his angry energy gives me life. But he's not forcing his greatness upon you. Instead, he makes you get off your backside and get to work. In the video, he rides in Lamborghini cars clad in white, fiercely glaring at the camera as if to say, "This is my reality, now make yours similar." It's angelic. He may have tragically died on March 31, but his message is living on through the song's dancing brilliance. Change your reality. —Trey Alston
Alex Lahey: "Am I Doing It Right?"
Alex Lahey is quickly becoming the queen of big, catchy pop-rock hooks, and her latest single "Am I Doing It Right?" is a perfect example of this. On the second track to be released from her forthcoming sophomore album The Best of Luck Club, Lahey shares her struggles with career anxiety with the very relatable lyrics "Day and night and night and day / I can fuck it all up in a million different ways." Too real, Alex. Too real. —Bob Marshall
"Nintendo, Atari. Sega's my Ferrari."
I never fail to sing along to the outro to Barns Courtney's "99" because it so perfectly sums up my childhood. It's a song I'm constantly searching for on my favorite radio station, giving it hundreds of Spotify plays a week, and aspiring to be as cool as.
Though the track didn't hit airwaves until late 2018, I only recently discovered it, so I'm feeling like I really missed out. Encapsulated in a breezy, retro-flavored tune, I found the shining moments of my childhood. Courtney sings about staying up late by the light of your television, sleeping all day and talking all night, and all the simple pleasures that came with growing up in the '90s. Every verse feels so personal, as if I could have penned the track myself. That's why it's quickly become one of my go-to Rock Band 4 tracks.
I'll always remember the nights I stayed on the phone with my friends, boyfriends, and internet acquaintances on the phone or via AOL Instant Messenger in the pitch black, the inky darkness illuminated only by my computer or television screen. Much of my adulthood is spent chasing the joy of my childhood and the moments I thought would last forever, like when the most difficult decision I had to make at the time was which game to rent from the Movie Gallery by my house. Life was simple, easy to understand, and beautiful.
I never want to let go of those memories, and "99" ensures I'll never have to. —Brittany Vincent
Ben Platt: "Grow As We Go"
With a Tony Award for Best Actor in a Musical already under his belt – shout out Dear Evan Hansen – Ben Platt could've taken his album any number of ways. Blue polos and arm slings fully aside, his pop debut follows the rise and fall of a relationship with candid intensity. He doesn't shy away from male pronouns, nor signs of weakness. Stand-out track "Grow As We Go" is restrained and soft pleading – nearly a whisper – over guitar plucking and warm background vocals. The easiest out in any relationship is to say, "We need time to grow," or "People change," but what if the need for development wasn't solely singular? Platt pleads for a compromise – to grow as we go, together. His voice is never fully convinced that it's going to work, but he's completely enamored and willing to give anything a try. It's a tune as melancholy as it's hopeful, lending itself to any listener's hesitation or instinct. Still, Ben never gets an answer from his lover, making it all the more heartbreaking. —Carson Mlnarik
Georgia: "About Work the Dancefloor"
What elements make for a perfect dance song? Because there's something about London producer Georgia's new banger "About Work the Dancefloor" that makes it the ideal companion for a sweaty night in the club. Is it the Stranger Things-y percussive '80s synths? The grammatically awkward but easily chant-able chorus? All of the above? (It's all of the above.) —Bob Marshall
Old is new again with Kim Viera's "Here For Ya." The first thing you notice about the upbeat pop song is the nostalgic quality it possesses. It's not until the hook that you realize the song interpolates Ghost Town DJs' '90s hit "My Boo (I Want To Be Your Lady Baby)." In the ultimate mix of old school meets new school, Viera gives a tune that's on the cusp of turning 25 a fresh take. It's a song made for summer, and although it will make you long for the days of cassette mixtapes and roller skates, the catchy Miami bass and feel-good lyrics pair just as well with high-tops, headphones, and daydreams of the beach. —Virginia Lowman