Taylor Swift Gets Emotional As She Says Goodbye To Her Reputation Tour
'I'm so lucky'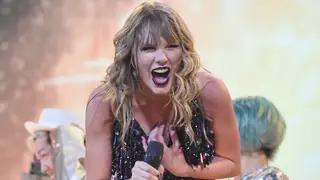 After six months, 53 shows, four continents, and plenty of fake snakes, Taylor Swift's Reputation Tour has come to an end.
The massive stadium trek ended its stellar run on Wednesday night (November 21) in Tokyo, Japan, and Swift marked the occasion with a couple heartfelt and appreciative speeches.
"Every single performer that you see on this stage," she said, "whether it be a dancer, or a background singer, or a member of the band, when I say that these are crowds we never even thought we would get to be in front of, even in our wildest dreams." Naturally, she then launched into an acoustic version of her enchanting 1989 hit, "Wildest Dreams."
Later in the night, Swift further reflected on the massive tour while sitting behind the piano and explaining that she tried to put together a show "that would make you feel like you were escaping and going into a different world."
She continued, "I'm so happy that that's the kind of show that you've wanted to see, because it makes it so much fun to create a world for you. I'm so lucky to get to do that. I'm so lucky you care about anything I create, whether it be music or a stage show. Thank you for coming tonight, and thank you for coming to be a part of my life. I love you."
The Reputation Tour has been full of surprises, with Swift resurrecting some old hits and deep cuts — like "I Know Places," "Holy Ground," and "The Best Day" — for acoustic, B-stage performances. It also proved to be a star-studded affair that counted Camila Cabello and Charli XCX as openers, and boasted surprise appearances by Selena Gomez, Shawn Mendes, Tim McGraw, and more.
This is a big week for Swift, who announced on Monday that she's left Big Machine, the label she signed with at age 15, and joined Universal Music Group's Republic Records. In her announcement, she told fans, "My biggest goal moving forward is to make you proud. I'm so excited. I can't wait to show you what I'm making next." Sounds like she's already plotting her post-Reputation chapter — are you ready for it?!